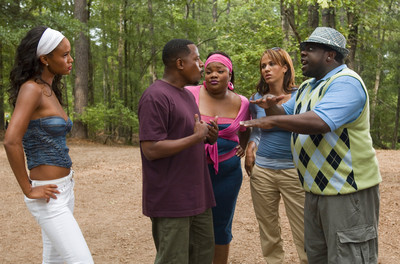 Leo Tolstoy's "Anna Karenina" observation that all happy families resemble one another also holds true for all (allegedly) funny movie families.
That's certainly the case in "Welcome Home, Roscoe Jenkins," which recycles so much material it's a wonder the film stock didn't turn green during filming.
More's the pity, because it had the potential to be more than a broad, cartoonish romp.
Not that there's anything wrong with broad, cartoonish romps — provided they embrace their cartoonishness and stick with it.
Alas, writer-director Malcolm D. Lee (yes, his cousin Spike also makes movies) doesn't seem quite at home with the movie's lowbrow hijinks.
Maybe it's because he realizes there's more to his story that the finished product would indicate.
Somewhere amid the in-your-face slapstick and creaky stereotypes, "Welcome Home, Roscoe Jenkins" keeps tiptoeing around its real subject: how to make peace with your down-home past, and the family members still there, when you've moved on.
In the title character's case, he's moved onward — and upward.
Unlike some people, however, Roscoe Jenkins (Martin Lawrence) wants nothing to do with his past, or his past self.
After all, he's built a new identity as fabulously successful talk show host R.J. Stevens, whose "Team of Me" philosophy has made him a household fixture. And his equally fabulous fiancee, ambitious reality-TV star Bianca Kittles (Joy Bryant), has big plans for their future as America's favorite power couple.
But Roscoe's son Jamaal (the adorable Damani Roberts) has other ideas — especially when an invitation arrives to celebrate the 50th anniversary of his grandparents (James Earl Jones, Margaret Avery) in down-home Dry Springs, Ga.
Once the trio arrives there, we understand Roscoe's reluctance to return home. His wealth and fame do not impress his stern father. His strapping brother (Michael Clarke Duncan), his loudmouth sister (Mo'Nique) and his shifty cousin (Mike Epps) delight in humiliating him at every opportunity.
And that goes double for Roscoe's childhood rival, Cousin Clyde (Cedric the Entertainer), who's still plotting to outdo him, whether it's a question of winning a foot race or winning the affections of their all-grown-up childhood crush (Nicole Ari Parker).
Clearly, "Welcome Home, Roscoe Jenkins" has enough characters, and conflicts, for more than one movie. All too appropriately, Lee's screenplay goes the multiple-personality route.
Every time the movie threatens to delve into the human condition — or explore the divide between Roscoe's cocky TV persona and the doubts and fears he's been wrestling since childhood — it comes to a dead halt for an in-your-face slapstick attack.
That is, until it's time for the heart-tugging finale, in which all-is-forgiven-when-you're-family platitudes replace raucous physical comedy.
Because Lee never figures out how to combine the slapstick and the sentiment, however, "Welcome Home, Roscoe Jenkins" plays like a jalopy with a jerky transmission — in fits and starts, dragging when it should accelerate, grinding as it struggles to switch gears.
That's especially frustrating when you recall how Lee's 1999 debut, "The Best Man," another reunion movie (this one among friends gathering for a wedding), smoothly combined comedy and drama. Or how his 2002 blaxploitation spoof, "Undercover Brother," generated genuine comedic energy thanks to Eddie Griffin's title-role performance.
As "Roscoe Jenkins' " title character, however, Martin Lawrence turns out to be the brunt of the movie's comedy far more often than the instigator. As a result, Roscoe seems far less interesting than Cedric the Entertainer's obnoxious blowhard, Mo'Nique's obnoxious frustrated sexpot or Epps' obnoxious schemer.
That is, until Roscoe just can't take it anymore, reverting to the kind of childish behavior that reveals his own child as a wiser, more mature person than his baby of a father.
And while Duncan, Jones, Avery and Parker somehow maintain their dignity (most of it, anyway) while all about them are losing theirs, the scattershot script gives them little opportunity to counteract the craziness.
In the interests of full disclosure, I should report that most of my fellow audience members laughed their heads (or, more precisely, a different part of their anatomy) off while watching "Welcome Home, Roscoe Jenkins."
I'm happy they thought it was funny. I just wish I could say the same.
Contact movie critic Carol Cling at ccling@reviewjournal.com or (702) 383-0272.
movie: "Welcome Home, Roscoe Jenkins"
running time: 114 minutes
rating: PG-13; sexual content, profanity, drug references
verdict: C
now playing: Boulder, Cannery, Cinedome, Colonnade, Fiesta, Neonopolis, Orleans, Palms, Rainbow, Red Rock, Santa Fe, Showcase, South Point, Suncoast, Sunset, Texas, Town Square, Las Vegas Drive-in
DEJA VIEW
Reunions inspire a variety of emotions in these memorable movies:
"Soul Food" (1997) — When a family matriarch (Irma P. Hall) is hospitalized, her grandson cooks up a scheme to reunite her feuding daughters (Vanessa Williams, Vivica A. Fox, Nia Long).
"The Celebration" (1998) — In this acclaimed Danish drama, a patriarch's 60th birthday party provides the setting for painful revelations of long-buried family secrets.
"The Best Man" (1999) — Pals (Taye Diggs, Morris Chestnut, Harold Perrineau, Terrence Howard) gather for a wedding in this film from "Welcome Home, Roscoe Jenkins" director Malcolm D. Lee.
"The Royal Tenenbaums" (2001) — When their long-estranged father (Gene Hackman) announces he's terminally ill, former child prodigies (Gwyneth Paltrow, Ben Stiller, Luke Wilson) reunite.
"Pieces of April" (2003) — The rebellious daughter (Katie Holmes) of a suburban couple (Patricia Clarkson, Oliver Platt) tries to reconcile with her family by cooking Thanksgiving dinner.
— By CAROL CLING