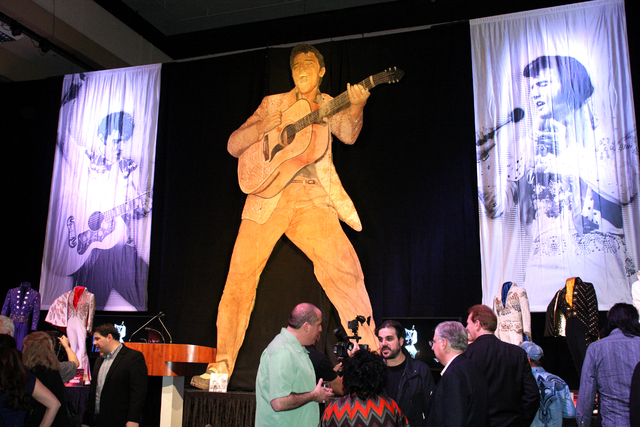 Westgate Resorts is blaming a "heavy-handed move" for the hotel management's decision to step in and close the doors of the Elvis exhibit less than a year into a 10-year contract.
Mark Waltrip, chief operating officer of Westgate Las Vegas, said the move was "a protective action" after the tenant notified the hotel ownership in midweek about plans to shutter "Graceland Presents: Elvis the Exhibition."
The dispute is with the tenant, a licensee of Graceland, the Elvis estate, Waltrip said.
"They owe us quite a substantial amount of money for the improvements we made on the space," Waltrip said. "Unfortunately they took a heavy-handed move. They were threatening to default, so we had to close the premises and protect the asset."
He said Westgate closed the 28,000-square-foot exhibit so they could "secure the contents until we can sort this out." When it opened in April, a Graceland executive said the exhibit had about 350 pieces from the Graceland collection.
The licensee's action came during the same week that it was learned the Westgate has received permission to change Riviera Boulevard to Elvis Presley Boulevard.
It got ugly fast. Waltrip said the licensee "notified the county and told them they don't want the street names after Elvis. We're very saddened this particular group has taken such a capricious and possibly damaging action. They thought they would hurt us. But it's more damaging to the legion of Elvis fans.
"Meantime," Waltrip said, "everything is safe, locked, and we'll wait until we hear from the estate."
The hotel played a pivotal role in Presley's career when he launched his comeback in July 1969 at what was known as the International. He energized Las Vegas with his years of sellouts for more than 600 shows. The International later became the Hilton Las Vegas and LVH before time-share king David Siegel bought the 30-story, 3,261-room property in June 2014.
Angelil's last wishes
Months before he died, Rene Angelil had difficulty speaking because of his throat cancer.
But Celine Dion's husband and longtime manager continued to communicate before his death on Jan. 14.
He arranged many of his details of his funeral in Montreal, his celebration of life at the Colosseum at Caesars Palace and, it turns out, the first song his wife sang Tuesday, when she returned to the stage for first time after his death.
That song, the heartbreaking "With One More Look at You/Watch Closely Now," was made famous by Barbra Streisand and Kris Kristofferson in the finale of "A Star is Born." Kristofferson's character dies at the end of the show.
Dion dedicated the song to the memory of Angelil.
"That was both of their wishes," said Aldo Giampaolo, Angelil's longtime friend. Angelil and Dion handpicked Giampolo to follow Angelil as her manager in June 2014.
On the rise
Myron Martin, president and CEO of The Smith Center for the Performing Arts, had a proud parent moment last week while announcing the 2016-17 lineup.
Choked with emotion for a few seconds, he couldn't speak.
Then he shared the news: Camp Broadway, a program for young people with Broadway aspirations, had just had a first, Martin said. The first student to make it to Broadway.
Two years ago, Martin said, Christopher Convery participated in the summer program. Last week, he made his Broadway debut as young Charlie in "Kinky Boots" — the first Camp Broadway alumnus to make it to Broadway.
His mother, Vanessa Convery, is well-known for her role as the blonde seductress hostess in Cirque du Soleil's long-running "Zumanity" show at New York-New York.
Sightings
Kenny G, after arriving at Piero's Italian Cuisine on Friday with a birthday party, picked songs for Pia Zadora to sing, led a conga line and had some of his band members sit in with Zadora's band. … Pop star Nick Jonas, with actors Chord Overstreet and Lamorne Morris, celebrating Overstreet's birthday at Encore Players Club on Friday before heading to XS. Morris, who stars in the Fox sitcom "New Girl," dined Saturday at La Cave in Wynn Las Vegas. … Hip-hop star Trey Songz, with friends Friday at Tao Asian Bistro in The Venetian before heading to Marquee at The Cosmopolitan of Las Vegas.
The punch line
"It's been announced that Vice President Joe Biden will be a presenter at Sunday night's Oscars. So, diversity problem — solved!" — Conan O'Brien
— Norm Clarke's column appears Sunday, Monday, Wednesday and Friday. He can be reached at 702-383-0244 or norm@reviewjournal.com. Find more online at www.normclarke.com. On Twitter: @Norm_Clarke