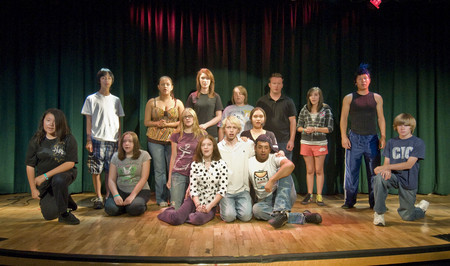 Troy Adams knew there would be resistance to his youth theater group's planned production of the acclaimed — yet controversial — musical "Rent."
He didn't expect the resistance to come from him.
Even though Adams and Colabo, his theater company, used the high school edition edited for coarse language, some of the controversial elements of the musical were still intact. Based on the opera "La Boheme," "Rent" deals with AIDS, a transgender character, gays, lesbians, erotic dancers and drug use.
Adams had auditions for actors between the ages of 13 and 19, cast the musical and scheduled the opening performance at the Family Music Center.
A few days before the show, he canceled it.
"I thought I made a mistake with the show, the themes and the talent," he says. "When I got into rehearsals, I realized how heavy the material was. You can clean up the language, but the themes cannot be changed."
Adams is not alone in his reluctance. In recent months, schools in California, West Virginia and other states have canceled their productions of the high school edition of "Rent" in response to objections over the gay themes.
He planned to produce several plays, including "Alice in Wonderland" and "Willy Wonka and the Chocolate Factory" at the music center's 80-seat theater. Hundreds of kids signed up to participate in the summer theater camp run by Adams, and "Rent" was going to be something new and different that appealed to teens and older audiences, he says.
Adams' main concern was that he didn't want teens playing parts that they didn't understand. For instance, one character in the show is transgendered and Adams worried that a teen actor wouldn't grasp the seriousness of the role.
Turns out, his worries were unfounded. Teenagers not only love "Rent," they understand and often identify with it.
"It's one of my favorite musicals because it's so real," says Aly Thomas, 16. She plays Mimi, an exotic dancer in the show. Her mother loves "Rent," she adds. "I was raised in a conservative household and I'm definitely not a homophobe. When I hear AIDS, I don't automatically think 'a gay person.' (Playwright) Jonathan Larson portrayed gay people in a way that lets you know they're just people."
The Internet also makes kids grow up faster than previous generations who didn't have access to anything they want to know, Adams says.
Thomas, along with fellow castmate Marife San Juan, 17, object to the sanitizing of the play.
"I was a little upset that they took out the words because that's what makes it 'Rent,' " says San Juan, who portrays a lesbian.
Adams made sure to give parents a disclaimer about the musical, encouraging them to watch the movie "Rent" and talk to their children about it before committing them to performing. He eliminated all mouth-kissing between characters, having them hug or kiss on the cheek, instead. He chose actors older than 18 to play the controversial roles but overall, their version was tamer than the PG-13 movie, he says.
Still, even after giving their approval, a couple of parents pulled their children from the program.
The remaining cast and their parents were so enthusiastic and supportive that Adams decided to reschedule the show. The kids put in so much hard work, they should be rewarded by getting to show it, he says. It is a worthwhile musical that delves into important life lessons, he adds.
"It teaches tolerance, acceptance and living together in a community," Adams says. "In the end, 'Rent' is about outsiders. You've got people onstage who are pushed to the fringe by society because they're a minority, a stripper, gay with AIDS."
Being an outsider is something that many people can relate to at some point in their lives, but especially in adolescence.
"I've talked to these kids and I ask, 'Do you ever feel like outsiders yourselves?' and they say 'Yes.' If you go around singing and dancing and wanting to do musical theater, people will look at you like you're a mutant," Adams says. "But it's kids like this who turn into the creative people and performers of tomorrow."
Contact reporter Sonya Padgett at spadgett@reviewjournal.com or 702-380-4564.
Preview
What: "Rent, the High School edition"
Where: Family Music Center, 8125 W. Sahara Ave.
When: 5 p.m. Sunday and Aug. 9; 8 p.m. July 25, Aug. 1 and 7
Admission: $10 (360-4080)