1700 Pavilion opens in Downtown Summerlin
February 17, 2023 - 12:11 pm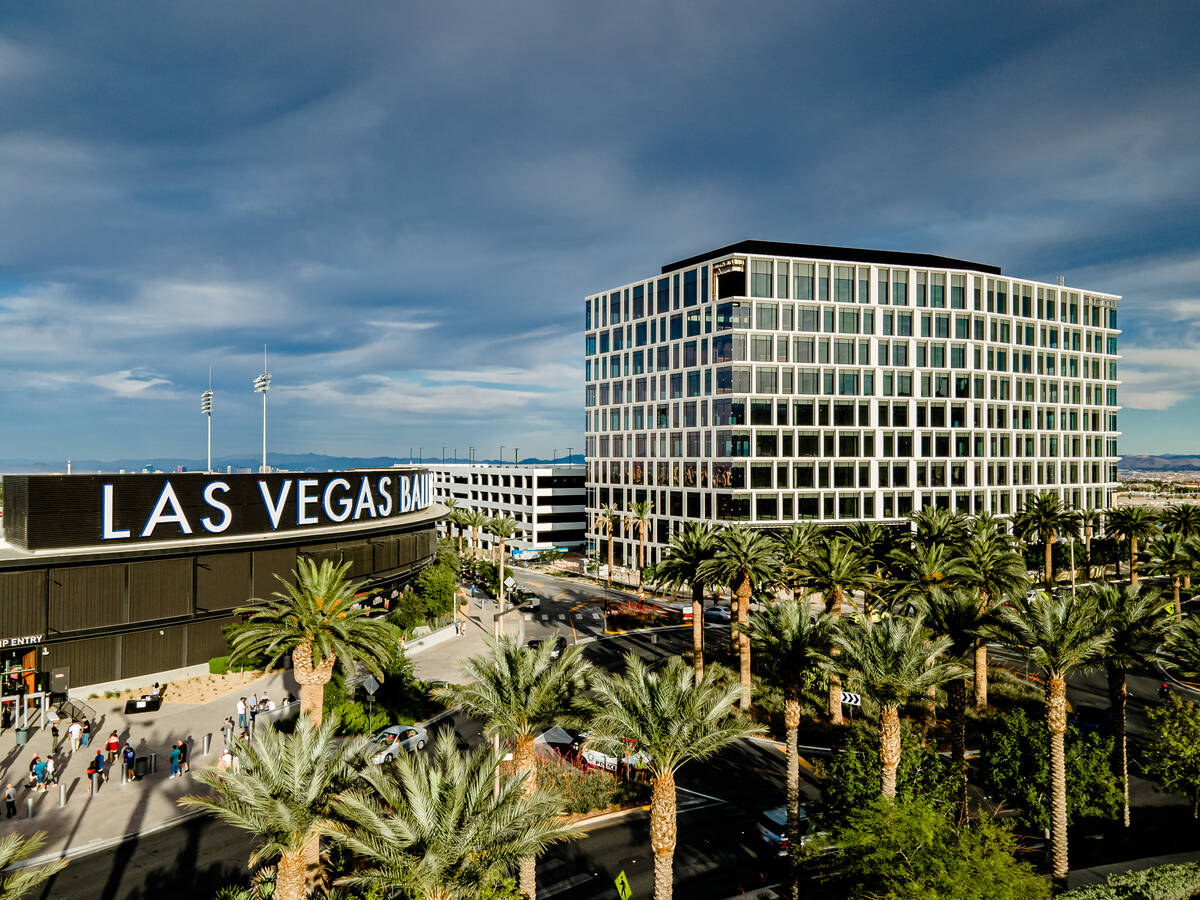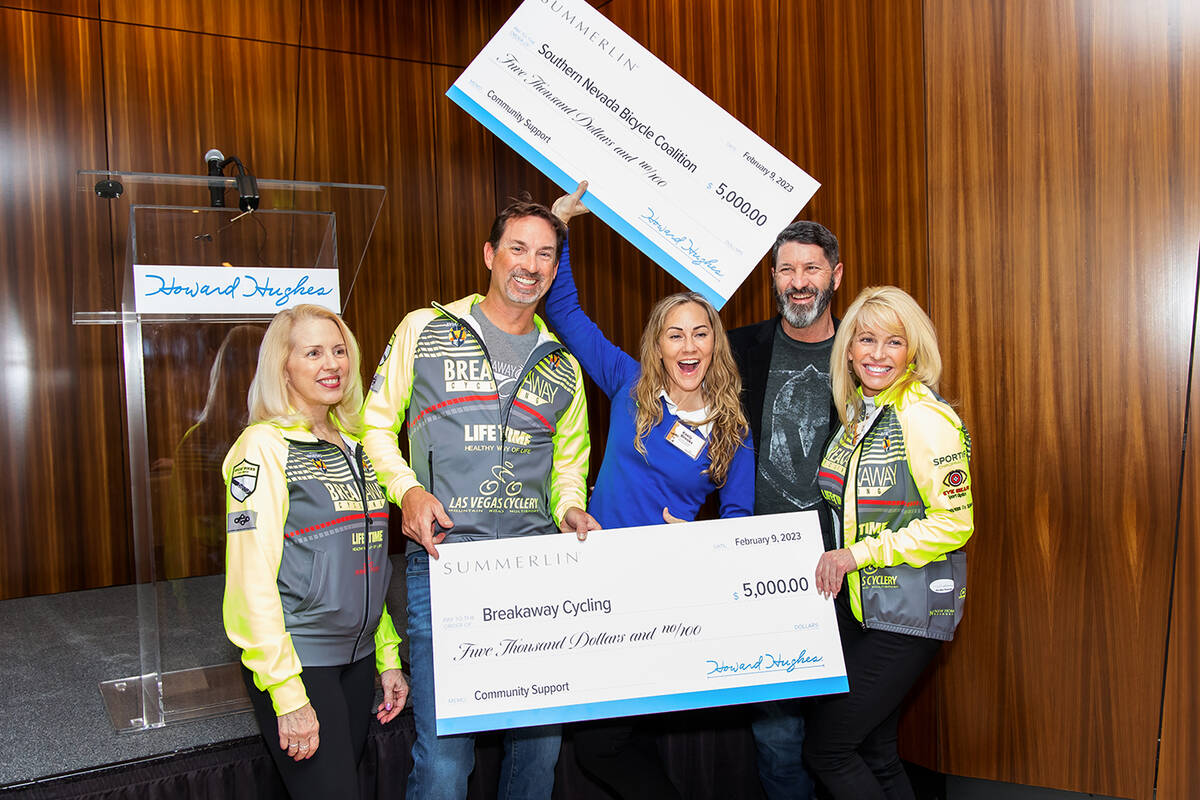 Downtown Summerlin, the vibrant urban core of the Summerlin master-planned community and one of the Las Vegas Valley's most popular dining, shopping, entertainment and sports destinations, recently celebrated the opening of its newest addition — 1700 Pavilion, a 10-story, Class-A office building that gives a new meaning to workplace amenities.
Spanning 267,000 square feet on three acres adjacent to Las Vegas Ballpark, 1700 Pavilion provides tenants an unparalleled view of the stadium, as well easy access to all the abundant restaurants, shops, and amenities of Downtown Summerlin within minutes walking distance from the front door.
"As CEOs and businesses are looking to chart their own return-to-office strategies, it is the mixed-use, walkable, amenity-rich environments that are bringing people back to work — along with state-of-the-art buildings that offer design layouts focused on the employee experience," said Kevin T. Orrock, president of the Summerlin Region for The Howard Hughes Corp., the master plan developer of Summerlin, including 1700 Pavilion.
"The business community is drawn to Downtown Summerlin for its exceptional work environment, short commutes and better work-life balance. Forget the foosball table or Ping Pong table in a break room — today's employees want fresh air, outdoor activities and a dynamic location," Orrock said. "1700 Pavilion has Las Vegas Ballpark, Red Rock Canyon and all the activities of Downtown Summerlin just outside the door."
Hosted by HHC, the Feb. 9 grand opening was attended by more than 200 project partners, stakeholders and tenants and celebrated HHC's master planning expertise in creating a community by seamlessly integrating commercial, residential and retail development to provide a unique sense of place.
The celebration included recognition of local artist and Summerlin resident Bonnie Kelso, whose colorful mural graces three sides of 1700 Pavilion's adjacent parking garage.
Chosen from more than 20 other submissions, Kelso's design was selected for its engaging perspective that offers guests different views from various vantage points, whether one is walking past the building or viewing from afar. Most importantly, Kelso's vision is authentic to her own Summerlin experience, with the clean simplicity of design and use of color that reflects nearby Red Rock Canyon and celebrates Summerlin's active, outdoor lifestyle.
At the grand opening, HHC announced two donations of $5,000 each to two local cycling organizations — Southern Nevada Bicycle Coalition and Breakaway Cycling — given 1700 Pavilion's on-site bike storage that encourages cycling to work.
"Summerlin has long been known as a great place to cycle given the community's 200-mile-long trail system and proximity to Red Rock Canyon National Conservation Area," Orrock said. "Bike storage in a Class-A office building reflects changing transportation preferences and the growing number of cyclists in our area. This occasion provided us the ideal opportunity to support local groups that advance cycling and cycling safety in our community."
Designed by Hart Howerton, an interdisciplinary planning, architecture and interior design firm, in concert with KGA Architecture, and constructed by The Whiting Turner Contracting Co., 1700 Pavilion is targeted for LEED Silver certification. The office building exemplifies Summerlin's commitment to sustainability with a healthy active lifestyle.
In addition to bike storage, 1700 Pavilion features water conservation throughout via low-flow water fixtures, touchless entry points and enhanced air filtration. The Living Room — a shared common area within the first-floor lobby with reservable conference room and gathering spaces — provides direct access to Pavilion Center Drive and all the retail and dining options within Downtown Summerlin.
Announced tenants to date include Wynn Design &Development, Clark Hill International Law Firm and ER Injury Attorneys. Recently signed leases include, Edelman Financial Engines, MP Materials, Northmarq Capital, PNC Bank and The Cirrus Co. The building is 51 percent percent leased with interest or negotiation on approximately 39 percent of the remaining space.
Now, in its 33rd year of development, Summerlin amenities also include 300-plus parks of all sizes; 200-plus miles of interconnected trails; resident-exclusive community centers; 10 golf courses; 26 public, private and charter schools; a public library and performing arts center; Summerlin Hospital Medical Center; houses of worship representing a dozen different faiths; office parks; and neighborhood shopping centers. Downtown Summerlin offers fashion, dining, entertainment, Red Rock Resort and Class-A office buildings. City National Arena is home of the Vegas Golden Knights National Hockey League practice facility. The Las Vegas Ballpark is a world-class Triple-A baseball stadium and home of the Las Vegas Aviators.
In total, Summerlin offers over 110 floor plans in 20-plus neighborhoods throughout 10 distinct villages and districts. Homes, built by many of the nation's top homebuilders, are available in a variety of styles — from single-family homes to townhomes, priced from the $400,000s to more than $1 million. For information on all actively selling neighborhoods, visit Summerlin.com.
Before you visit, any new Summerlin neighborhood, call the homebuilder to check on hours of operation. Phone numbers for each neighborhood are on Summerlin.com.