Christopher Homes opens Vu in MacDonald Highlands
September 17, 2017 - 5:35 pm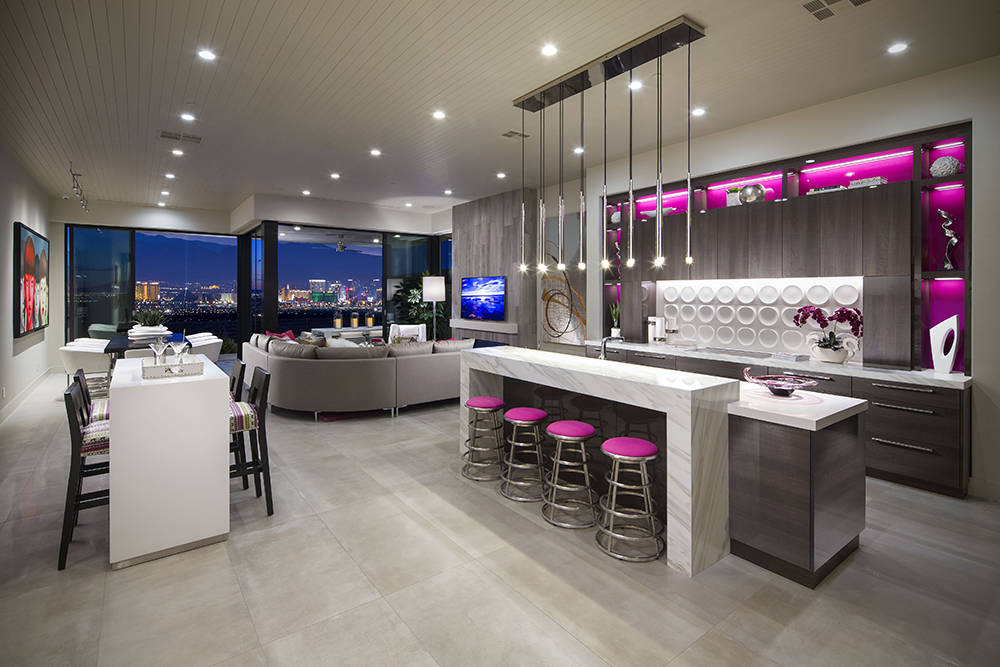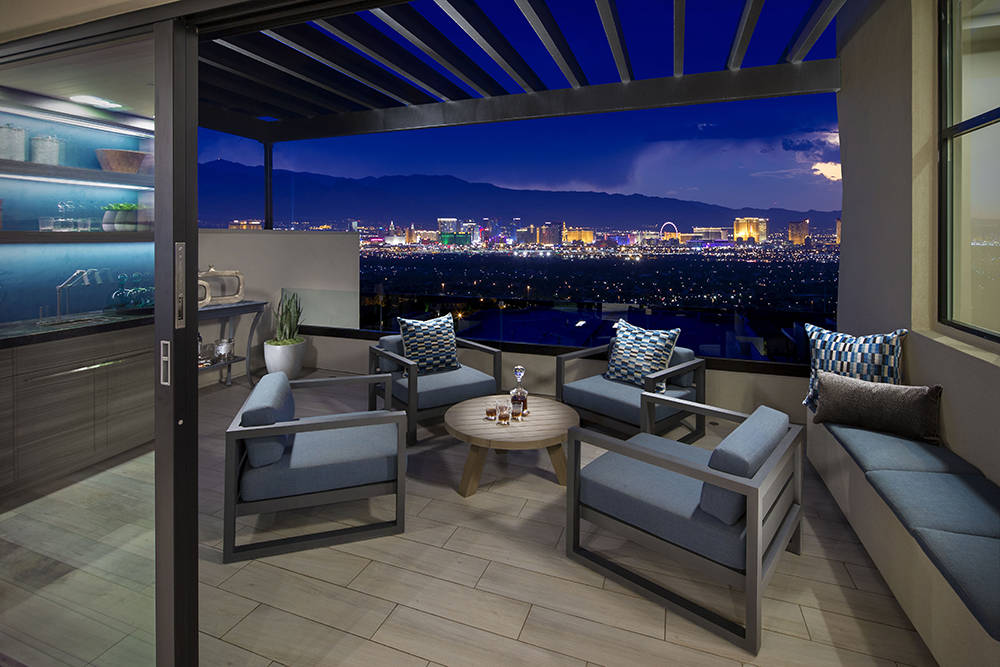 When Chris Stuhmer bought just under 40 acres of hillside property in MacDonald Highlands in 2005, he had a vision.
The founder and CEO of Christopher Homes had built some custom homes there before that, but he saw the opportunity to develop a community oriented on the "spectacular" view — hence the name Vu, because Stuhmer said, "You can't get a better view than this in Las Vegas."
What's transpired was the recent opening of luxury town home models and residents already moving into their new homes that feature sight lines of the Las Vegas Strip, city lights and DragonRidge Country Club. More than one third of the 120 town homes have already been sold.
There are four plans with two town homes side-by-side. Two town homes are single-levels, and two are multistory.
The single-story plans have either two or three bedrooms available at 2,841 square feet and 3,027 square feet, respectively, and are priced at $855,000 and $905,000.
One multilevel home with two bedrooms has 2,639 square feet and starts at $735,000. Adding a penthouse to create 3,265 square feet increases the price to $870,000.
The other multistory town home with two bedrooms spans 2,892 square feet and starts at $770,000. An optional penthouse brings the total to 3,652 square feet and the price to $915,000.
With adding options, some town homes will exceed $1 million.
The current project is different from a decade ago, when Stuhmer said they were considering four-story buildings with two units to a floor. The builder started taking reservations, but when the recession hit, Stuhmer said, they put the project on hold and waited for the market to recover. It has recovered and should continue that trend for the "foreseeable future'' of at least three to five years, Stuhmer said.
The concept meets the needs of people who want either a primary residence or a second home and want to live in a luxurious guard-gated community where they feel safe and secure, like in MacDonald Highlands, Stuhmer said. They want the view and the same high-end finishes like in the home they have now but just don't want all that space.
"We know that there are a lot of people who don't want all of the volume because they had it, and the kids have grown up and moved onto college or are married," Stuhmer said. "They can afford more house, but they don't necessarily want more square feet. They want something designed exceptionally well and finishes that are exceptional. The finishes and detail is the same we do in a luxury home. We've created a kitchen as nice as we put in a 5,000-square-foot home."
That level of design is the same for master suites and baths. The buyers don't need a theater room or home office, he said.
"We're still spending the money that we normally would but on a smaller footprint," Stuhmer said.
"What we found is that, even though a lot of people's kids are gone, they don't want to compromise on their kitchen and living area where you have a fireplace and watch TV. Typically, when you go down in size, those things get comprised in design as well with the finishes."
That includes the guest bedroom that Stuhmer said is as nice as any suite in a five-star hotel. Such design and ample dining space is not typical on a home this size, but it's needed to flex for special occasions, he said.
"That buyer profile who's in their 50s and 60s — the kids are gone, but they come back and visit and there's Christmas dinner and Thanksgiving," Stuhmer said. "We've designed the dining room to accommodate dinner for 12."
The town home concept and four models fit the site because it takes advantage of the elevation of the land despite the challenges of building on it, Stuhmer said.
The multistory homes are designed where the main living area, kitchen and family area are on the mid-level and look over the top of the single-level units. Master bedrooms are above the main living area.
While town homes allow for more units to get built, there's glass on three sides instead of two, which Stuhmer said was critical to preserve views.
"We recognized the primary value of the land was its view, and we wanted to design a community where every home had a view," Stuhmer said.
"These homes still create outdoor spaces that people want to enjoy. They're big enough that they have a great relationship to the indoors. When you're here at nighttime and you're on the outside, it feels like you're on the inside."
Stuhmer said those in their 50s and 60s would gravitate toward the single-story town homes, and those in their 30s, 40s and early 50s will be more interested in the multistory units that are designed to be "cool and interesting and a young, hip way to live."
The vast majority of buyers are Southern Nevada residents, and many have owned Christopher Homes residences before, Stuhmer said. There are buyers from Southern California and even from Canada, he said.
Many buyers are executives and business owners. Stuhmer said it will take more than two years to sell out the project and that Christopher Homes is focusing most of its attention on MacDonald Highlands. It's looking at acquiring additional land to extend its town home prototype and add another line that's "maybe bigger and more luxurious" but following the same theme, he said.
"They might be single-family detached but not 5,000 or 6,000 square foot, but 3,000 max or in the 4,000 range," Stuhmer said.
Stuhmer said the trend has been for smaller homes in the luxury marketplace, and that should continue.
What people want is luxurious space that is designed efficiently and is intimate and comfortable, he said.
"At one point having these giant spaces was the trend in the marketplace," Stuhmer said. "It's not where the luxury market is going. It's because of the aging of the baby boomers, and they're getting to the place they're not valuing an eight-car garage, huge home theater with eight La-z-Boys and all that stuff. They've been there and done that. They want to simplify their life. It's hard to simplify your life with a 10,000-square-foot home."