SkySide estate in Summerlin has three-story master suite
August 2, 2016 - 10:26 am
Updated April 26, 2017 - 11:28 pm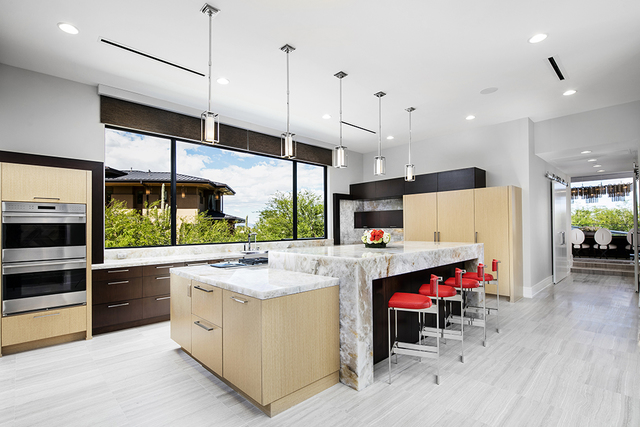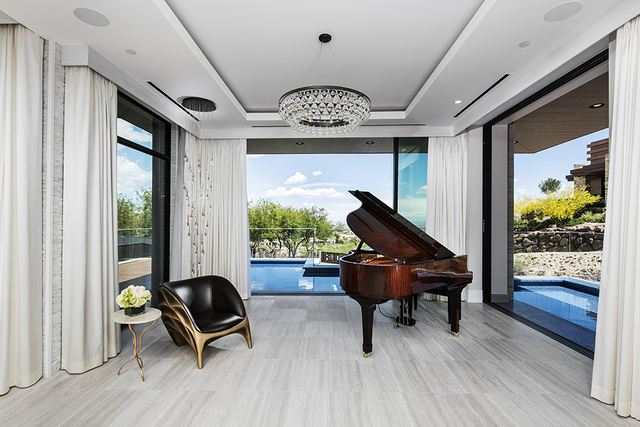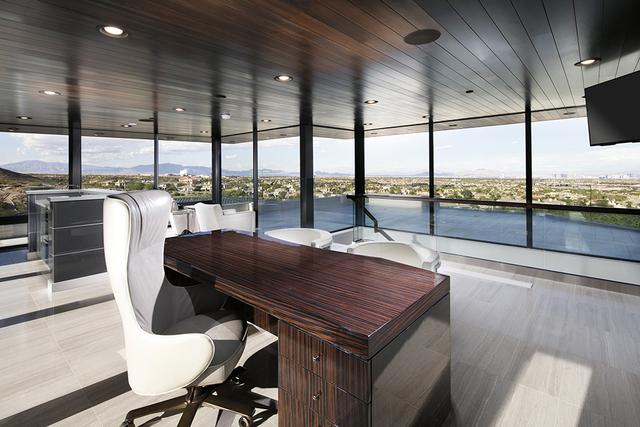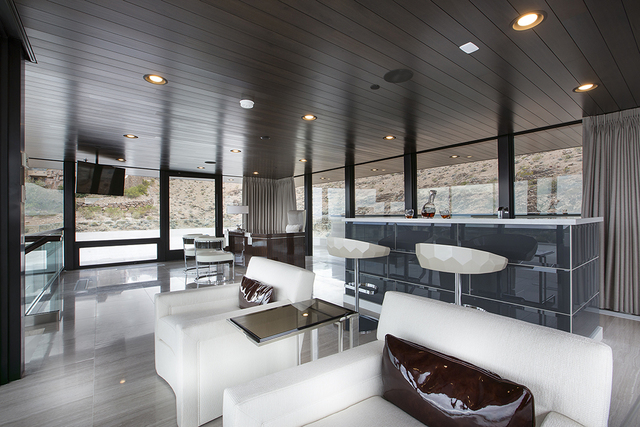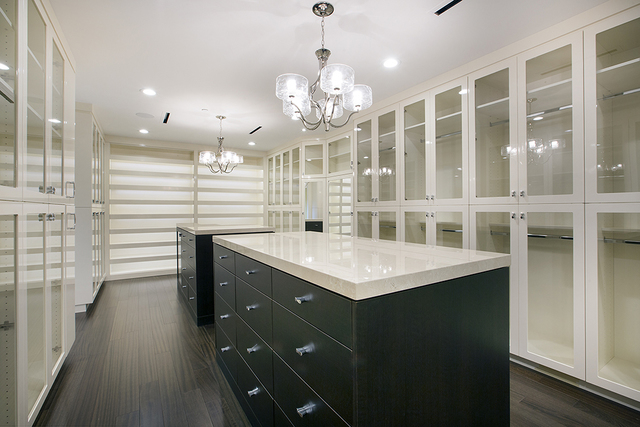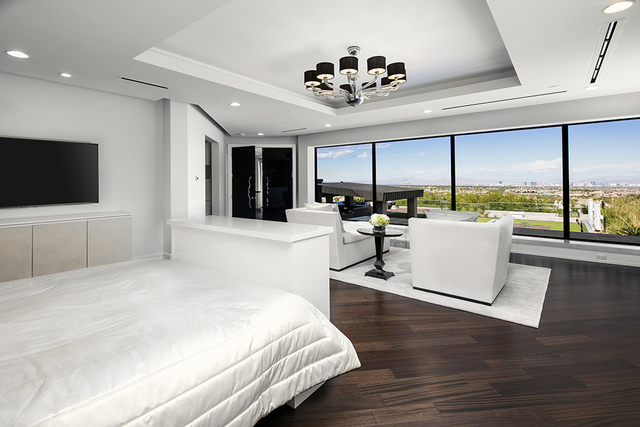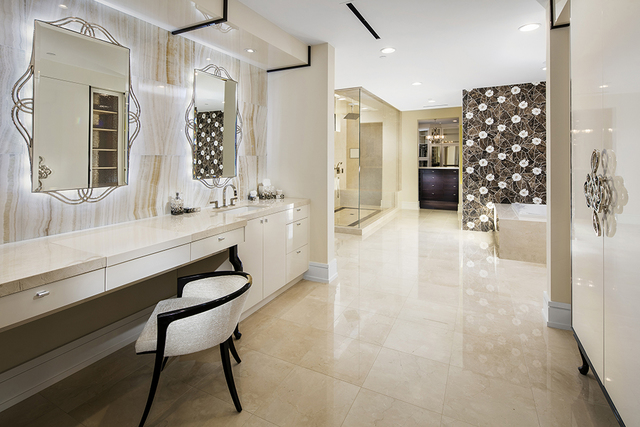 It's another record-breaking week in residential real estate.
This week, Shapiro & Sher Group listed a $30 million home, which, according to the MLS, Multiple Listing Service, is the most expensive property currently listed on the market in Southern Nevada.
Earlier this month, the Las Vegas real estate agency made national headline news for selling a Summerlin home that wasn't even on the market for $17.55 million to magician David Copperfield. It was recorded as the highest price ever paid for a Las Vegas home. Shapiro & Sher Group represented the buyer and the seller in the transaction.
If this $30 million home sells for the listed price, it may set a new Las Vegas real estate record.
The six-story estate boasts nearly 24,000 square feet of interior space, as well as more than 8,600-square-feet of outdoor living and entertaining areas. The home, 9 Echo Peak Lane, is on the hillside of The Ridges village in Summerlin.
"The beauty of this home is in the details," said Ivan Sher, a principal in Shapiro & Sher Group, Berkshire Hathaway HomeServices Nevada Properties.
The newly built estate is named SkySide due to its elevation and sky-level views.
Walking up to the entryway door of the home, water features and pocket doors span either side to bring the outdoors in.
The property is made of steel and concrete and has three commercial-size elevators.
A 5-feet deep pool, complete with a swim-up bar, is in the center of the home's interior courtyard for privacy, Sher said.
There are two bedroom suites on the main level and one on the second level in addition to a three-level master suite.
Yes, you read that right.
The master suite spans three levels — the first has a master lounge area, the second has the bedroom, bath, closet and desk area; and the third has a bar and office, which is surrounded by 360-degree views of the Strip and Spring Mountains.
The home also has a rooftop patio with Strip views that has an outdoor kitchen, Jacuzzi, fire pits, outdoor projector and movie screen as well as heaters and air conditioning over the kitchen.
The basement features an indoor basketball court, fitness area, wine cellar, sound studio, full bar, meditation patio and Zen garden, air-conditioned dog run, eight-car garage and separate men's and women's bathrooms.
SkySide features a Crestron technology system that includes more than 25 cameras with motion detection.
"This system allows the homeowner to control every operational function of the home, either remotely or on-site," Sher said in a statement.
"Everything from lighting and drapes to audio-video functions, security and remote gate operations can be controlled through the system."
Sher said the home features highly lacquered interior doors, which are adorned with chrome hardware, and walls that are covered with silk and textured wallpapers.
"It's a contemporary home with the best finishes in the city," he said. "What I love about this home is the attention to detail and the quality of finishes that are presented throughout. SkySide truly has an elevated level of design and sophistication."
Over the years, there have been other homes in the Las Vegas Valley that have broken the $3o million listing mark.
Wayne Newton's 40-acre compound, Casa de Shenandoah, on East Sunset Road was originally listed for $70 million. It was relisted for $30 million in 2014.
Palms Place penthouse Unit 5930 is on the market for $29 million and was originally listed at $38 million. Synergy, Sotheby's International Realty's Lisa Song Sutton and Deven Chase has that listing.
Another Shapiro & Sher listing at 9021 Grove Crest is listed for $22 million.
Lastly, a home on Enclave Court was originally listed at $28 million before it was reduced to $25 million and is now for sale for $17.17 million. Kristen Routh-Silberman with Synergy, Sotheby's International Realty has that business.
Contact reporter Ann Friedman at afriedman@reviewjournal.com or 702-380-4588. Follow @AnnFriedmanRJ on Twitter.
About the mansion
Location: 9 Echo Peak Lane, The Ridges in Summerlin
Price: $30 million
Size: 23,748-square-feet of interior space and 8,674-square-feet of outdoor living space on a more than an acre lot with five bedrooms and 9½ baths.
Features: Three-level master suite, outdoor patio with kitchen, Jacuzzi, fire pits, outdoor projector and movie screen, indoor basketball court and pool with swim-up bar.
Listing: Ivan Sher, Shapiro & Sher Group