Why the Liberace Mansion is back in the spotlight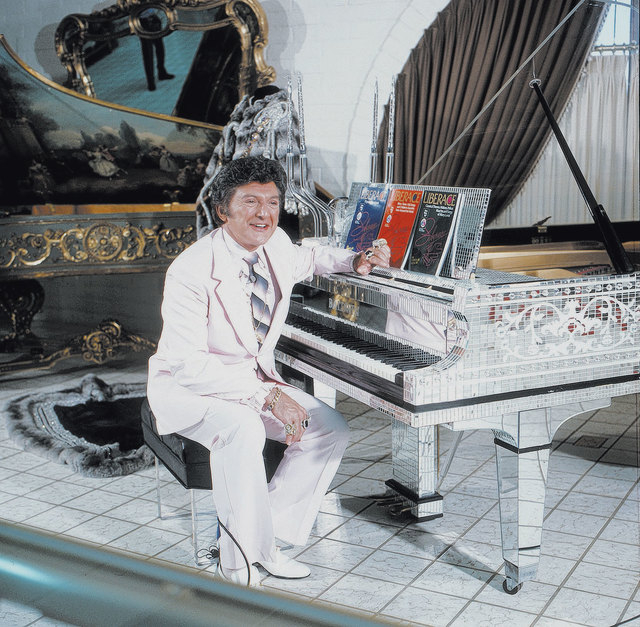 A lot can change in a few years. Need evidence? Look at the Liberace Mansion at 4982 Shirley St.
In summer 2013, the 14,393-square-foot former part-time residence of iconic piano virtuoso Wladziu Valentino Liberace (1919-1987) – known for his showmanship while performing on the Las Vegas Strip, sequined costumes and opulent lifestyle – was in foreclosure after several changes of ownership following his 1987 death. Signs of neglect were evident both inside and out, and its cracking walls were a sign of a sink hole hidden under its master suite wing. Its glory days of glitz and glamour were no more.
That was then and this is now.
Now the Liberace Mansion is back in the spotlight, receiving the first Clark County Historical Designation with an unanimous vote of the Clark County Commissioners last week. This is a big step from when United Kingdom businessman and long-time Liberace fan Martyn Ravenhill purchased the foreclosed home for a mere $500,000 or $34.74 per square foot in August 2013 and embarked on extensive preservation and restoration efforts after fixing the sink hole. He said he has spent more than $1 million in restoring this slice of Las Vegas history. These efforts are still ongoing.
"We pursued this designation because we were very concerned about the future of the mansion, and I wanted to make certain that it remains intact. It was neglected when I purchased it, and I want to protect it the best I can," Ravenhill said. "Las Vegas is internationally renowned for destroying its history and buildings, but where I come from, in England, we are focused on preserving. I want to share the mansion and its history with others, and I think receiving the historical designation will help do that."
Historical designation
Describing "why" the Liberace Mansion qualified for the county's historical designation during last Wednesday's Zoning Commission meeting was Heidi Swank, executive director of the Nevada Preservation Foundation, who worked with the county in expanding the Clark County Historic Designation beyond neighborhoods to individual homes and structures in 2014.
Criteria for historical designation can vary. Swank explained that, in the Liberace Mansion's case, the residence met the criteria that it:
■ Is at least 40 years old (Liberace actually combined two existing houses in 1974);
■ Is associated with a well-known person in the community's history; and
■ Contributes to or is reflective of the county's social, cultural, economic or political history.
"This is the first time that the county ordinance has been used at all. We should have another project applying for county Historic Neighborhood Designation in the coming months – the original part of the Paradise Palms neighborhood," Swank said after the meeting, explaining that the foundation assists property owners as well as neighborhoods in establishing historical designation, although owners can pursue it solo.
"I really am so happy that Martyn and Ivan (Ravenhill's partner) have taken on the Liberace Mansion and in all of the work they have done … We first visited the mansion in 2013 right after Martyn bought it, and we have helped out here and there along the way. It has come a long way."
Along with the plaque that will be displayed near the mansion's decorative front entrance, the historical designation will bring accessory uses to the single-family residence for activities like charity fundraisers, private events and private appointment-only tours.
The historical designation was approved with several conditions such as the use of valet parking during events, times when special events can be held, no outside amplified noise, and so on to protect the neighborhood, which is located between the University of Nevada, Las Vegas, campus and McCarran International Airport.
The Mansion's Future
"What's intended in the future is for the mansion to become a special area. I want to open the doors through private events and share it with others so they can get a taste of what Liberace was all about," Ravenhill said. "It has never been my intention to just open up my home to the public. After all, I live there, too."
Looking forward to getting a first-hand glimpse of the mansion are members of a Liberace fan club, who will be gathering in Las Vegas this fall.
"About 100 people from our fan club will be attending our first Liberace festival this fall in Las Vegas and the mansion is the number one thing that we would like to see," said Las Vegas Valley resident David LaBrake, administrator of a Liberace fan club on Facebook who also spoke in favor of the historic designation during the commission meeting. "I'm pleased that they are preserving the home and Liberace's memory."
They will likely be enthralled by what many have only seen in photographs and TV clips — the mansion's ornate chandeliers, an intricate ceiling mural depicting the Sistine Chapel and painted by a descendant of Michelangelo in its master bedroom, a marble tub with 14-carat gold swan fixtures in the master bath, eight marble pillars imported from Greece, mirrored walls and bars featuring etchings similar to that English illustrator Aubrey Beardsley, a curved staircase that was imported from a can-can-bar in Paris, and an atrium-style "Moroccan Room" featuring copper tiles from Africa. Memorabilia placed throughout and pictures of Liberace adorning the walls will remind them of its former owner.
For additional information, visit nevadapreservation.org or the Liberace Mansion Facebook page.