Former competitors form Eagle Promotions to produce logo-laden merchandise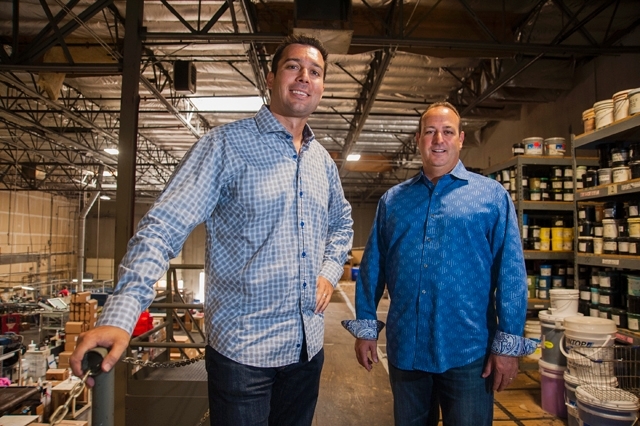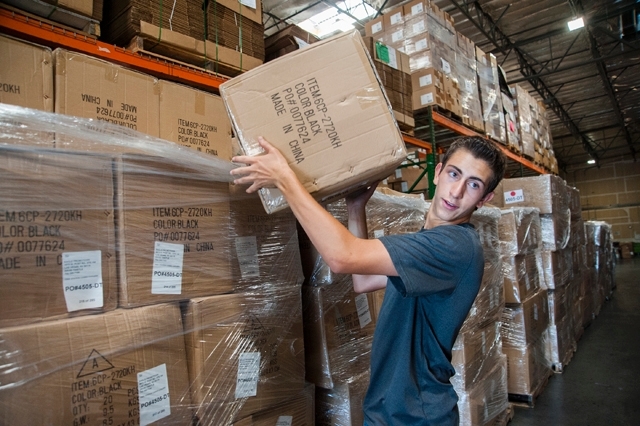 Eagle Promotions' client list includes Universal, Yamaha and Wynn Resorts. But you won't find its logo on most of the merchandise it sells to companies worldwide.
That's because Eagle Promotions produces clothing and merchandise branded with their clients' logos. Buy a logo T-shirt at Universal Studios in California or a baseball hat at a Hard Rock Café and there's a good chance it's an Eagle Promotions item.
Mario Stadtlander, co-owner of Las Vegas-based Eagle Promotions, said the company produces pins, key chains, hats, T-shirts, jackets and many other products with logos to be used as either promotional items or sold in retail stores.
The firm's retail business took off nine years ago when it started producing shirts, hats and other merchandise for Yellow Stone National Park.
"We found a niche," Stadtlander said.
He said it's a non stop process designing and making clothes for Fortune 500 companies. Eagle Promotions is already designing items for 2014.
Stadtlander, 45, said they produce various merchandise sold at shows, restaurants and casinos along the Strip at their 35,000-square-foot factory in suburban Las Vegas.
An order for 20,000 T-shirts can cost from $80,000 to $160,000. Stadtlander declined to comment on the private company's annual earnings.
"It's our team that we put together that makes us successful," Stadtlander said.
Eagle Promotions employs 160 people, including artists, fashion designers, warehouse workers and a sales group. On the factory floor, there are seven automated screen print machines producing 15,000 to 30,000 garments a day.
The company was created in 2001 with the merger of EP Performs and Eagle Promotions, which at the time was owned by Sean Ono.
"We were competitors," said Stadtlander, a Las Vegas native. "We merged and took the company to a new level."
Stadtlander said he considers Ono, 38, a Las Vegas native despite the fact he moved here when he was 4 years old. In 12 years, Stadtlander and Ono have created one of the largest promotional advertising companies in the United States, ranking 25th in volume by Impressions magazine.
He said the company has declined several buyout offers. Instead, Stadtlander said Eagle Promotions has acquired several smaller companies over the past decade.
Beyond the Wynn T-shirts or Cirque du Soleil sweatshirts, Eagle Promotions produces the plastic cups sold at concession stands at San Diego Padres games. The company also has an exclusive contract for uniforms for concession employees at nine NFL stadiums and three major league ballparks.
If that's not enough, Stadtlander even imports and distributes glowsticks to clubs on the Strip.
He said the company is looking to grow by marketing their products to Fortune 100 firms and by bidding to provide the game day giveaways for Major League Baseball.
Contact reporter Chris Sieroty at
csieroty@reviewjournal.com or 702-477-3893. |
Follow @sierotyfeatures on Twitter.