Suicide awareness and prevention efforts in Las Vegas strive to avert tragedies
September 12, 2016 - 5:53 am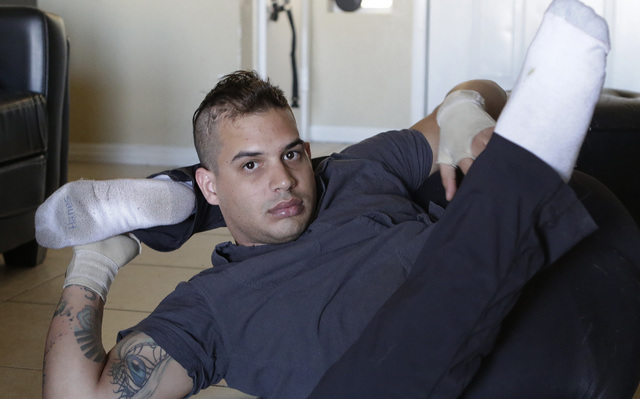 North Las Vegas resident Christopher Erle's outwardly healthy appearance can be deceptive, but the 28-year-old openly shares details of his traumatic brain injury with everyone he meets, whether it's a casual introduction or a potential employer in a job interview.
"To learn a new thing was so easy. Now it's amazingly hard. I still do it. I still do everything I want to do, but it's harder," he said recently, seated in the living room of his family's home.
Erle, who worked as a writer, artist, musician and performer before his injury, struggles sometimes to remember or pronounce words such as "photography" because of his aphasia — a communication disorder that resulted from the injury.
He's forgotten some details of the life he lived before, but having struggled with bipolar disorder, anorexia, obsessive-compulsive behaviors and self-harm during his life, there are many things he's simply not interested in remembering.
But he does not hesitate to share what he will never forget.
A little more than two years ago, after leaving Las Vegas to start a new life in Atlanta, Erle attempted suicide, jumping from a second-floor balcony.
"I thought that my life was just going to get worse and worse and worse, and that I couldn't change that," he said.
Though the reasons vary, the tragic statistics reveal that many suffer from similar emotional despair.
Every year, more than 42,000 Americans die in suicides, and data suggests more than 1 million people in the United States attempt suicide every year, according to the American Foundation for Suicide Prevention.
September is Suicide Prevention Awareness Month, aimed at growing the national conversation about suicide and highlighting available resources to prevent suicide deaths.
Nevada's suicide rates have long posted above the national average.
The Silver State's age-adjusted suicide rate of 19.47 suicides per 100,000 individuals in 2014 ranked eighth nationally. The overall national rate was 12.93.
However, Nevada didn't see the same overall spike in suicide rates between 1999 and 2014 that affected much of the country, said Misty Vaughan Allen, suicide prevention coordinator for the Nevada Office of Suicide Prevention.
"We're still high comparatively. We're still in the top 10, but something is taking hold," she said.
Allen and co-worker Richard Egan, a suicide prevention training and outreach facilitator, say they're unsure why that is, but they're hoping to explore the data further.
They believe the state's outreach and prevention efforts are making a difference.
The suicide prevention office collaborates with the Nevada Coalition for Suicide Prevention and other outside organizations to hold suicide prevention training and publicize the risk posed by unsecured firearms and medications.
The state also has a mobile intervention program for youth in crisis, and Nevada's suicide fatality review committee analyzes random suicide cases to assess missed opportunities for intervention.
The motto of the suicide prevention office summarizes the state's approach: Suicide prevention is everyone's business.
Rustin Park, director of nursing at behavioral health treatment center Seven Hills Hospital, heartily agrees.
He encourages people who believe a friend or family member may be suicidal to contact a mental health professional or engage in conversation with the individual, especially if the person causing concern begins giving away belongings, joking suddenly about death or becomes withdrawn.
"Hindsight is 20/20 and you don't want to live with that regret. What I always tell family members is to seek out help," he said.
Christopher Erle's father, Brian Erle, said he wrote off some signs of his son's early depression as teen angst.
When he excelled in academics and in his jobs but continued to struggle with personal issues including the death of a boyfriend, Christopher Erle, known to friends as Chris Twist, tried to convince his parents things were going well.
But as he continued to face personal struggles while in Atlanta, he suddenly began to push away those who cared about him.
Brian Erle said he felt his son was trying to become unloved shortly before the suicide attempt, but added that his son could never have succeeded.
"My perspective was one of incredible gratitude to have a son to heal," he said, " because otherwise I would be burying him."
Because of the suicide attempt, Christopher Erle lost much of his sense of smell and his peripheral vision. He's since consumed himself with rehabbing, exercising and pursuing another job as a search engine optimization writer.
He has a list of goals, and he said the struggles he's faced during rehabilitation aren't so bad, considering the alternative.
"I am, for the first time in many years, happy that I'm alive," he said.
Contact Pashtana Usufzy at pusufzy@reviewjournal.com or 702-380-4563. Follow @pashtana_u on Twitter.
Warning signs of suicide
Signs of suicide can include changes in conversation, behavior and mood, according to the American Foundation for Suicide Prevention. If a person talks about being a burden to others and feeling trapped; if a person starts acting recklessly or withdrawing from friends, family and activities; if a person starts experiencing rage, anxiety, or a loss of interest — among other factors — reach out to the person or seek help. For more information, visit afsp.org/about-suicide/risk-factors-and-warning-signs
National Suicide Prevention Lifeline
If you are experiencing suicidal thoughts, call 1-800-273-TALK (8255) to speak with a skilled, trained counselor, 24 hours a day, seven days a week.