After F1 race, the next mad dash will be at the airport
Updated November 16, 2023 - 4:15 pm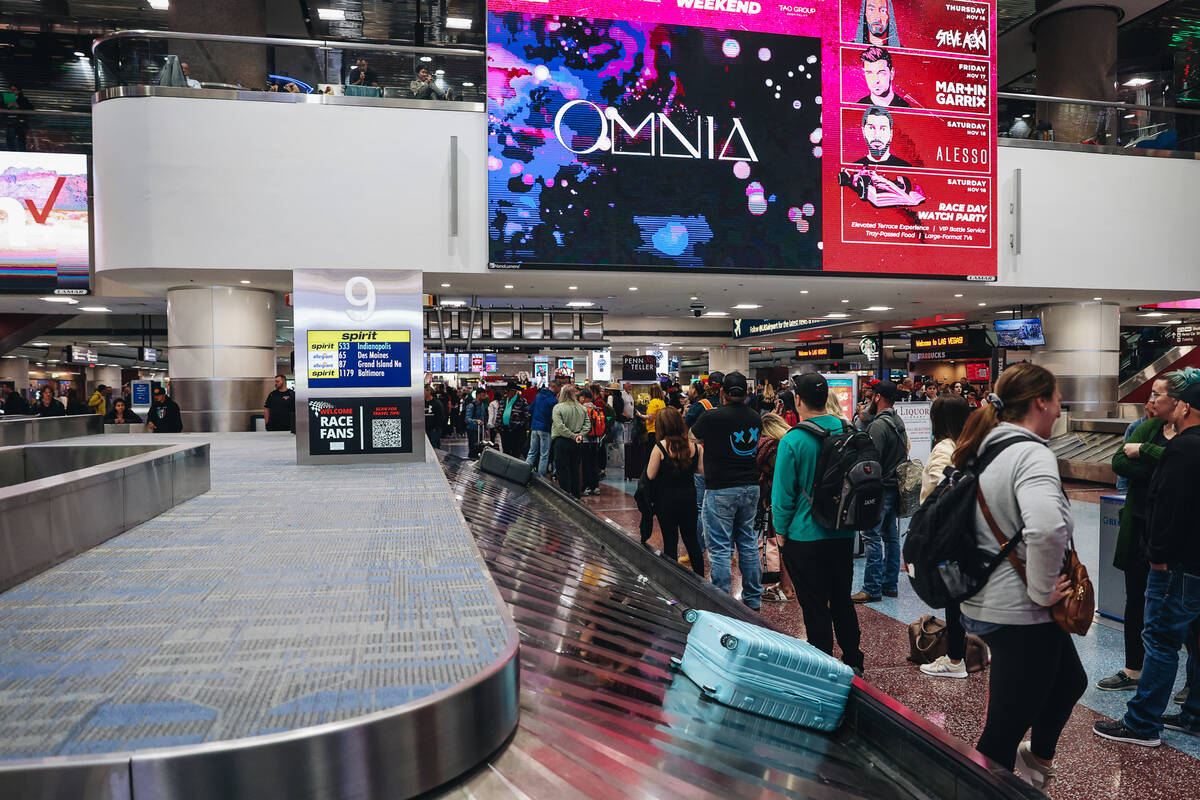 Security at Harry Reid International Airport is ramping up as officials prepare both for an influx of travelers for the Formula One Las Vegas Grand Prix and a post-race rush back to the airport beginning early Sunday.
The Transportation Security Administration expects 98,000 travelers will depart from the airport on Sunday and 94,000 on Monday — busy, but not expected to break a single-day record, a news release from the agency said. The busiest and second-busiest days for TSA screening were Oct. 29, with 103,400 screened passengers, and Nov. 5, with 103,285.
Some checkpoints in each terminal will be open overnight to screen travelers, and checked baggage screening operations will also be conducted overnight, the agency said. Regular checkpoint hours will resume Monday morning.
"Las Vegas consistently plays host to premiere events and we are excited to add the Formula 1 Las Vegas Grand Prix to that list. There has been no shortage of anticipation and planning leading up to this event when tens of thousands of additional travelers will depart LAS. We have planned for them, are expecting them and we will be prepared," Karen Burke, TSA federal security director for Nevada, said in a Thursday news release. "The entire TSA team will be focused on our security mission to ensure that every departing traveler and their belongings are screened in the most efficient manner to ensure a safe and secure trip home, whether they came to town for the race or something else."
The Department of Homeland Security classified the race as a special event assessment rating level 2, allowing it to qualify for federal support. More than 20 TSA explosive detection canines and handlers are in Las Vegas, including at the airport. They are used in aiprort screening and to work in other locations as an additional security measure.
During peak times, the TSA said it will have 51 lanes open across both airport terminals in five checkpoints. Additional checkpoint capacity will be available on the "0" level in terminal 3 to alleviate capacity at the heaviest travel times, the agency said.
Clark County Department of Aviation officials on Wednesday said a steady flow of passengers — many of them wearing Formula One race gear — were arriving at the main commercial airport serving Las Vegas.
Reid airport spokesman Joe Rajchel said it expected to get its biggest influx of commercial passengers for the race on Wednesday and Thursday. He did not have estimations for the number of travelers arriving Thursday but noted an increased number of apparent F1 fans wearing gear while at baggage claim.
He said general aviation planes are expected to fill all available parking places for corporate jets by Thursday. An estimated 400 planes are expected to park at Reid, Henderson Executive Airport and North Las Vegas Airport.
Airport officials are promoting "Cross the Finish Line with the 4-3-2-1 Plan." That initiative involves planning transportation to the airport four hours before flight time, checking bags three hours before, getting in line for the Transportation Security Administration checkpoint two hours before and arriving at the gate an hour before flight departure.
Rajchel said all long-term parking lots were open as of Thursday afternoon.
McKenna Ross is a corps member with Report for America, a national service program that places journalists into local newsrooms. Contact her at mross@reviewjournal.com. Follow @mckenna_ross_ on X.