Airport lounges let McCarran travelers get away from it all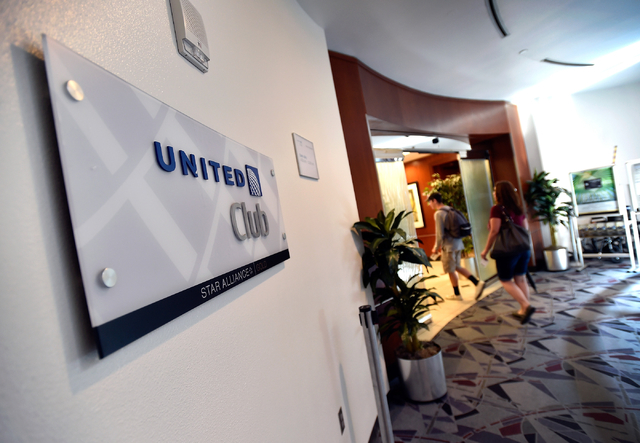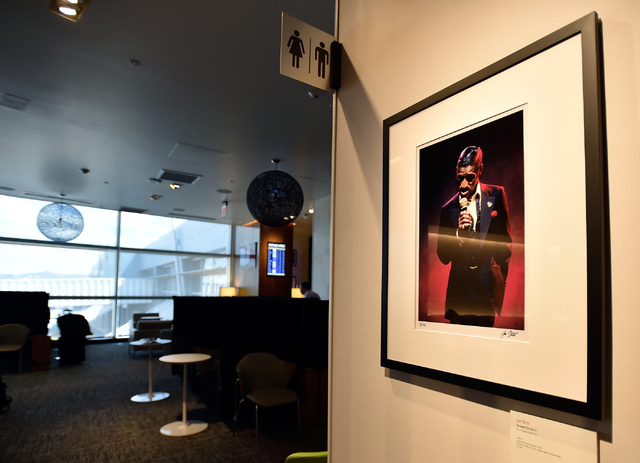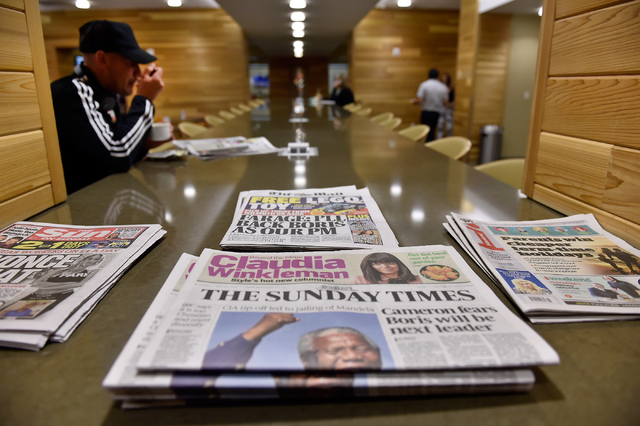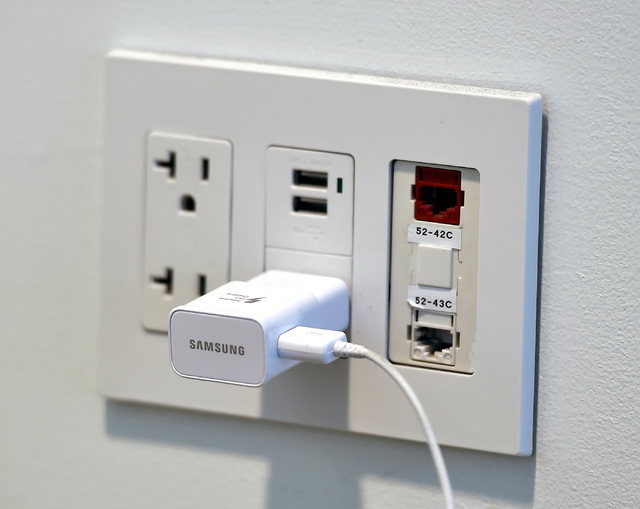 When Josh Neighoff and Samantha Bowers had a few hours to kill before catching their flight back to New York City, they could have done a lot of things with their time.
Another spin on the High Roller. Another stroll along the Strip. Another few bucks dropped into a machine or pushed across a felt-covered table.
Instead, the couple took heed of TSA requests and arrived at McCarran Airport early and spent a few hours in the Centurion Lounge. There, thanks to Neighoff's American Express card and a fee of $50 each, they dined on short ribs, drank good wine and upscale beers and sprawled out on almost decadently comfortable furniture, escaping the noisier, more hectic environment in the gate area outside.
Most travelers probably never notice, but McCarran is home to four airport lounges operated by United Airlines, American Express and, in the case of two, by a Texas-based company called Airport Lounge Development.
With warnings that this summer probably will be a crowded and frustrating one for air travelers, now might be a good time to explore the lounges.
The United Airlines lounge is open to members of the airline's frequent flier program, and the Centurion Lounge, which opened in 2013, is open to American Express cardholders. But for travelers who still reflexively equate "airport lounge" with "VIP lounge," it's those remaining two lounges, both called The Club at LAS, that offer the opportunity to fly like the rich and well-traveled do.
All for a mere $35 a day, or pretty much the cost of a few drinks and a turkey wrap in the airport concourse.
The Club at LAS' lounges — in the D Gates in Terminal 1 and across from Gate E-2 in Terminal 3 — are part of a relatively new trend called shared-use lounges. Nancy Knipp, senior vice president of Airport Lounge Development, says the idea is to offer a first- and business-class experience to fliers who otherwise wouldn't have access to an airport lounge.
"Shared-use lounges are open to anyone," she explains. "You don't have to be on a particular class of service or any particular airline. You don't have to have particular credit cards. It's truly inclusive of everyone."
The company has a dozen The Club locations, including the two at McCarran that opened in 2012. Knipp says the lounges serve, first, as lounges for Priority Pass, a sister company that offers members access to about 900 airport lounges around the world.
Second, The Club lounges serve travelers on airlines that don't operate their own airport lounges, but which contract with the company to provide lounge service for their passengers. Among those international carriers, Knipp says, are Lufthansa, British Airways and Virgin Atlantic
Finally, The Club serves walk-in guests who pay that $35 fee to enjoy the lounges' amenities. Knipp says that group makes up about 5 percent of The Clubs' guests.
For that daily fee, "you can come in as long as you want to and stay," Knipp says. "You're going to find complimentary food and snacks and complimentary beverages, including premium wines and premium beers and premium spirits. Add to that very nice, comfortable seating, where you can relax and maybe do some work. We have computers, we have printers, we've got a quiet cellphone area where you can just be on your own."
The largest of the company's two lounges at McCarran is in Terminal 3, which hosts international travelers. The Club at LAS location there takes up about 6,000 feet and its list of free amenities includes shower facilities.
The room features wood styling and glass accents. A long barlike seating area runs the length of the largest of the three rooms — the remaining two rooms feature cozy table-and-chair seating — and a bar runs along one wall.
The food and snack menu on a recent Monday included soups, cheeses, ramen, a salad bar with prepared salads and vegetables and dip, pastries and fruit, sandwiches (tuna salad, egg salad, turkey and provolone, ham and Swiss on rye), hummus and pita bread, cakes, several varieties of flavored popcorn and beverages that included coffee and tea.
TV monitors and flight information displays are positioned around the lounge, while a counter holds complimentary copies of USA Today and the British papers The Sun on Sunday, The Sunday Times and iWeekend. Guests gather into small groups to talk or sit alone to read, doze in chairs or dine at the long bar, and murmered conversations can be heard in at least three languages.
Kristin Greenfield is returning to Seattle after a trip that saw her fly to Las Vegas and then drive to St. George, Utah. She didn't pay the day price but, rather, gained access to the lounge as a member of Alaska Airlines' customer loyalty program.
"It's a little more quiet," Greenfield says. "You can have a little snack and you can recharge your phone very easily. And, for me, something that's really important is, this lounge has two showers that you can use. Sometimes, I backpack and I need to have a shower, and this is really great for that. They give you a towel and soap and everything."
Sitting at the main table bar is Alison Russell, CEO of International Airport Review, a British publication. She's not here on business, although, she says, "I do like to check airport lounges when I'm passing through."
"This one is very different," she says. "It's a really nice atmosphere, and comfortable. And I like that bar in the middle."
Russell says whiling away preboarding time in a lounge is "something that I do enjoy. It makes a huge difference when you can sit in a quiet space."
Airport Lounge Development also operates a smaller, second lounge at McCarran's D gates. There are no showers there, and the menu of complimentary food and drink is shorter, but the room offers the same sense of secluded, cozy quiet.
Although traditional lounges — upscale places with upscale food and drink and upscale amenities that are available to an airline's most upscale travelers — still can be found everywhere, Knipp says the shared-use concept has taken off since the company introduced it in the U.S. about 10 years ago.
Just about every international airport "has some type of shared lounge. It's very common internationally," Knipp adds. "But in the U.S., lounges, over the years, have really been dominated by the U.S. carriers."
That more traditional airport lounge model can be found at McCarran with the United Club, in Concourse D, with entry restricted to United Airlines customers. Meanwhile, American Express cardholders can visit the Centurion Lounge in Concourse D, which is free for Platinum and Centurion cardholders, although $50 day passes are available to holders of other American Express cards.
The Centurion Lounge offers an elegant ambience via dark woods, subdued lighting, modernistic touches and artwork on the walls featuring photos of Las Vegas entertainment icons. The vibe is that of a classy New York City restaurant, an apt description given that celebrity chef Scott Conant of Scarpetta oversees the menu.
On this day, the buffet includes balsamic glazed pork loin, roasted baby potatoes, herb-roasted eggplant and, for a lighter nosh, salads or sandwiches. Seating throughout the lounge offers several ways for guests to get comfy, including cubbyhole seating areas set into walls, three-sided nooks, chaise lounges wide enough for two and, for groups, seating areas made up of couches and chairs.
Neighoff and Bowers are returning to New York City after visiting Las Vegas to celebrate Bowers' birthday. Neighoff says he patronizes airport lounges when he can and calls the Centurion Lounge's food and drink "an upgrade" from what he usually finds in airport lounges.
The visit is costing each of them $50 with Neighoff's American Express card, but Neighoff considers the fee reasonable. For Neighoff, the benefit lies in "not dealing with the hustle and bustle out there. Really, the food and drink are a bonus."
In a travel environment that has become more stressful than ever, airport lounges can offer fliers a means of making their trips more bearable and give airports and lounge operators an amenity travelers will appreciate.
Rene Schneeberger, travel agency manager for AAA Northern California, Nevada and Utah, says lounges always have served as a perk used by airlines to reward their best customers, and that some travelers even choose an airline or plan a trip with an eye toward the lounges they might use along the way.
A traveler might visit a lounge during a long layover or for later flights if their hotel has an early check-out time. But, whatever the motivation, Schneeberger says, the objectives are comfort and convenience.
"Most airports don't have comfortable seats. Many don't have good electronics chargers for iPhones and laptops and whatever, and the lounge offers all of that," Schneeberger says.
Meanwhile, airports "make money off of those lounges because they have the space leased on a retail contract basis," he says. "It creates employment, so there is a benefit there."
A lounge also can be a means of sweetening a traveler's impression of an airport.
"When you ask somebody about what (their) impression of an airport is, the response generally is it's a necessary evil, with long security lines and endless walks and, in many cases, very little service," Schneeberger says.
"I should say airports over the last 20 years have come a long way in terms of offering services and retail opportunities. But a lounge is sort of the exclusive hideaway that will make my trip more enjoyable and ultimately elevate my experience at this airport."
After enduring long ticketing security lines, Schneeberger says, "after I get to the gate, it's nice to know I can go to a lounge and have a place to sit and I can relax."
Read more from John Przybys at reviewjournal.com. Contact him at jprzybys@reviewjournal.com and follow @JJPrzybys on Twitter.
Airport lounges
American Express Centurion Lounge, D Gates, opposite gate D-1. Open 5 a.m. to 11 p.m. Amenities include food and drink (overseen by Scott Conant), showers, workspaces with Wi-Fi access. Access is free for holders of Centurion and Platinum cards, day pass is $50 for other American Express cardholders.
The Club at LAS, Terminal 1, D gates (second level, near Gate D-16). Open 6 a.m. to 2 a.m. Complimentary snacks and drinks, Wi-Fi and electrical outlets for charging devices. Day pass is $35 (complimentary for travelers flying on contracted airlines).
The Club at LAS, Terminal 3 (across from Gate E-2). Open 8 am. to midnight. Complimentary food and drink, shower facilities, newspapers, Wi-Fi and outlets to charge devices. Day pass is $35, or complimentary for fliers traveling on contracted airlines.
United Club (Concourse D between Gates 33 and 35; use elevator to access third floor). Open 4:30 a.m. to 12:30 a.m. For customers of United Airlines; access fees vary.