UNLV students' next mystery to unearth: Mammoth's diet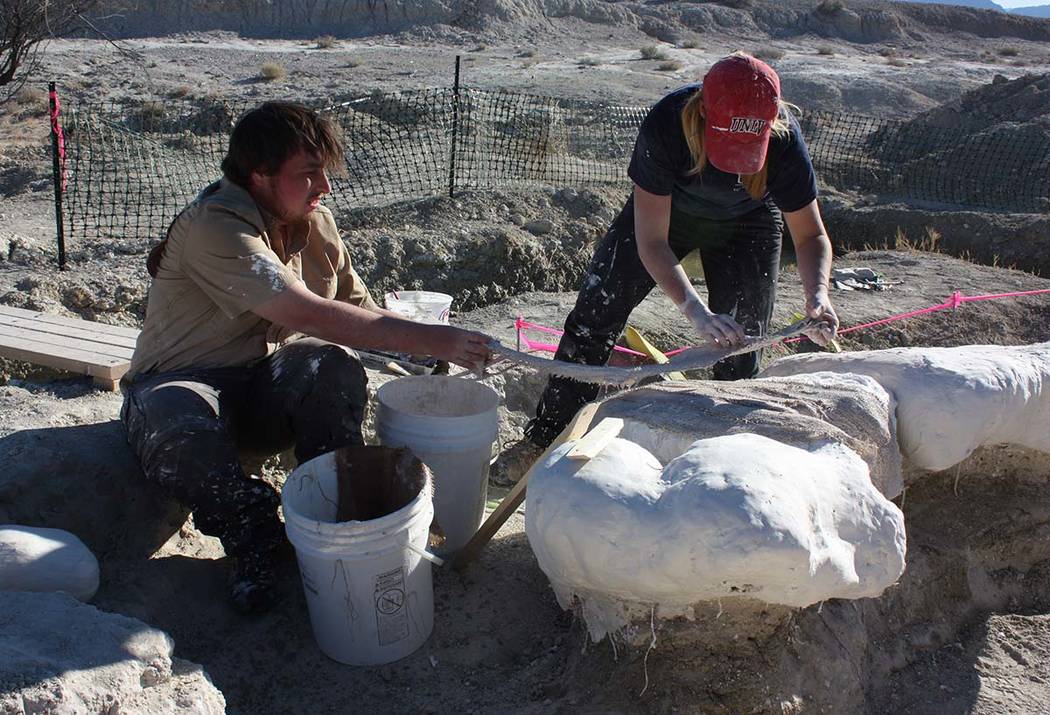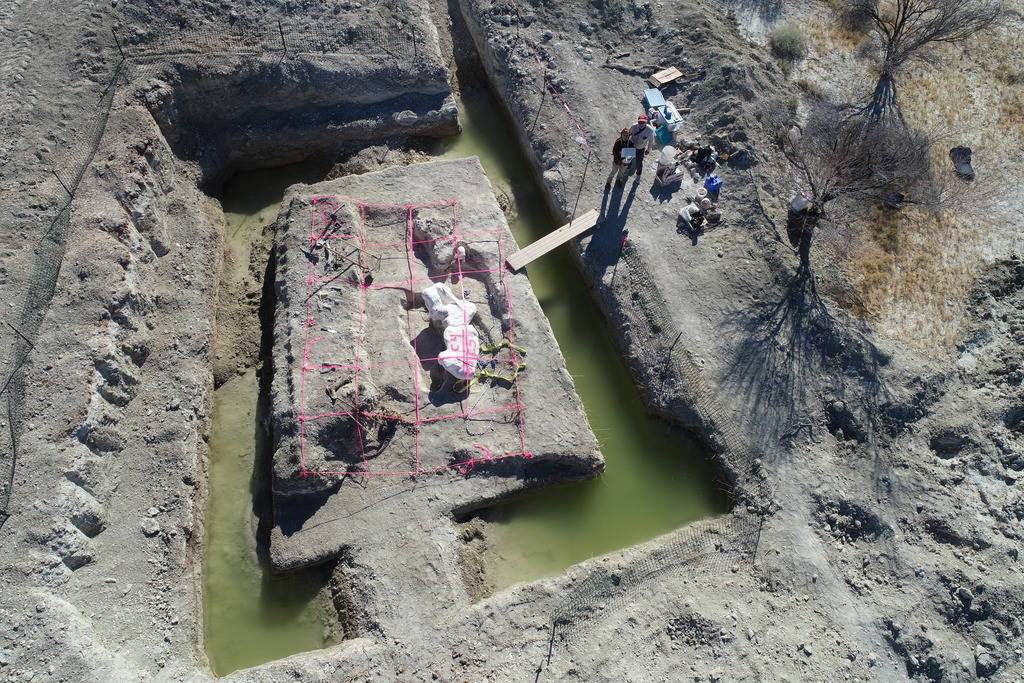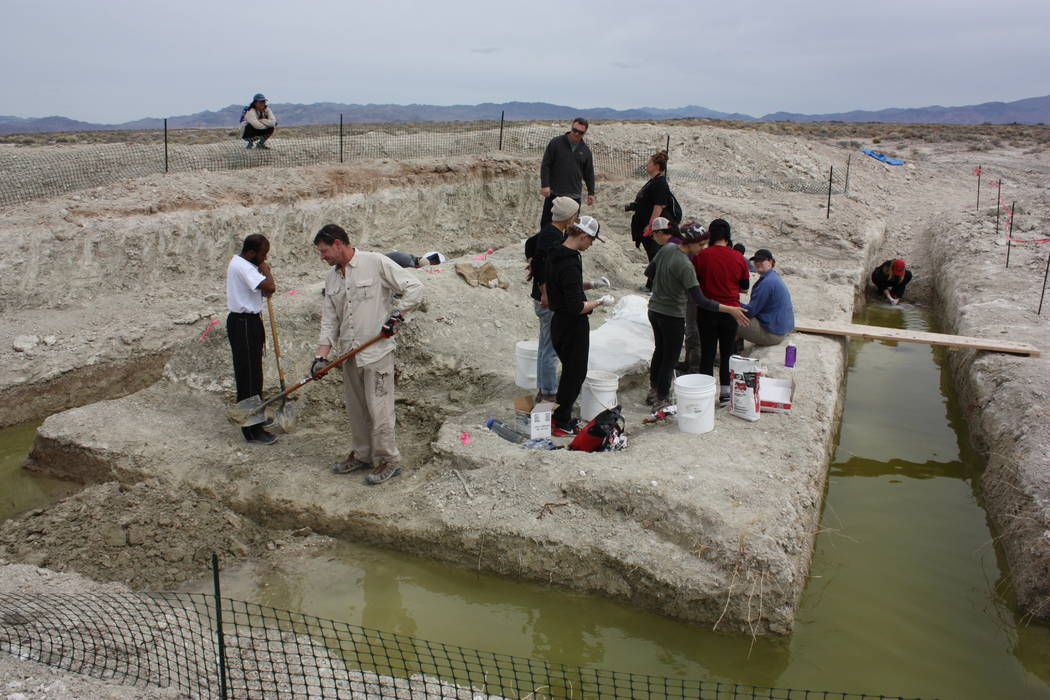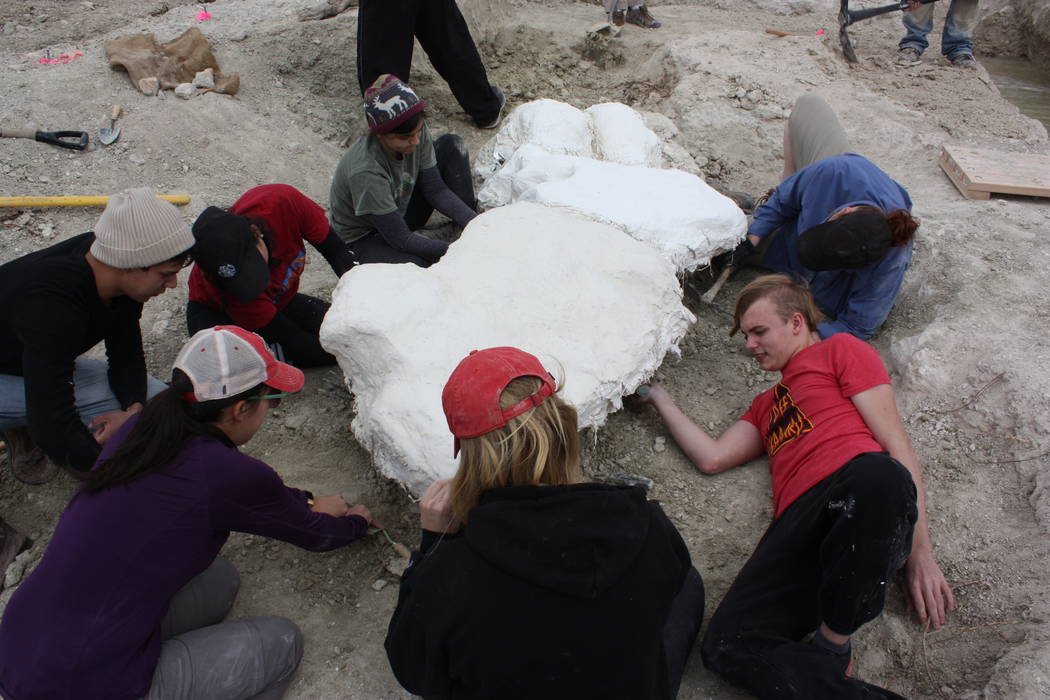 In a lab at the Las Vegas Natural History Museum, researchers from UNLV are combing over fossils from a Columbian mammoth that was a real stand-up guy.
The massive, elephantlike creature died standing up roughly 20,000 years ago and was preserved that way as the vast wetland it once called home slowly turned to desert outside the Nye County community of Amargosa Valley.
Paleontologist and longtime UNLV geology professor Steve Rowland said he doesn't know of another mammoth that has been found upright like that.
Over the next year or so, scientists hope to learn what the animal ate and where it might have roamed during the last few years of its life.
The site was discovered about seven years ago by a local man who noticed a piece of bone sticking out the ground while riding his motorcycle in the area, about 100 miles northwest of Las Vegas.
Starting in November 2016, Rowland, UNLV doctoral student Lauren Perry and others worked sporadically over about 18 months to carefully excavate portions of two large tusks and miscellaneous other bones.
The Columbian was the largest species of mammoth that ever lived, weighing in at about 22,000 pounds when fully grown and measuring up to 13 feet tall at the shoulder. They disappeared forever about 11,000 years ago for reasons scientists continue to debate.
Other Columbian mammoth fossils have been unearthed in the region. One was found in 2016 along U.S. Highway 95 west of Indian Springs, and several have been documented at Tule Springs Fossil Beds National Monument at the northern edge of the Las Vegas Valley, where researchers have also uncovered the bones of extinct camels, horses, bison, ground sloths, dire wolves and saber-toothed cats.
Early on, Rowland was hopeful the dig in Amargosa Valley would yield two complete tusks, which grew up to 16 feet long on adult male mammoths like this one. Instead, they discovered that the lower parts of the tusks and skeleton had been dissolved away by the shallow, highly alkaline groundwater at the site — something Rowland considers scientifically significant in its own right.
"While we don't have as many bones as we hoped, I think we have an interesting story to tell," he said.
They did come away with enough of the tusks to perform an isotope analysis that could tell them whether the animal spent the last few years of its life in Amargosa Valley or migrated back and forth south into present-day California or east into the Las Vegas Valley.
Rowland said the excavation also yielded numerous tiny ice age snails and a piece of ancient wood that could produce a more precise radiocarbon date for the site. Soil collected during the dig will be sent to a lab that will analyze prehistoric pollen grains in the strata to determine what sorts of plants were growing in the area at the time of the mammoth's death.
In other words, they didn't find a complete, upright mammoth skeleton, but they did collect plenty of interesting specimens that should keep them busy in their downtown lab for quite a while.
"Every project is different," Rowland said with a shrug. "You know you're going to have some surprises and some disappointments. That's just part of the game."
Contact Henry Brean at hbrean@reviewjournal.com or 702-383-0350. Follow @RefriedBrean on Twitter.
See the science
The mammoth fossils collected from Amargosa Valley this year are being processed and examined at the Las Vegas Museum Natural History Museum's Richard A. Ditton Learning Lab.
Museum visitors can watch the paleontologists while they work on this and other projects.
The museum at 900 Las Vegas Blvd. North, just south of Washington Avenue, and is open from 9 a.m. to 4 p.m. daily.