Clark County School Board extends search for superintendent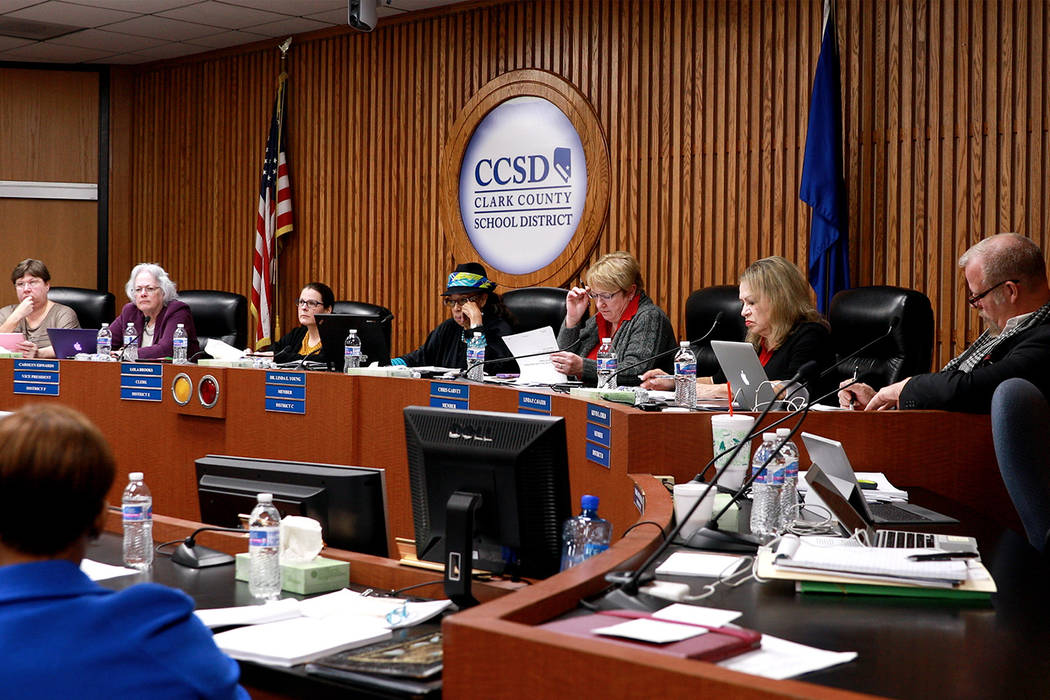 The Clark County School Board on Wednesday night agreed to extend the superintendent search process because none of the four finalists put forward by a search firm has ties to the district.
Trustees said they were surprised and upset that Ray and Associates, the search firm they hired to help replace retiring Superintendent Pat Skorkowsky, didn't include internal candidates on a list made public Friday.
"Most of us would have expected either one or two current or former CCSD people to rise to the top," said board President Deanna Wright. "That was why I didn't feel it necessary to stipulate we have one internal or former person."
The board voted 7-0 to cancel interviews and community meetings scheduled this week. On April 19, the board plans to consider internal and former district candidates to add to the existing list.
Interviews of all candidates would take place April 27, with a community meeting April 28. The board would vote on the candidate May 2.
The finalists are John Deasy, former superintendent of the Los Angeles Unified School District; Donald T. Haddad, superintendent of St. Vrain Valley Schools in Longmont, Colorado; Shonda Huery Hardman, former chief school support officer for the Houston Independent School District; and Jesus Jara, deputy superintendent of Orange County Public Schools in Florida.
Community support
While board members didn't mention names while they spoke about adding an internal candidate, that didn't stop residents at the meeting from advocating for Mike Barton, the district's chief academic officer.
"He knows out district, he knows our students, he knows our needs," Rancho High School teacher Robert Cowles said.
"My concern is that there was no one considered on the local level," Clark County Commissioner Lawrence Weekly said. "I'm not here to tell you who you should select; you have your job already lined out for you. I know who I support."
Others who spoke in support of Barton said it was disrespectful that he wasn't included in the list.
"You took somebody loyal like Mike Barton and told him he's not qualified," said resident David Gomez. "What is wrong with you guys? I'm going to keep fighting it."
The district, with all of its challenges, doesn't have time to wait for an external hire to learn the district's nuances, said former Nevada first lady Sandy Miller.
"In this case, an expert is not someone who lives more than 50 miles away," she said. "Our children do not have two years to wait for a new educator who will learn on the job and learn the difference between Sandy Valley and Sandy Miller."
Contact Meghin Delaney at 702-383-0281 or mdelaney@reviewjournal.com. Follow @MeghinDelaney on Twitter.
What comes next
The following is a schedule of important upcoming dates in the superintendent search. All events will take place in the Clark County School Board's boardroom at 2832 E. Flamingo Road.
April 19: The trustees will review a list of internal and former district employees who applied and select some for interviews.
April 27: The internal and external candidates will be interviewed by the board.
April 28: Candidates will participate in a community meeting.
May 2: The board will vote on a new superintendent and begin contract negotiations.
Meetings will be broadcast live on ccsd.net and the district's Facebook page. They also will be recorded and posted on the district's website.
The district also unveiled an email address — superintendentsearch@nv.ccsd.net — and invited residents to send questions they would like to ask candidates.
Settlement approved
The family of a 2-year-old boy hit by a school bus in 2016 was awarded a $313,000 settlement by the Clark County School Board on Wednesday.
Trustees did not discuss the measure, which was included on the consent agenda that was approved unanimously.
In April 2016, Jose Maria Covarrubias Jr. was in the street in the 600 block of Princess Avenue, near Carey Avenue and Commerce Street in North Las Vegas, when he was hit by Clark County school bus about 3:40 p.m.
Covarrubias was pronounced dead at the scene, and the Clark County coroner determined he died from blunt force trauma to the head.
The parents, who brought the wrongful death lawsuit in March, declined to comment through their attorney, Gary Fink.