Funeral set for Herman Moody, one of Las Vegas' first Black police officers
February 25, 2023 - 7:44 pm
Updated March 2, 2023 - 8:03 pm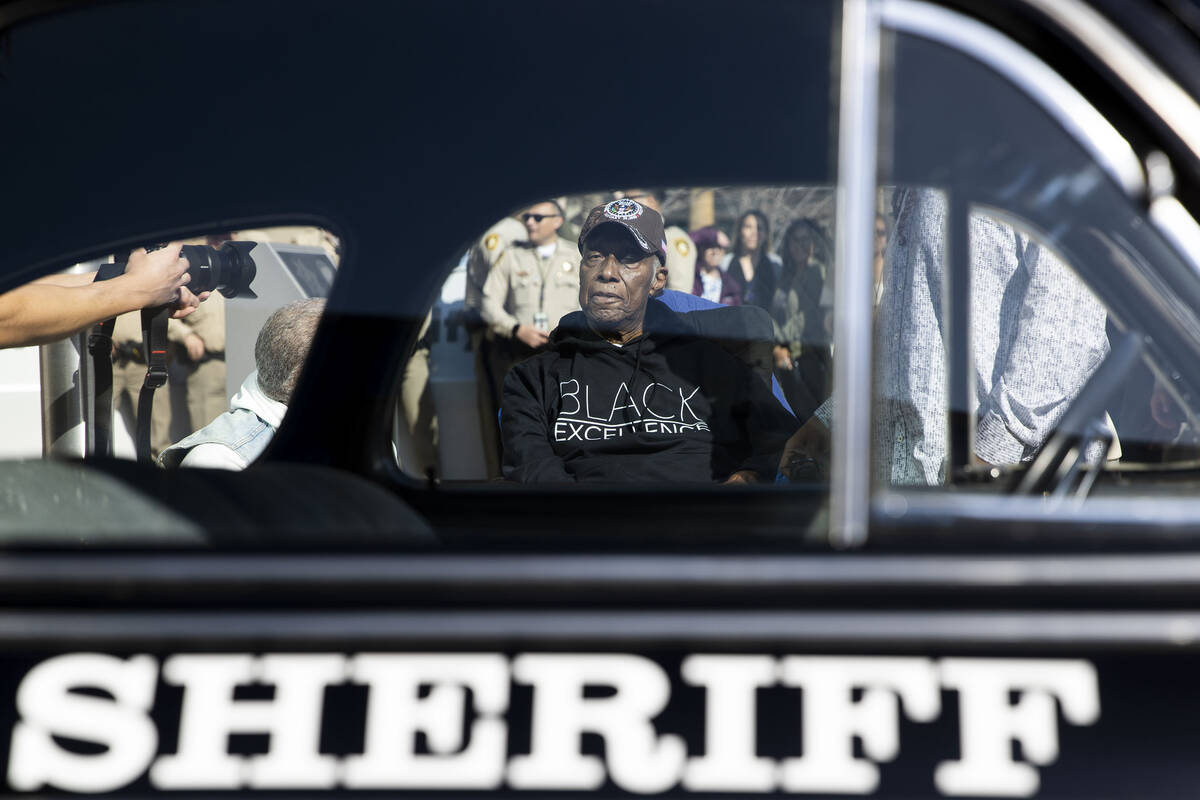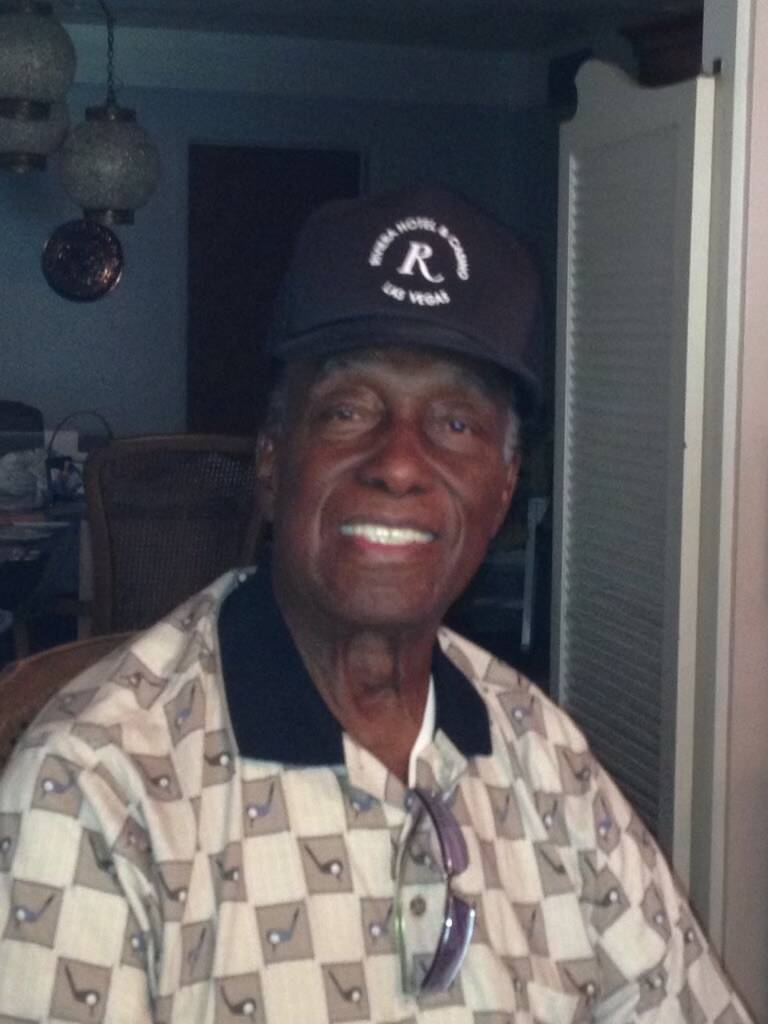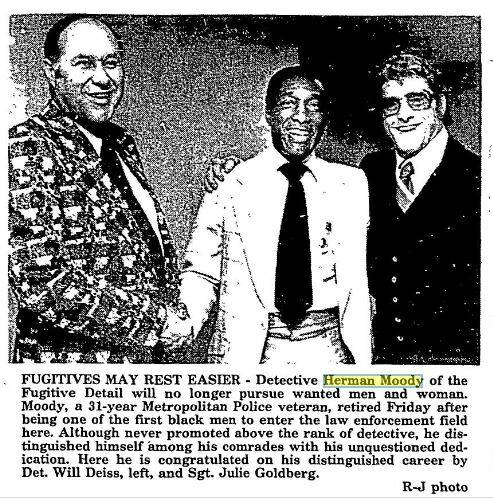 The funeral for Herman Moody, whose trailblazing career as one of Las Vegas' first Black police officers earned him recognition that he appreciated but did not seek out, is set for Thursday, March 9.
Moody, who died Feb. 25, was 98.
Still lucid despite his advanced years, Moody succumbed to a brief illness at his longtime home in the city's Historic Westside, his daughter Tracey Hayes said.
"Herman was remarkable for 98. I mean, his mind was good. He was a happy man, no complaints," she said.
Moody's 'no complaints' outlook was a big part of how he lived, Hayes said, and it was a lesson he taught his five daughters. Even as he broke barriers as a Black police officer, an achievement that earned him accolades over the years in Las Vegas, he also endured racism from society at large and from some of his own police colleagues.
"There's no question that he dealt with discrimination, with racism," Hayes said. "There's no question about that. And he would tell us about it. He did deal with that from the time he was hired on."
Clark County commissioner William McCurdy paid tribute to Moody Tuesday at a panel celebrating the Black Giving Circle, a joint initiative between the Las Vegas Metropolitan Police Department Foundation and Urban Chamber of Commerce to support the Black community.
"I want to take a moment of silence for an amazing leader, trailblazer, someone who I call family, someone who has literally blazed the trail, laid the foundation for so many African American officers today," McCurdy said. "Please take a moment of silence for the late great legend, Herman Moody, who led with integrity, sincerity and innovation."
The respect and accolades bestowed on her father "was never what was most important to him," Hayes said.
"He was such a modest man," Hayes said. "He was never about recognition or accolades."
Making history
Moody first arrived in Las Vegas with his family in the late 1930s, having moved with his family from Arizona. The family settled in what is now known as the city's Historic Westside, where Las Vegas' Black community thrived even as the city, casinos and growing tourism industry enforced segregationist policies.
After attending Las Vegas High School and serving in the U.S. Navy during World War II, Moody joined the old Las Vegas Police Department in 1946.
Back then, there was no police academy and cops had to provide their own guns. Moody accepted the position while still considering a career as a diesel engineer. But when the opportunity arose to train as one, he opted to remain on the police force.
Without the benefit of an academy, Moody "taught himself how to file reports that would stand up in court," according to a statement released Saturday by the Metropolitan Police Department.
"He acquired books on Nevada law and showed others how to use them and improve their record of making good arrests," the department wrote. "He raised the standards for all Las Vegas police officers."
In 1949, he made history as the first Black person assigned to the department's motorcycle unit. And during his police career, he made detective and served in the narcotics, theft and fugitive details.
In a Nov. 15, 1976, story in the Review-Journal, Moody said a white police inspector recruited him. At first Moody rejected the inspector's overtures. But the inspector persisted, saying that the growing city needed Black officers.
"Here he was telling me something I knew we needed, instead of me telling him, and that kind of touched me," Moody said in the article.
Moody, referred to as "Herm" in the 1976 article, was reflecting on a 30-year police career. By the time he retired in 1977 as a detective in the Fugitive Detail of the Detective Bureau, Moody was the most senior officer in the Las Vegas Metropolitan Police Department, having served longer than anybody else, including then-Sheriff Ralph Lamb.
"You dedicate your life to the cause of humanity — to serve the people," Moody was quoted as saying in the 1976 article. "You can't forget the thought you're a servant of the people."
Hayes said her father was stonewalled when he would try to ascend the corporate ladder. Promotions – despite his competency, experience and passing of promotional exams – were delayed or denied.
"After a while he resigned himself that it wasn't going to happen," Hayes said.
In the 1976 Review-Journal story, Moody spoke about the fact that a few other Black officers and many white officers with less experience were promoted over him. Moody talked about passing promotional exams and being put on the lists for promotion, but those lists expiring before he could be promoted.
"In the early days, although he was never directly told so, Herm was given the impression from superiors that Las Vegas was not ready for a black officer of rank," the article said.
Instead, Moody focused on fighting for other Black officers and helping them get their due.
One of them was Larry C. Bolden, Moody's next-door neighbor. Bolden, who retired as deputy chief in 1991, is the namesake for Metro's Bolden Area Command, which covers the area bound by Interstate 15 and West Lake Mead Boulevard and U.S. 95 and West Sahara Avenue.
Moody trained Bolden, and the two remained close friends until Bolden's death in 2000.
Hayes said other Black officers that Moody supported and helped included Deputy Chief Clifton Davis, who retired in 2005 and died in 2010, and Officer Charles Wyatt, among others.
"In terms of the groundwork he laid, I do think there are still the fruits of his labor that we are seeing years later," said Hayes, who also worked at Metro as a civilian in communications for almost 30 years.
"Moody will always be highly regarded in the community as a beacon of light and a role model for young people of any color," the department said Saturday.
A modest man
Despite being honored over the years, including during a ceremony at the Clark County Commission in February 2022, Moody was never about the recognition, his daughter said. The respect and accolades were "never what was most important to him."
"We're proud of him," she said. "We're honored he's being recognized in this way. He was such a modest man."
For Moody, family and faith were most important, Hayes said. Her father was also "prayerful" right up until the end. He was active in his church and was a deacon at the Pentecostal Temple Church of God in Christ. He loved to sing. He enjoyed big game hunting.
Moody remained in the Historic Westside and raised a family there with his wife, Magnolia, who had her own career as a juvenile probation officer. They were married for 56 years until her death in 2005.
Hayes said Moody is survived by five daughters that also include Dolores Brown, Mignon Eppenger, Hermanell Moody and Seona Jefferson, as well as six grandchildren and several great grandchildren and great-great grandchildren.
A viewing for Moody is set for 10 a.m. on Thursday, March 9, at Mountaintop Faith Ministries at 2845 S. Lindell Road in Las Vegas, with a funeral to follow at 11 a.m.
"When I tell people that my father was such a kind man, it really is the truth," Hayes said. "My dad really was a kind and generous person. Him and my mother both. He never met a stranger. He would help anyone."
Staff reporter Sabrina Schnur contributed to this report.
Contact Jeff Burbank at jburbank@reviewjournal.com or 702-383-0382. Follow him @JeffBurbank2 on Twitter.
Contact Brett Clarkson at bclarkson@reviewjournal.com. Follow @BrettClarkson_ on Twitter.