Nevada's first ASL slam for deaf, hard-of-hearing held in Henderson
December 9, 2016 - 9:00 am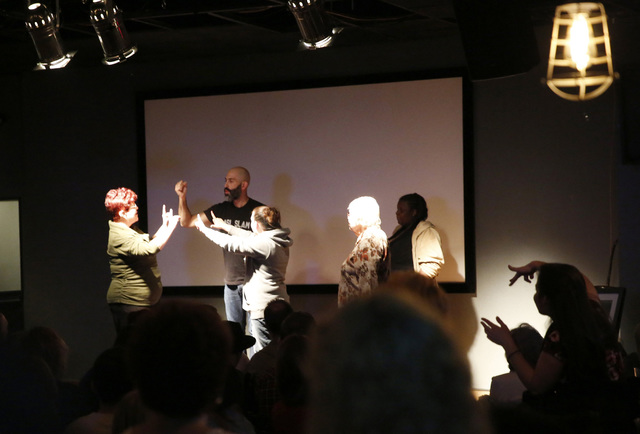 Douglas Ridloff takes the stage ready to share one of his poems: "Symbiosis."
It isn't a typical piece of slam poetry. Ridloff, who is deaf, is sharing all his work in American Sign Language with a crowd of predominantly deaf and hard-of-hearing people.
The event, known as ASL Slam, was featured for the first time in Nevada at E-String Grill & Poker Bar, 2031 W. Sunset Road, on Dec. 3.
The slam is held in multiple cities and allows participants to share poetry, storytelling and comedy, said Anthony Adamo, a deaf-studies professor at the College of Southern Nevada who organized the Henderson event.
"(These are) things you would normally see at an open stage in other communities, but all in sign language," he said.
The night featured New York-based Ridloff, who not only shared poems but invited deaf and hard-of-hearing people to partake in storytelling and improv games.
"It's open mic, though we don't use mics," he said. "I guess you could call it open hands."
Bringing ASL Slam to Henderson was Adamo's idea; he is working with Las Vegas-based Deaf Centers of Nevada to create more entertainment options for deaf and hard-of-hearing people.
Kevin Carter, the executive director of Deaf Centers of Nevada, estimates there are about 1,800 people who are "profoundly deaf" in Southern Nevada and about 2,500 who are hard of hearing or have become deaf; it could be more, but there is no official count.
The organization provides people with advocacy services such as coordinating equal access to communication through interpreters, preparing them for job placement and teaching them independent-living skills.
"Our goal is to help them become more self-reliant," Carter said.
With Adamo's help, Carter hopes the organization can do something much more than just offer resources. Deaf and hard-of-hearing people having just as much access to entertainment as anyone else is "just something that hasn't happened in Nevada," he said.
The room overflowed with at least 75 people at the ASL Slam. Some attendees sat back and enjoyed performances, while others decided to take part.
Throughout the evening, the crowd waved its hands in approval — the ASL signal for applause.
Adamo, along with an entourage of student interpreters from CSN, sat in the front row watching each sign and interpreting for those who didn't know American Sign Language.
Adamo is a CODA, an acronym used to describe children of deaf adults. Through his parents' recommendation, he took classes to become an interpreter through CSN's deaf-studies program when he was in high school.
He met Ridloff in New York City while he was organizing the ASL Slam event.
He then decided to pursue this career and attended college at Gallaudet University, a District of Columbia-based school for the deaf and hard of hearing, where he was one of seven students with hearing to graduate. While in New York City, he began organizing the ASL Slam event, which is where he became friends with Ridloff.
When coming back to Henderson — Adamo ended up working in the same capacity as the professor who started him on his path to become an interpreter — he decided he wanted to bring more entertainment options to the deaf and hard of hearing.
Adamo brought Ridloff to Henderson to put on the state's inaugural event because of his experience performing poetry and comedy across the country.
He has spent the last decade performing around the country, mentoring other potential entertainers within the deaf community and organizing slam poetry opportunities.
After the success of the event, Carter said he hopes more opportunities such as this crop up in Las Vegas.
"This doesn't happen enough," he said. "This should be a bigger part of the culture. We hope to hold large events like this more often."
Online
For more information on Deaf Centers of Nevada, visit dcnv.org.
For more information on ASL Slam, visit aslslam.com.
For more information about American Sign Language, visit tinyurl.com/zqyxgq4.