Pizza, Mexican, Cajun spots join Henderson food scene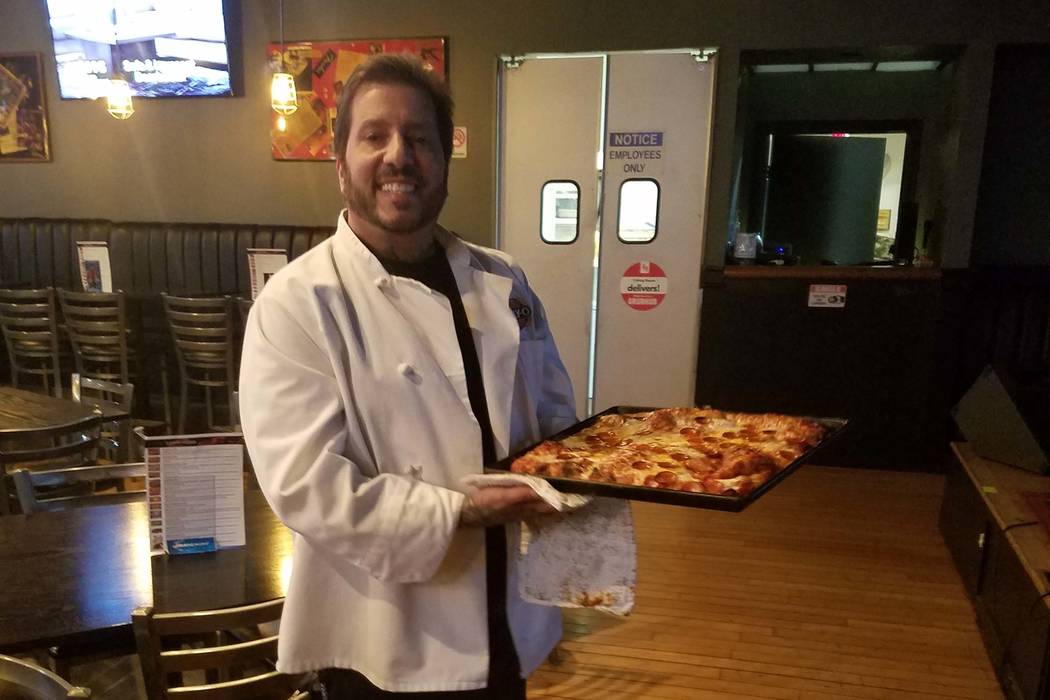 Although its bounce back has been a little slower than in some parts of the valley, the restaurant scene in Henderson is reviving, with a number of openings in the area near Galleria at Sunset mall on Sunset Road.
One of the newest is Chavelo's Mexican Bar & Grill, in the former location of Bernard's Bistro (and Boston Market and a string of others over the years) at 2021 W. Sunset Road, between Valle Verde Drive and Sunset Way. Chavelo's is a table-service restaurant from Jose Rodriguez, who learned to cook at his mother's knee in Mexico when he was 10. Rodriguez started his Las Vegas restaurant career at age 17 in 1986 and has cooked at the old Zapata's at Valley View Boulevard and Sahara Avenue, various Viva Mercado's locations, Caesars Palace and Bellagio. He opened his own place Jan. 5; the name is one of his nicknames.
The broad menu encompasses Mexican favorites, with combo platters ranging from $7.95 to $12.95, including soup, rice and beans. Rodriguez also serves vampiros, which he says are "Mexico's latest craze." They consist of refried beans and melted Monterey Jack cheese layered between corn tortillas and topped with a choice of three meats plus lettuce, queso fresco, guacamole and sour cream, for $12.95. There are also specialty enchiladas, burritos, seafood plates and salads, and desserts including sopapillas and churros cajeta (churros with sweetened, caramelized goat's milk), and Chavelo's has a full bar.
Rodriguez said he gives 2 percent of the gross income to the Kids in Transition Foundation, a local nonprofit that had operated a restaurant in the location. Hours are 11 a.m. to 9 p.m. daily. Call 702-558-3366 or visit chavelosrestaurant.com.
Other recent arrivals to this part of Henderson are in buildings that once housed failed restaurants. Taqueria El Buen Pastor opened in January at 675 Mall Ring Circle, a spot formerly occupied by Baja Fresh. The counter-service restaurant offers a variety of tacos, most priced at $2.50 to $3 each. The restaurant also serves burritos, tortas, nachos, enchiladas and such regional favorites as alambres (grilled meats topped with vegetables and served with tortillas) and salchipulpos (spicy sausages).
Hours are 9 a.m. to midnight Mondays through Thursdays and 8 a.m. to midnight Fridays through Sundays. Call 702-325-4020.
Just around Mall Ring Circle, across from the mall's north parking lots, Bourbon Street Grill also opened in January, at 1300 W. Sunset Road. The location was built as part of The Old Spaghetti Factory chain, and successors have struggled, most recently an Italian restaurant named Sauce.
Bourbon Street, part of the Dotty's empire and one of a number in the valley, is a sports bar and grill serving Cajun specialties as well as sandwiches and hot dogs. It also has pool tables and a game arcade. Call 702-566-1519.
Across the street from Chavelo's, D. Michael Evola knows a thing or two about challenged locations. Evola, a rock guitarist who has played with national acts, moved to Las Vegas to be closer to his brother, leaving behind four Brooklyn Bros. Pizzerias locations in Washington state. Then his neighbor, the owner of the E-String poker bar and music venue at 2031 W. Sunset Road, was looking for somebody to operate a pizzeria at the site. Because Evola previously had a music store and an adjacent pizzeria in Washington, it seemed a match made in heaven. While the response from customers has been positive since he opened last summer, Evola said, the business has endured a slow start.
But he has been getting his message out there. In 2016, Evola was named an international pizza champion. And at last year's International Pizza Expo, he and his brother, Chef Vic "Vegas" Moea, a Food Network personality and owner of Seven Sinful Subs, held a demonstration.
"I've had this passion for cooking ever since I was a little kid," Evola said. "Music and cooking are great passions — no shortcuts. Lots of organic, lots of imported. So I tried to bring that to Henderson." Call 702-437-8764 or visit estringpizzeria.com.
Contact Heidi Knapp Rinella at hrinella@reviewjournal.com or 702-383-0474. Follow @HKRinella on Twitter.
Why all the lights?
Passersby have been noticing the thousands of twinkling lights that have been installed in the trees outside the long-vacant building at 2061 W. Sunset Road, which most recently was the site of Viva Michoacan and before that a chain steakhouse. Its next life, though, will be not as a regular restaurant but as kitchen and banquet facilities for the operators of Sunset Gardens, a wedding and reception center farther west on Sunset Road.