Stevens Elementary in Henderson a relief for overcrowded campuses
August 22, 2017 - 11:10 am
Updated August 28, 2017 - 9:10 am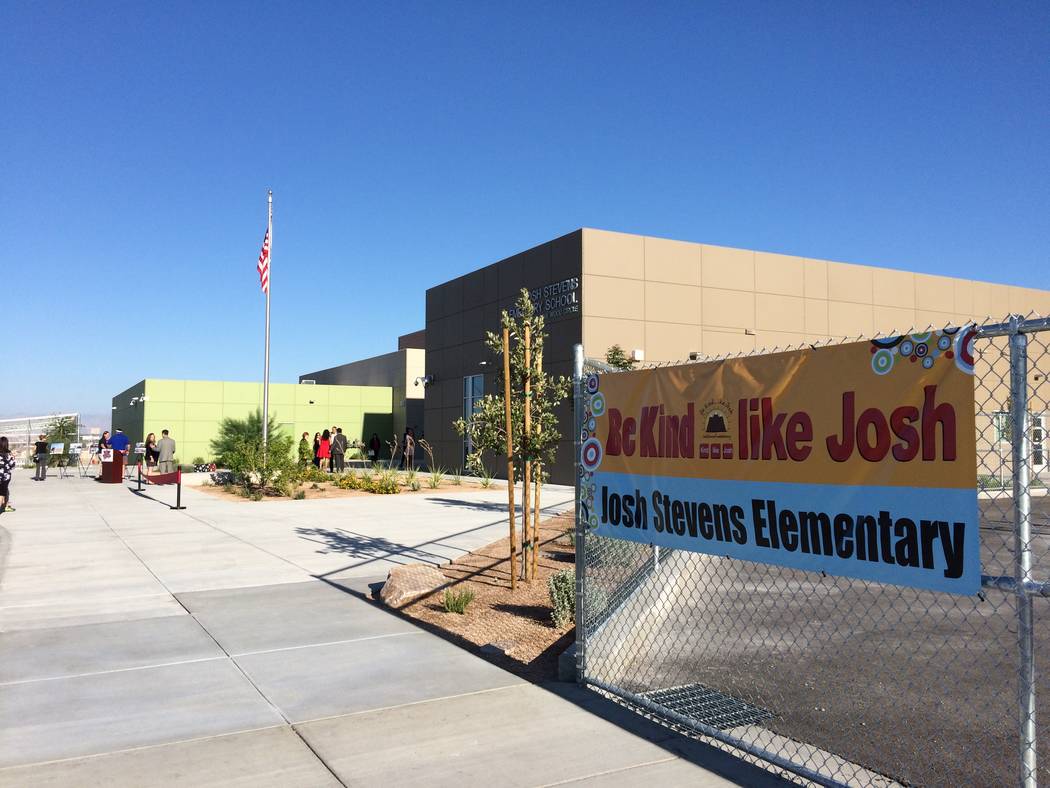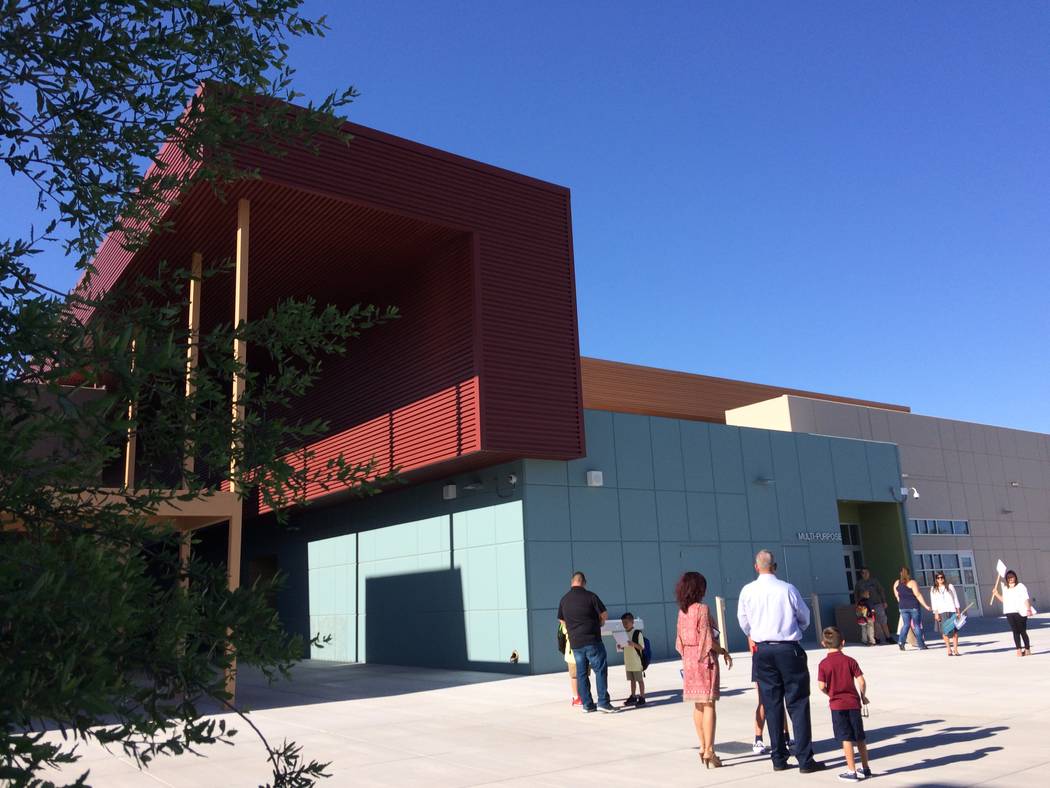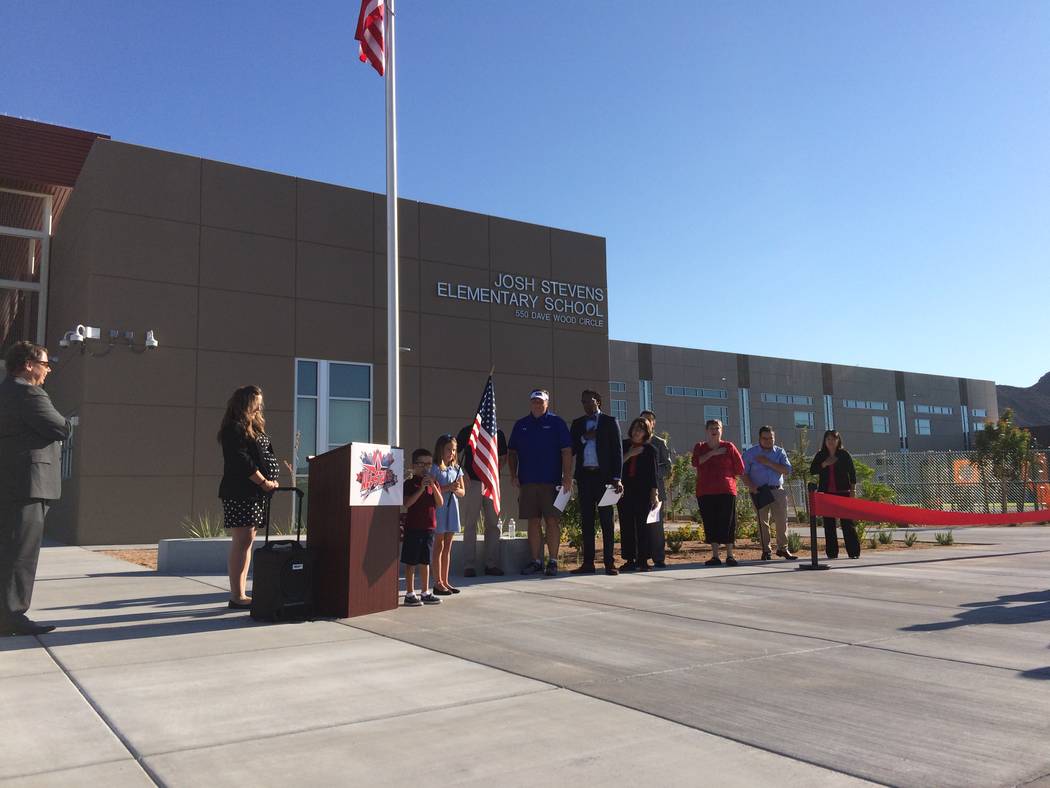 Josh Stevens Elementary School is one of six new elementary schools that opened this month in the Clark County School District, and it was the only one in Henderson.
The school, 550 Dave Wood Circle, is the second school to be named after a deceased child, according to the district. The first is Richard J. Rundle Elementary School, 425 N. Christy Lane, which opened in 1991.
Josh Stevens died in a golf-cart crash, while riding with his father around their Anthem Country Club neighborhood, Sept. 8, 2008, at age 12.
Drew Stevens and his wife, Barbara, went on to establish the Josh Stevens Foundation in 2009. On behalf of the foundation, Drew Stevens has traveled to 12 states and spoken at 350 schools to deliver a simple message: Be kind. Drew Stevens spoke at the school's opening Aug. 14, and the foundation passed out T-shirts that read "Be Kind … Like Josh." The school has adopted that message as its core value.
Stevens Elementary drew students from Sewell, Treem, Hinman and Thorpe elementary schools.
Holli Ratliff was principal at Sewell before being assigned to head the new school. She splits her time between the two schools as principal for both as part of the school district's franchise model.
"We were over capacity for sure and in need of some relief," Ratcliff said. " … The process (of opening a new school) was new, new to me, new to the district because we haven't opened a school in quite some time. So, it was just problem solving as we go."
The two-story campus cost $28 million and has 53 classrooms.
Ratliff said the school has all the bells and whistles of a modern building to support the students' needs.
Santiago Trujillo, 8, was entering third grade, as well as his first public school, and wants to be a veterinarian.
"I like this school because a lot of people are here and it's new," Santiago said. "I bet I'm going to learn a lot."
Gracin Petrie, 8, also was entering third grade. He had previously been at Bracken Elementary School.
"It's fun to meet new teachers and make new friends," he said.
Leslie Brown teaches second grade and previously was at Sewell.
"This (opening a new school) doesn't happen often, and it's a huge honor to come here," she said.
Contact Jan Hogan at jhogan@reviewjournal.com or 702-387-2949.