Tired Henderson cops told to take naps
March 20, 2017 - 12:38 am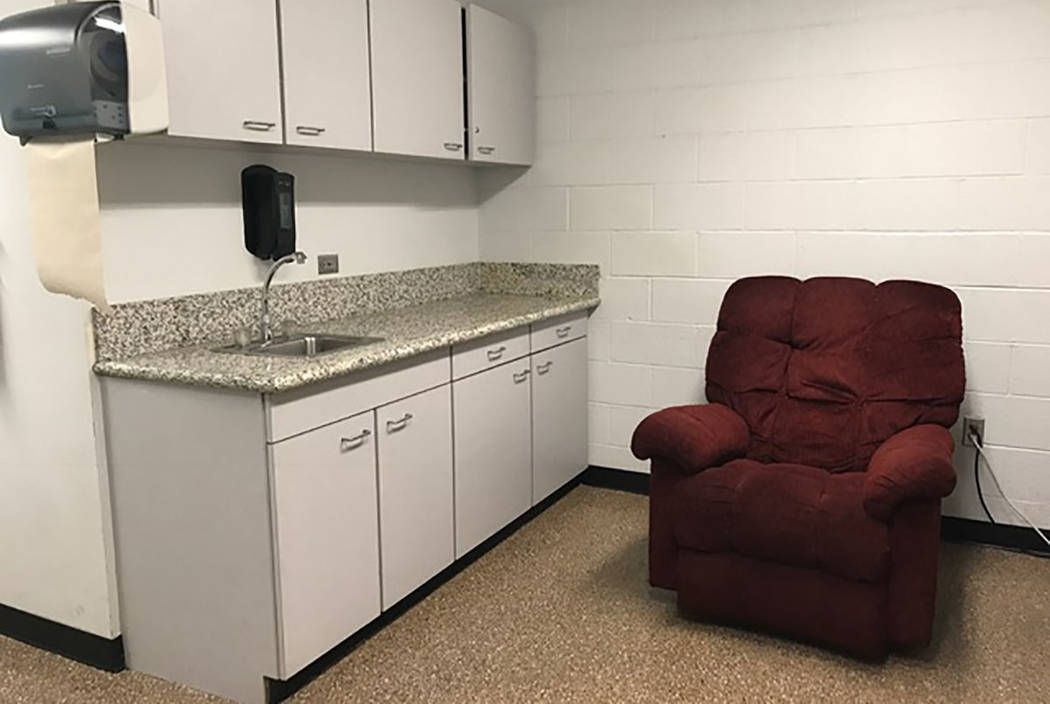 Sleeping on duty used to be a fireable offense, but taking a cop nap now comes as a perk of working for the Henderson Police Department.
The department implemented a "restorative rest" program in January 2016 to provide four secure rooms inside four different locations around the city. Tired officers can grab some shut-eye while on duty to fuel a revival of mental awareness.
"It's unnatural for a police officer working the graveyard shift to sleep during the day," Henderson Police Chief Patrick Moers said. "The dog might be barking or they have to wake up early to go to court, and then all (of a) sudden they have to make a split-second decision of when to use force and what level of force to take."
Henderson, Nevada's second-largest city with nearly 300,000 people, has roughly 365 officers assigned to patrol. Approximately 25 to 30 officers work the overnight shift, which runs from 10 p.m. to 8 a.m.
Moers and Henderson Police Capt. Wade Seekatz created the program, which is restricted to lunch breaks. When an officer or supervisor wants to use one of the rooms, he can ask to be "dispatched," and with approval, remain there for an hour or less of his allocated break.
"Studies have shown that a 20-minute nap can give you heightened awareness for two to four hours," Moers said.
CATCHING ZZZ'S
Each room — Moers would not disclose their exact locations — is equipped with a restroom, kitchen, phone, desktop computer and two reclining chairs.
Only one occupant is permitted in a room, and only one officer or supervisor from each sector is allowed to rest at any given time.
Occupants can turn off their radio but must set their phone ringer loud enough to wake them in case of an emergency. They also must set their alarm to ensure they don't oversleep.
"Prior to the program, officers would look for places to sleep," Henderson officer Brett Anderson said. "We would have to rely on trying to get another officer to come to where we were and hang out there for a while as the other officer slept uncomfortably in the car hoping that they wouldn't get a call."
Anderson, who has worked the graveyard shift for almost eight years, said he's used the program about five times and it has helped give him extra energy to drive home safely and complete thorough reports.
"The department seems to be adopting a private-sector management style, which is a very progressive way of doing things," said Bill Sousa, director for the Center for Crime and Justice Policy at UNLV. "If there are policies in place for this, then there's no reason why police officers shouldn't be spending their break to take a nap. It's their break, and studies show short periods of sleep can be really beneficial, especially in police work."
FIGHTING FATIGUE
The idea came from Seekatz, who worked as a graveyard patrol lieutenant in 2009 when Moers was his captain. Seekatz recalls witnessing three squad car crashes and "a lot of fatigue-related near-misses" in a two-month period.
Moers admitted to dozing off himself during late-night shifts.
"On an occasion or two I probably hit a curb," Moers said.
Dr. Rachakonda Prabhu, who specializes in internal medicine, pulmonology and sleep medicine at Red Rock Medical Group, said about one-third of all night shift workers suffer from severe sleep problems.
"Naps are recommended to increase wakefulness and improve alertness and performance," Prabhu said. "However, naps should be limited to a maximum of 45 minutes to prevent people from entering into a deep sleep and waking up disoriented."
To date, Seekatz said, the program has been used approximately 40 times.
"We didn't want to create a program that became a right for our employees to come to work and sleep on duty," Seekatz said. "We didn't want to create that atmosphere. This is a safety net to be used in the event when we run into fatigue-related problems."
Last year, Seekatz and Moers gave details of the program to a briefing at the White House from the Task Force on 21st Century Policing. They said they heard gasps from the crowd.
"We want to help change the attitude in our industry that napping is a taboo topic," Seekatz said. "This can save the lives of citizens and of our officers."
Moers and Seekatz have since shared the program with other police agencies.
The Hampton Police Division in Virginia recently credited the department for helping it create a similar plan in which police officers can use "quiet rooms" for naps.
The Metropolitan Police Department, North Las Vegas Police Department and the Nevada Highway Patrol do not have similar programs in place.
"It's OK if you get tired. We just don't want anything bad to happen," Moers said. "We are accepting of life's patterns."
Contact Sandy Lopez at slopez@reviewjournal.com or 702-383-4686. Follow @JournalismSandy on Twitter.
RESTORATIVE REST PROGRAM
Rooms: 4
Night shift: 25-30 officers
Each room is equipped with: a restroom, kitchen, phone, desktop computer and two reclining chairs
Who can use it: Only one occupant is permitted in a room, and only one officer or supervisor from each sector is allowed to rest at any given time.
Source: The Henderson Police Department