10-12 tons of trash left on Strip from America's Party, New Year's Eve celebrations
Updated January 1, 2023 - 2:24 pm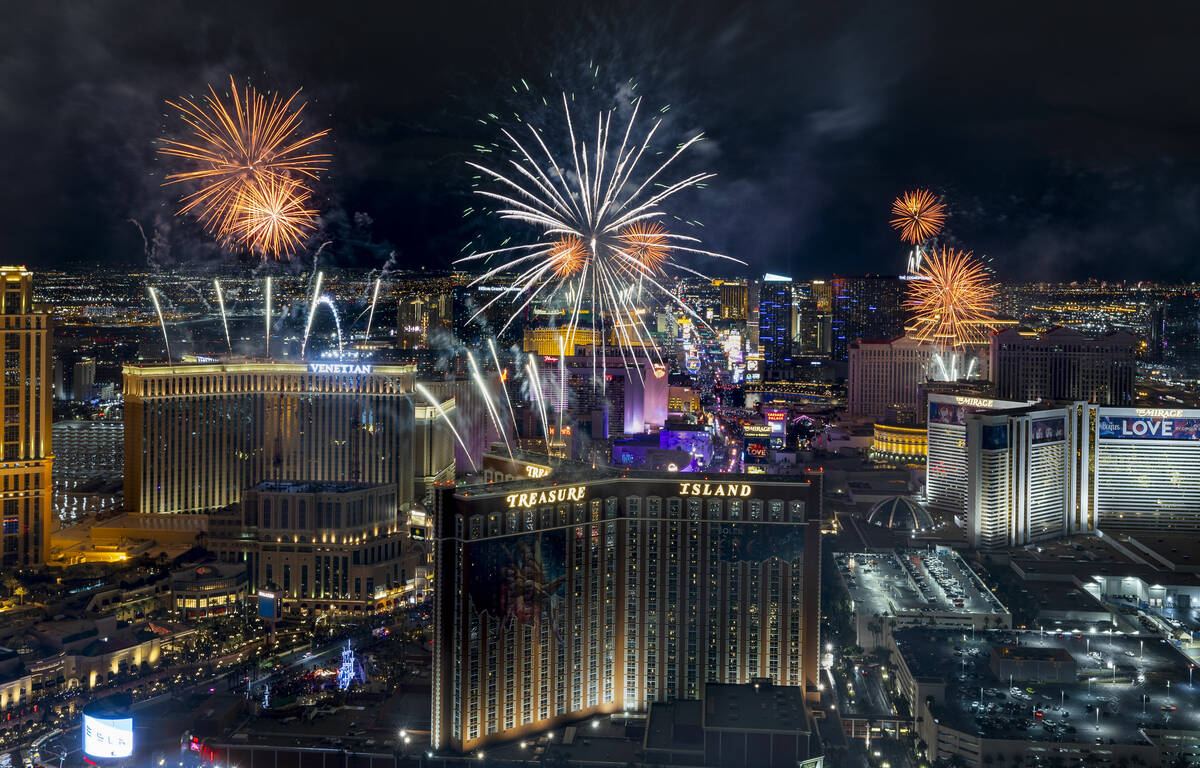 Hours after the cheers, applause and New Year's Eve kisses, more than 10 tons of trash was left to be cleaned up on Las Vegas Boulevard.
Clark County Public Works deployed 16 street sweepers and 60 employees to clean 10-12 tons of trash and re-open the Las Vegas Strip to vehicle traffic by 4:30 a.m., according to a tweet from the county.
"Look at the remnants from America's Party '23," the county wrote, sharing a video of a street sweeper driving north past Planet Hollywood.
Officials predicted a crowd as high as 400,000 people would ring in the new year in Las Vegas. Some enjoyed Fremont Street Experience's "NYE Time of Your Life Festival," with three stages of bands featuring Bush, Sugar Ray and The Sugarhill Gang, while others partied with Pitbull at Fuego nightclub in Resorts World.
The city of Las Vegas and Fremont Street Experience authorities declined to say how much trash was left downtown.
"Our great custodial team was cleaning throughout the event and our mall was clean before anyone was up this morning!" Fremont Street President and CEO Andrew Simon wrote in a statement Sunday morning. "It was a record breaking night of guests for us last night and our custodial team makes it look like it was just another day."
Few celebrators brought umbrellas, though a light rain started around 11 p.m. and continued through the morning.
Several injured, 1 killed
A spokesman for the Metropolitan Police Department did not immediately provide traffic and arrest figures Sunday morning, but online traffic logs maintained by the department showed six injury crashes were reported between 1:25 a.m. and 8:15 a.m. Three hit-and-run crashes were reported in the same time period.
At least one person was killed at 12:36 a.m., when police said a motorcycle rider struck a curb and a brick wall.
Nevada State Police reported two injury crashes on Sunday morning, at Interstate 15 and Spring Mountain Road and the 215 Beltway and South Jones Boulevard.
Jail records indicated that 14 people were arrested Saturday before midnight and booked on impaired driving charges.
Clark County firefighters responded to 307 emergency calls between 8 p.m. Saturday and 8 a.m. Sunday, including 49 crashes, county spokesperson Stacey Welling wrote in a statement.
Six outdoor fires, four buildings fires, a Jacuzzi fire and a mobile home fire were also reported, Welling said.
Firefighters also responded to 18 calls near the Strip related to trips, falls and intoxication.
The Las Vegas Fire Department responded to 208 calls, including three fires and one hazmat situation. The department did not provide further information on the fires reported.
Contact Sabrina Schnur at sschnur@reviewjournal.com or 702-383-0278. Follow @sabrina_schnur on Twitter.