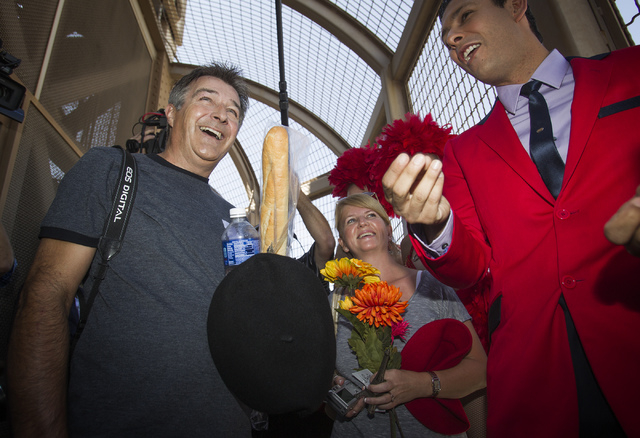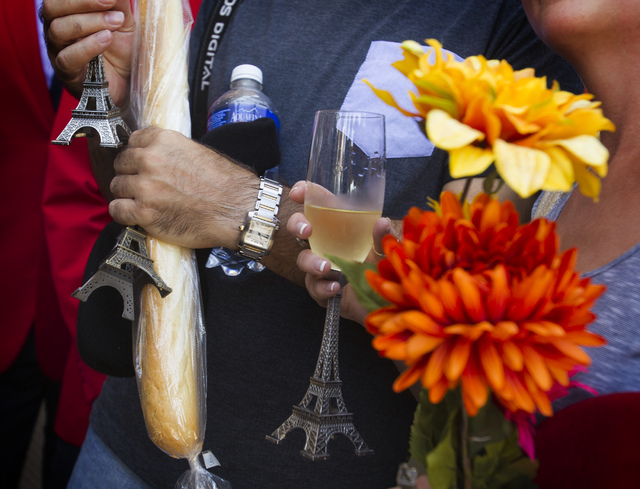 Yes that is Taylor Hicks and a mime and the Jersey Boys and those are showgirls and they are all standing on the platform at the top of the Eiffel Tower Experience on the Strip drinking champagne because they have just serenaded this cute couple from England.
Why?
Because Vegas.
"Here we are," said Martin Layton, half of the cute English couple. "I still can't believe it."
Who would?
Layton and his fiancee, Sarah Connell, came to Las Vegas last week, with plans to get married today. They've both been married before, so they figured why not do it in Vegas this time? They toured the sights. They've still got the Grand Canyon and Hoover Dam to visit before they leave next week.
They've both seen the real Eiffel Tower because, you know, it's right around the corner from their house. But they wanted to see our half-sized version because that's the sort of thing you do when you're here. You watch the fountain show and you see the dolphins and you shake your head at the crazy people who actually ride the rides at the top of the Stratosphere.
They went to the Paris Las Vegas on Thursday morning, bought their tickets and, little did they know, the resort's marketing team was spying on them.
Because Layton is the attraction's 10 millionth visitor since it opened in 1999.
"Gray shirt. Camera over his shoulder," Nick Tillinghast, one of the marketing guys breathlessly called out.
So there came Layton in his gray T-shirt and Connell and Layton's nephew, Richard Layton.
And they got into the elevator and, oddly, a marketing team with a video camera and a pretty girl with a microphone got on, too. The girl asked, as if it was just a regular Thursday morning thing, if she could interview them "for a marketing promotion."
What are you gonna say? You say yes, of course.
And then they did the interview and they got off the elevator and they walked around and it wasn't that hard to tell they were a bit weirded out.
"Are they still following us?" Layton quietly asked Connell.
They were, indeed, still following them.
So Layton and Connell kept walking and they turned a corner and there were these two showgirls just standing there as if they were part of the scenery. You know, Bally's over there and Caesars over there and two unnaturally tall showgirls over here. Huh. Layton side-eyed them.
"I saw the showgirls, and I thought they were with somebody else," he said later.
But then the showgirls actually approached him, and they led him around another corner and, whoa. The cast of "The Jersey Boys," the musical that chronicles the life of Frankie Valli and The Four Seasons, was there. Taylor Hicks, the former American Idol winner who is playing nightly at the Paris, was there. And there was champagne and television cameras and a bunch of people in suits with gigantic smiles plastered to their faces.
Which is when it got weird, because Hicks and the Boys started to sing.
"You're our 10 millionth guest," they sang.
It was all a bit overwhelming. There was a round of applause and many congratulations, and Layton was told that he had just won a trip for two to Paris, the real one, with the real Eiffel Tower.
"Are we really the 10 millionth?" he said.
"Yes," one of the marketing folks told him. "We've been waiting all day for your arrival."
One of the Jersey Boys noted that maybe it was Layton's lucky day. "He should go play the progressives," he said. "He really should."
But there was no time because there were photo ops and a giant boarding pass and television cameras and a balloon release to get to.
Which was all very fun, in an only-in-Vegas kind of way.
"This is something I'll remember for the rest of my life," whispered Vearn Rogers, a tall, thin man who serves as the attraction's ambassador. He's a walking Wikipedia page, riffing off stats about Las Vegas like a kid who has memorized baseball cards.
Rogers didn't know anyone was listening. He was just amazed. He was really amazed.
He said he started working for Caesars, which owns the Paris, on Aug. 3, 1984. He applied there, he said, because he has a brother named Caesar. He moved to the Eiffel Tower Experience four years ago.
"I've watched this town go from a circus to Disneyland," he said.
He said he has loved every minute of it.
"Vegas," he said, "is nothing but a big sensory overload."
Thursday's event was among the highlights, he said. The gimmicks and the spectacle are not what he was talking about. He meant the people. The cute couple from England, getting serenaded by Strip headliners, completely free of cynicism and genuinely surprised by all of it.
"I had to hold back the tears," he said. "I was just too happy for them. So happy."