Accused 'Thunder' attacker says lawyer conspired against him
September 2, 2014 - 11:08 pm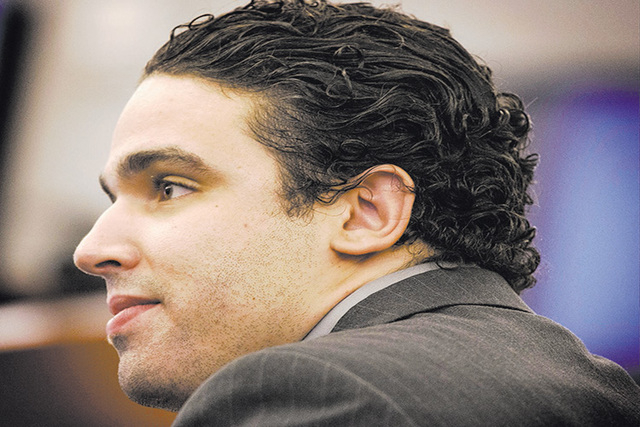 Joey Kadmiri thinks everyone is out to get him.
The 25-year-old charged with trying to steal props, costumes and underwear from the brawny men of "Thunder From Down Under" fired his lawyer, whom he believes is working with prosecutor's office to put him behind bars for life.
"The casino is giving him money to convict me," Kadmiri told District Judge Jerome Tao Tuesday. "Certain times, I think you're even working with the district attorney. I'm really paranoid."
But after the lawyer, Josh Tomsheck, withdrew from the case, the shackled Kadmiri, donning blue jail fatigues, wanted his former attorney to stick around.
In a bizarre and, at times, confusing hearing, Kadmiri likened Clark County prosecutors Jeff Rogan and Nick Portz to a pair of television miscreants.
"These two clowns, Beavis and Butthead over here … are playing games," he told the judge.
After his arrest in March, Kadmiri tried to rush the case through the court system, invoking his right to a speedy trial. But in July, the judge declared a mistrial after a juror reported seeing a television news report about the case and said some jurors had discussed "gray areas."
Prosecutors said Kadmiri sneaked backstage at the Excalibur show March 18 and rifled through the performers' dressing room. After the dancers confronted him, Kadmiri became violent, pulled out a gun and fired a shot during a scuffle, prosecutors said. The bullet didn't hit anyone.
A week after the mistrial, Kadmiri told the Review-Journal that he was the one who was attacked. He said friends dared him to crash the stage of the Australian-themed male revue and perform his own dance.
At trial, Tomsheck tried to show that items Kadmiri was carrying around the Excalibur had not been stolen. Kadmiri was donning a Sydney Fire Department shirt the dancers wear, the same clothes sold in a gift shop.
But Kadmiri also was wearing two pairs of underwear — teal boxer briefs and a black thong — that belonged to the dancers, prosecutors said.
Authorities found 2.1 grams of methamphetamine on Kadmiri, who reportedly said he was high at the time of his arrest.
Kadmiri faces a slew of counts, including burglary, robbery with a deadly weapon and battery with a deadly weapon resulting in substantial bodily harm.
In a separate domestic violence case from November, Kadmiri is charged with kidnapping, assault with a weapon, coercion and battery charges in a November domestic violence case.
Since the mistrial, prosecutors have offered Kadmiri a pair of plea agreements, the best of which would call for up to 25 years in prison.
"They're trying to hit me with retarded deals so I can go to prison for the rest of my life," Kadmiri told the judge Tuesday.
He said he wanted to go to trial next week and represent himself. Tomsheck said he had advised Kadmiri that "is a very foolish idea."
Tao asked if Kadmiri took medication.
Kadmiri mumbled "Vistaril," used to treat anxiety, "Remeron," which treats depression, "and some other stuff."
Tomsheck said his former client had a "diagnosed history of mental illness."
Kadmiri questioned why the casino never provided video "of me getting beaten." He accused Rogan of hiding photographs and doctoring Kadmiri's statement to police.
Tao asked Kadmiri, who is being held at the Clark County Detention Center on $500,000 bail, if he wanted to hire a new lawyer.
Kadmiri indicated that he might first need a mental evaluation but later recanted the remark.
Though the judge called Kadmiri's comments "highly rational," he scheduled a competency hearing "out of an abundance of caution."
"You can have mental illness and still be competent," the judge said.
In May, another judge found Kadmiri competent to stand trial after Kadmiri admitted to exaggerating symptoms of his disorder.
"His mental health issues have gotten potentially worse," Tomsheck said. "But I don't have a concern about his competency."
Kadmiri asked to speak with Tomsheck once more and requested a "suppressal hearing," apparently in reference to what Kadmiri told police.
He is due back in court Thursday, when the judge could decide whether to appoint a public defender.
During the lengthy hearing that stretched through the lunch hour and into early afternoon, Kadmiri asked that a Review-Journal reporter be removed from the courtroom.
He turned to the reporter in the courtroom gallery and said, "You hungry? Go eat."
At another point, in an attempt to determine the defendant's wealth, Tao asked Kadmiri how he acquired money for meals and gas before his arrest.
Kadmiri told the judge he was an investor, being tutored in buying and selling property and cars, but couldn't say how much he earned.
His voice quieted as he tapped the negotiation papers on top of a half wall in front of him. He paused, lowered his head and started to cry.
"Um, I don't know the answer to that," Kadmiri said in a barely audible whisper. "It just magically appeared."
Contact reporter David Ferrara at dferrara@reviewjournal.com or 702-380-1039. Find him on Twitter: @randompoker.