Ambush that killed two Metro cops in 2014 lasted 4 seconds, testimony shows
September 4, 2015 - 9:38 pm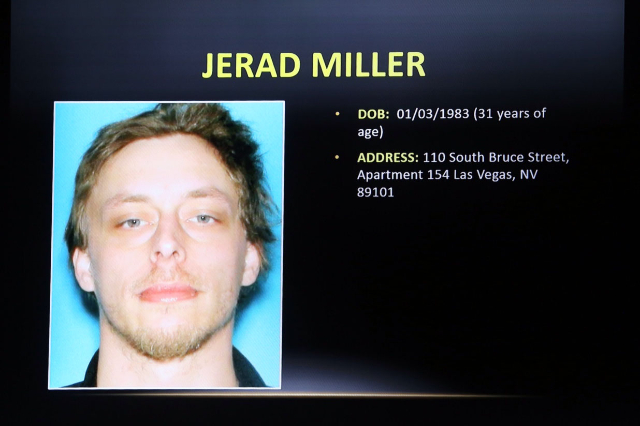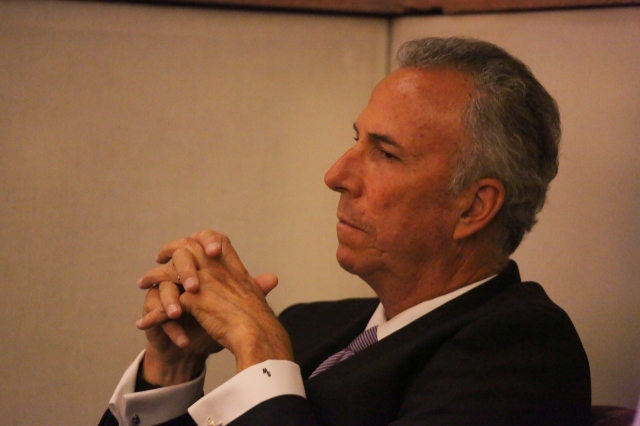 Cornered after slaying three people and expecting their own deaths, the couple kept up the police-hating rhetoric investigators would later find immortalized in a self-glorifying shrine.
Pinned down in a shootout with Metro inside a northeast valley Wal-Mart, Jerad Miller barked orders at the officers, Metro homicide detective Tate Sanborn said Friday during a public review.
Drop your guns, he said, because he was in charge. He and his wife had already slaughtered two officers, and they would kill more.
But their planned revolution ended after a deadly half hour.
During Friday's review, Sanborn detailed how the June 8, 2014, ambush and shootout unfolded, minute-by-minute.
At 11:18 a.m. that Sunday, Jerad Miller, 31, walked into the CiCi's Pizza at 309 N. Nellis Blvd.
Officers Alyn Beck, 41, and Igor Soldo, 31, were there on break, eating their lunch. Jerad Miller briefly spoke to an employee, then walked out. Two minutes later and Amanda Miller, 22, walked into the restaurant and past the officers, who were seated near the back.
With a quick turn, Sanborn said, the Millers t"simultaneously opened fire on the officers."
The entire assault on the officers lasted just four seconds, Sanborn said.
But they wanted to leave a mark on their work.
They draped Beck's body with a Gadsden flag — a yellow banner with a coiled snake above the words "Don't Tread on Me" — fastened a swastika to him, and dropped a note with both of their signatures.
And they took both officers' pistols and extra magazines.
By 11:25 a.m., Jerad Miller was walking into the main doors of the Wal-Mart just a block away, 201 N. Nellis Blvd. Once inside, he fired a single shot upward and proclaimed the "beginning of a revolution."
Surveillance footage shown during the review showed frightened families fleeing for their lives. Some ran out the front of the store, others through a back freight entrance. Some huddled in the pharmacy hoping to avoid the path of the shooters.
But one man walked toward danger, hoping to stop the rampage.
Joseph Wilcox, 31, was armed with a concealed weapon.
In video footage, he immediately followed Jerad Miller after the warning shot. Wilcox tracked him through the store, not realizing Amanda Miller was behind her husband, pushing a shopping cart.
Wilcox pointed his gun at Jerad Miller.
And as quickly as his gun was brandished, Amanda Miller — holding a pistol with one hand — fired a single shot, killing Wilcox.
The Millers had been inside the store for less than 30 seconds, Sanborn said. The first officer, Brett Brosnahan, had just arrived at CiCi's, where witnesses told him the killers had gone to Wal-Mart.
Brosnahan ran in the rear entrance at 11:28 a.m. He spotted Jerad Miller near the sporting goods section, Sanborn said.
He mirrored Jerad Miller's movements briefly without being seen. But before Brosnahan could engage the extremist, he was spotted by Amanda Miller, who fired at him, Sanborn said. He returned fire and retreated the way he came.
At 11:36 a.m., Sgt. Kurt McKenzie and four other officers also came in through the back of the store. By that time, officers Ryan Fryman and Troy Nicol had begun controlling the store's surveillance cameras and were able to tell their colleagues exactly where the Millers were and what they were doing.
It was at this point Jerad Miller began screaming commands, telling the police what to do.
But by 11:49 a.m., he was dead on the floor of the automotive section, shot in the chest by officer Zack Beal. Amanda Miller is seen on the video shooting herself once in the head. She died after being taken to University Medical Center.
After the shooting, Metro searched the Millers' apartment at 110 S. Bruce Street, which Sanborn described as "unlivable."
Inside they found a ball cap with the word "SHERIFF" covered in fake blood, Sanborn said. The bill is missing a chunk, blown off by a shotgun blast.
Police also found a "manifesto" in a notebook, Sandborn said.
"We have sacrificed everything, including our lives, in the endeavor of liberty….." a page read. "The agents of tyranny only live because we allow it! Well, no more! We wil lead by example, we will take life, for they have left us no other option….The police must understand that they face an enemy that is not paid and who are not afraid to die!"
The review is part of the Clark County district attorney's process for determining whether or not a shooting is legally justified and his held after every fatal police shooting.