Animal activists demanding action against ex-shelter chief
December 2, 2015 - 9:52 pm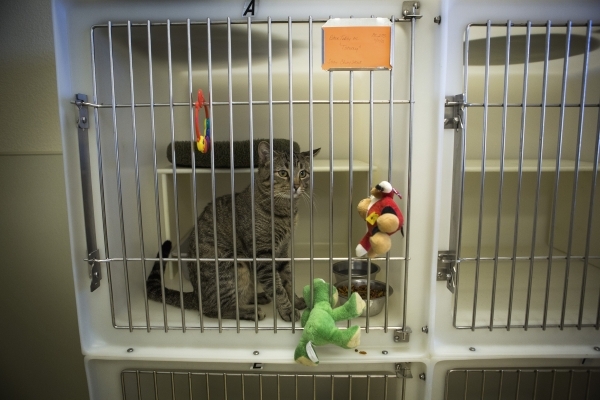 Animal activists plan to hold a protest Thursday following the revelation that the head of Boulder City's animal control and shelter was allowed to retire even though a police detective's investigation found she had needlessly killed animals.
The Review-Journal reported Tuesday that an eight-year veteran of the city's police force had wanted to bring felony and gross misdemeanor charges against former Animal Control Supervisor Mary Jo Frazier after reviewing records and interviewing her co-workers and veterinarians who work with the shelter.
But Police Chief Bill Conger said he didn't see the point, as two days after the detective finished the investigation Frazier retired. He also said he considered felony charges against her an "overreach," telling the Review-Journal he consulted with the city attorney, who agreed.
City Attorney David Olsen told the Review-Journal no such conversation happened.
"The case has to be reopened. Retirement? That's rewarding bad behavior," said Stacia Newman, president of Nevada Political Action for Animals, on Wednesday.
"That's criminal within itself. She should have been brought up on criminal charges."
The organization plans to rally at the Boulder City Police Department at noon Thursday to demand Conger take action.
Members of No Kill Las Vegas, another animal rights group, are also upset and plan to attend the next Boulder City Council meeting, which will be Tuesday.
Boulder City Mayor Rod Woodbury said he thought it was "absolutely appropriate" for concerned citizens to stage a protest if they feel something should be done.
"I think that's the sort of public effort it's going to take if something is going to be done," Woodbury said. "I think the public effort is important. You have to have that sometimes for things to come out of their ordinary course."
No City Council members commented by early Wednesday evening in response to emails. A call to the city manager Tuesday has yet to be returned.
"It's disgusting what's going on over there. Looks like now the officials in place who could do something about it are being complacent. People are obviously very upset," said Bryce Henderson, president of No Kill Las Vegas. "We hope that they do decide to press charges against Mary Jo Frazier. She needs to be held accountable and the last thing we want is for her to get a position somewhere else in the country in animal control."
A Facebook page called "Justice for Boulder City's Animal Shelter Victims" went up after the Review-Journal's story came out. It demands that Conger press charges against Frazier and links to an online petition that had 48 signatures as of 5:30 p.m. Wednesday. The Facebook page at that time had 241 likes.
Conger did not return calls late Tuesday asking why the city attorney's statement contradicted his own and did not return calls Wednesday for this story.
Conger took over as chief in March 2013.
The Review-Journal has been unable to reach Frazier and her Facebook page was taken down Wednesday. Before removing her page, she posted a message saying "Never try to f*** up someones (sic) life with a lie when yours can be destroyed with the truth."
Frazier sold her house in Las Vegas roughly a month after retiring. People who knew her said they heard that she moved to Oregon.
Evidence indicated the city started having concerns about Frazier as far back as 2009.
Detective David Olson found a memo from the city manager at that time asking why Frazier was killing so many animals.
Olson determined Frazier euthanized animals quickly, violating city code. Code required she wait five days before euthanizing an animal. She had often euthanized them the day they came in, decreasing the odds their owner could find them or that they could be adopted.
Code also required that the animals see a veterinarian before being euthanized, but he found the veterinary clinics contracted with the city had only seen a handful of animals.
One volunteer told the detective that Frazier "finds joy in killing animals."
Contact Bethany Barnes at bbarnes@reviewjournal.com or 702-477-3861. Find her on Twitter: @betsbarnes. Contact Ben Botkin at bbotkin@reviewjournal.com or 702-387-2904. Find him on Twitter: @BenBotkin1.