Bellagio robbery suspect faces federal charges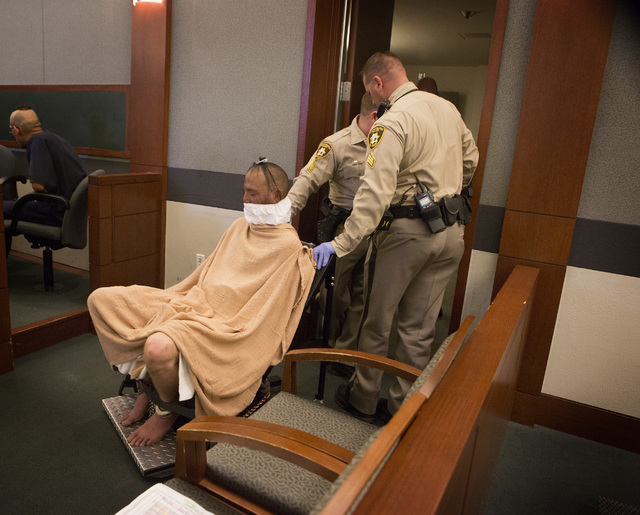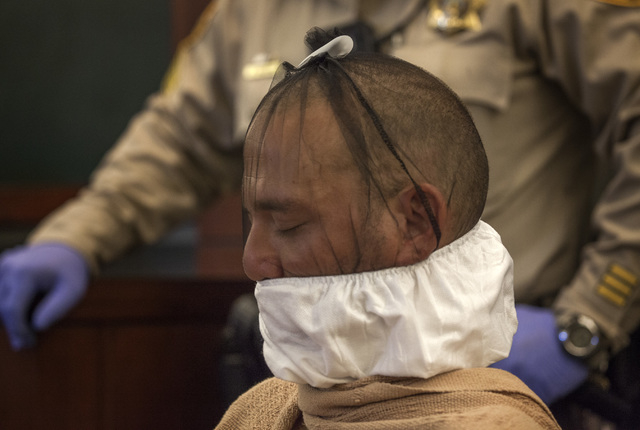 The man accused of armed robbery at the Bellagio and a Las Vegas bank — spending the loot on prostitutes and a shopping spree — has been charged in a two-count criminal complaint in federal court.
Scott Carmitchel, 34, a felon from Kansas, was charged Tuesday as a John Doe with one count of interference with commerce by robbery at the Bellagio and one count of armed bank robbery at a City National Bank branch on East Tropicana Avenue.
The FBI complaint alleges he stole $43,500 in the armed Bellagio heist Friday and $4,355 in the July 22 bank robbery.
Carmitchel is to make an initial appearance at 3 p.m. Thursday before U.S. Magistrate Judge Peggy Leen.
In Las Vegas Justice Court on Wednesday, the jailed Carmitchel, who had been combative with police during his arrest, initially refused to appear to answer local charges of robbery with the use of a deadly weapon, burglary while in possession of a firearm and grand larceny.
Senior District Judge Joseph Bonaventure, serving as a justice of the peace, ordered the defendant to appear "by any force necessary."
Bonaventure later recalled the case and Carmitchel was wheeled into court with his head covered in a spit mask and a beige blanket draped around his body.
Carmitchel did not speak or open his eyes during his appearance, and Bonaventure set a preliminary hearing for Aug. 13 on whether to bind him over for trial in District Court.
Deputy Public Defender Mike Wilfong said he likely would need the help of a "social worker" as he prepares Carmitchel's defense.
Carmitchel was arrested Saturday night after police said he robbed the Bellagio of the $43,500 Friday evening.
Police said Carmitchel was uncooperative with officers while being booked into jail. He is scheduled to appear in Justice Court again Thursday morning on two counts of battery on a protected person.
Federal prosecutors obtained a writ Wednesday to remove Carmitchel from the Clark County Detention Center and take him into custody for his federal court appearance Thursday afternoon.
District Attorney Steve Wolfson said he had no immediate plans to drop any charges against Carmitchel in the wake of the federal counts.
"I have not had any conversations with the U.S. attorney's office about them taking the lead or us taking the lead," Wolfson said. "We filed charges. We're proceeding towards a preliminary hearing date."
In the federal complaint, FBI Agent Henry Schlumpf said the City National Bank robbery occurred at 8:55 p.m on July 22 when the robber put a small backpack on a counter, took out a gun with an orange tip, pointed it at a teller and said, "I want you to put all your money in this backpack."
The teller than gave the robber the $4,355, the complaint said.
Three days later at the main casino cage of the Bellagio, the suspect again took out a gun with an orange tip from a backpack and said, "I'm going to need you to give me all your money," the complaint alleged.
The teller complied and handed over the $43,500, according to the complaint.
Police reviewed surveillance video of the robbery and determined the suspect appeared to be the same man who robbed the bank.
After the Bellagio robbery, Carmitchel spent at least $10,000 on a room at the Hard Rock resort, "socializing" with four hookers, and high-end clothing for the women, a police report said.
Inside a Hard Rock hotel room, police found $10,000 cash along with a BB gun that matched the description of the weapon used during the casino heist along with clothing and shopping receipts.
Kansas Department of Corrections records show that Carmitchel absconded from parole two months ago. He was originally charged with battery against a law enforcement officer in 1998 in Kansas, and was convicted there in July 2013 of making a criminal threat.
Contact David Ferrara at 702-380-1039 or dferrara@reviewjournal.com. Find him on Twitter: @randompoker. Contact Jeff German at 702-380-8135 or jgerman@reviewjournal.com. Find him on Twitter: @JGermanRJ.