Breed, heat may have contributed to dog's death in animal control vehicle, official says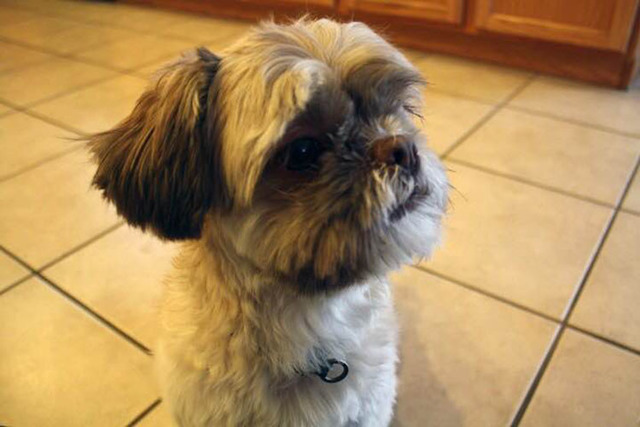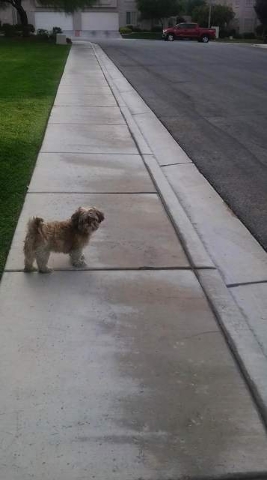 Warm temperatures and respiratory problems specific to short-nosed dog breeds proved a lethal combination for a shih tzu left in an animal control vehicle last week.
The evening a Henderson Animal Control officer unintentionally left a family dog in a vehicle overnight was the warmest on record this year.
The high for July 28 was 113 degrees in Henderson, with a recorded low of 89. The low at McCarran International Airport was 94, according to the National Weather Service.
"That's a very high low," meteorologist Stan Czyzyk said. "It was unusual in that way for sure."
On July 28, Mr. Chops, a 9-year-old shih tzu belonging to Brandon Whipple and his father, Jim, had been picked up as a stray and taken to a local veterinarian in Henderson, police said in a Tuesday statement. Through the dog's microchip, the vet determined the dog's owner information and contacted the Henderson Animal Care and Control Facility.
The dog was picked up by a Henderson animal control officer to be taken to the facility until the owner could collect the dog, police said in the statement. After returning to the facility, the dog was unintentionally left in the vehicle and discovered dead the next day.
Czyzyk said when outside temperatures rise as high they did July 28, temperatures inside a vehicle can reach 160 degrees within an hour. And, said Daphna Nachminovitch, senior vice president of Cruelty Investigations for the People for the Ethical Treatment of Animals, shih tzus can face particular danger.
Shih tzus and other short-nosed dog breeds such as pugs, boxers and bulldogs have more respiratory issues, she said.
"It's extremely dangerous for a dog to be in a hot car — even for just minutes," she said. "Dogs are unable to regulate their body temperature. They're unable to sweat, they can only pant. Hot temperatures in the car leads to death."
She added that it seemed unlikely that any animal could have survived in this scenario.
Henderson Deputy Chief Jeff Stilson said he is unsure exactly how long Mr. Chops was in the vehicle or whether the vehicle was shaded from the sun. But he said the animal control officer left work at about 4:30 p.m. Thursday and discovered the dog around 8 or 9 a.m. Friday.
"It's a horrible accident," Stilson said. "This is the first horrible incident like this. As far as we know this had never happened before."
That the vehicle was not running was part of the problem. To keep the animals safe, the kennels in the vehicle are air-conditioned when the vehicle is running, Stilson said.
The employee involved in the incident is still at work, pending an investigation. But Stilson said the status could change depending on the findings.
Clark County District Attorney Steve Wolfson said nothing has been submitted to his office for prosecution, and he doesn't expect it. He said to charge someone with animal cruelty, his office looks for specific intent to harm an animal or gross negligence.
"I don't think we have either of those," Wolfson said.
Police Chief Patrick Moers on Tuesday issued an order calling for changes to animal control practices.
At the start and end of each workday, the rule changes say, animal control officers must open and inspect all animal transport boxes on their truck to ensure the animals are safe and sanitary.
"They are doing everything they can to implement procedures to prevent this from happening again," Nachminovitch said.
Contact Natalie Bruzda at nbruzda@reviewjournal.com or 702-477-3897. Find @NatalieBruzda on Twitter.
RELATED
Dog dies after being left in Henderson Animal Control vehicle