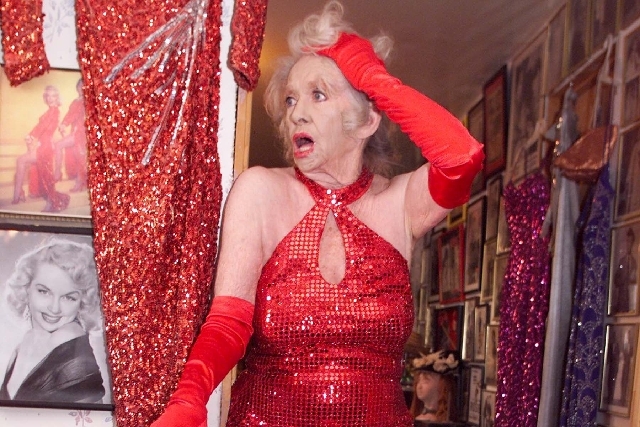 Dixie Evans, the "Marilyn Monroe of Burlesque" whose performances lured greats such as Frank Sinatra and Joe DiMaggio, has died at a Las Vegas assisted-care facility following a stroke earlier in the year. She was 86.
Dustin Wax, director of the Burlesque Hall of Fame in Las Vegas that she founded, confirmed the news late Saturday night, saying Evans' dedication to burlesque helped revive the art form in the 1990s — not unlike rockabilly, swing dance and even roller derby.
"She was a mentor to an entire generation and because of that she became the Godmother of neo-burlesque," Wax said. "She helped to inspire a new and younger generation of women to become interested in it."
But her claim to fame is her uncanny resemblance to Marilyn Monroe, and she seized on it, Wax said. It became a very popular show, he said.
"She did a lot of acts that were either parodies or tributes to Marilyn," Wax said, "depending on how you look at it."
Evans was born in Long Beach, Calif., on Aug. 26, 1926. She worked on an airplane factory line during World War II, then took up the art of burlesque in the 1950s and on into the 1960s, performing across the country in cities such as Detroit, St. Louis and Miami, Wax said.
In the early 1990s, she established a Exotic World museum in Helendale, Calif., and the Miss Exotic World pageant, both tributes to burlesque dancers. But her museum was closed in 2006 and she moved to Las Vegas, eventually establishing the Burlesque Hall of Fame on Fremont Street in 2010.
The museum is full of artifacts from another world, a place where you can see dresses, posters, promotional photos, a variety of stage props; in short, all the stuff that the great burlesque dancers strutted, then teasingly took off.
The dancers included Lili St. Cyr, Dita Vone Teese, Gypsy Rose. And the list goes on.
Said Wax: "I met her several times when I first started here at the museum and we had quite a few conversations. She was just full of stories. I guess you're going to have tons of stories when you've been in burlesque for so long."
The news of her death was initially posted on the hall of fame's Facebook site by her caretaker.
"She died peacefully following a stroke earlier this year," the statement reads.
As of 10:30 p.m. Saturday, nearly 100 fans had either given "thumbs up" on the Facebook site for having known her and admired her or wrote comments, including B. Goode: "Such sad news. her legacy will live on."
Contact reporter Tom Ragan at tragan@reviewjournal.com or 702-224-5512.