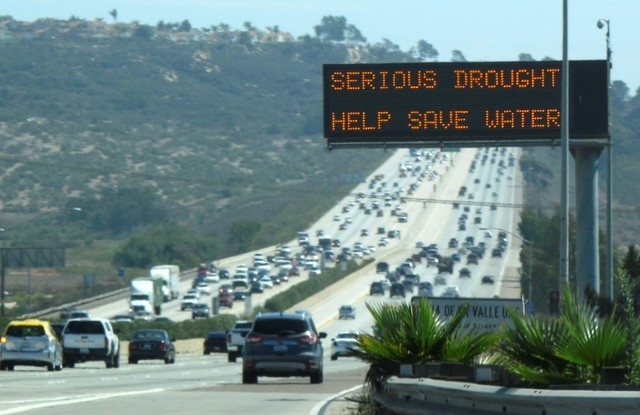 In the wake of a landmark California water conservation mandate announced Wednesday, Southern Nevada officials said water policies here will not be changed.
California Gov. Jerry Brown, a four-term Democrat, called for a mandatory, statewide 25 percent reduction in water usage for cities and towns. The mandate is the first of its kind in the Golden State and is expected to save nearly 489 billion gallons of water by January 2016.
The cutbacks, to be implemented by state and local water agencies, will affect consumers and businesses throughout the most populous U.S. state, but farmers, who are already making do with less water for irrigation, will be exempt.
Brown's move follows similar water conservation measures the Southern Nevada Water Authority put in place more than a decade ago.
In 2003, the authority introduced mandatory schedules for irrigation systems, misting and car washes to one day a week during the winter months and three days a week in spring and fall. In the summer, Southern Nevadans are prohibited from those activities between 11 a.m. and 7 p.m.
Las Vegas Valley residents should not expect any further restrictions in the near future,water authority spokesman Bronson Mack said.
"We believe the programs that we have and the tools that are available to our customers throughout the valley are sufficient," Mack said.
Lake Mead is one of at least four major sources for California's water supply. The state draws 1.4 trillion gallons from the reservoir.
By comparison, Clark County gets 90 percent of its water — or 97.8 billion gallons — from Lake Mead.
Nevada's supply is the lowest among six other states that also draw from from Lake Mead, Mack said. Droughts in the new millennium have caused water levels to fall more than 120 feet since 2000.
While California's water shortage is perhaps the most severe, Mack said he doesn't expect either state to increase its water usage from the lake anytime soon.
Felicia Marcus, chairwoman of the California Water Resources Control Board, said authorities there could impose fines of up to $10,000 per day to water districts that don't follow the state's new restrictions.
In the Las Vegas Valley, violators of water ordinances are given a warning for the first offense, but can eventually face fines of up to $5,120, Mack said.
The authority usually allows two weeks for corrective action before imposing the first fine, which ranges from $80 and $320, Mack said. Fines double each time the authority cites a homeowner or business for a water violation.
"We notify customers to let them know if they're out of compliance," he said. "A fair warning generally solves the issue."
Controlling outdoor water use is the best way for residential customers to avoid extra charges and fines, Mack said. Reducing water running times and ensuring sprinkler heads are correctly aligned can save customers hundreds of dollars each year.
"You may be able to get away with watering your grass for three minutes instead of five minutes," Mack said. "And that can provide some considerable savings."
In California — which is reporting its lowest snowpack levels on record — commercial, industrial and institutional property owners such as businesses and golf courses will be required to cut their own use of potable water for lawns by 25 percent, according to the governor's order.
Brown also ordered the agencies that supply the state's vast agricultural sector with water for irrigation to develop detailed plans for managing water during the drought.
Farmers will not be held to the 25 percent reduction, officials said, citing the toll the drought has already taken on their supplies of water for irrigation. Farmers have been deeply affected by the state's moves to release less water than usual from reservoirs during the last three years of drought, as well as on-and-off restrictions on pumping from rivers and creeks.
Contact Chris Kudialis at ckudialis@reviewjournal.com or 702-383-0283. Find him on Twitter: @kudialisrj.