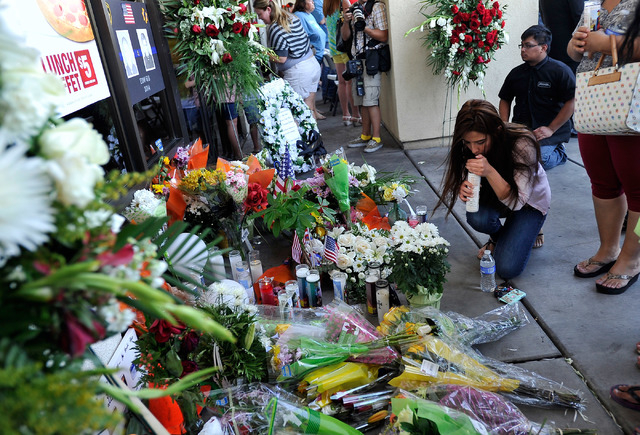 The seven CiCi's Pizza restaurants in the Las Vegas Valley plan to donate a percentage of their Father's Day earnings to a police fund in honor of two officers killed at a pizzeria and the man fatally shot trying to stop their killers last summer, the company announced Thursday.
The money will go to the Injured Police Officer Fund, which benefits officers from several departments and their families.
Officers Igor Soldo and Alyn Beck were eating June 8, 2014 at CiCi's, near Stewart Avenue and Nellis Boulevard, when Jerad and Amanda Miller gunned them down. The couple proceeded to the Wal-Mart next door, where Amanda Miller shot Joseph Wilcox when he tried to stop them from shooting anyone else. The married couple died at the store after a shootout with Metro officers.
Twenty percent of the day's net sales at the Nellis restaurant will be donated, and the percentage will vary at other locations, restaurant spokesman Ladd Biro said. Cash donations will be accepted.
"We'll never forget the men who died last year in that tragic incident, not least of which because they were both great dads," Mike Haskins, owner of the North Nellis franchise, said in a release.
Soldo and Beck each had one child under the age of 1. Soldo had a son, and Beck had three children.
Las Vegas leaders voted unanimously Wednesday to rename a city park Alyn Beck Memorial Park, which is near Fort Apache and Iron Mountain roads.
The process to name another park after Soldo was in the works Wednesday.
Also, trees were planted in a ceremony for the officers and Wilcox at Metro's Northeast Area Command station on the shooting's one-year anniversary.
Contact Ricardo Torres at rtorres@reviewjournal.com and 702-383-0381. Find him on Twitter: @rickytwrites.