Clark County Fire Department to bring back high-risk rescue unit
Updated March 7, 2018 - 7:47 pm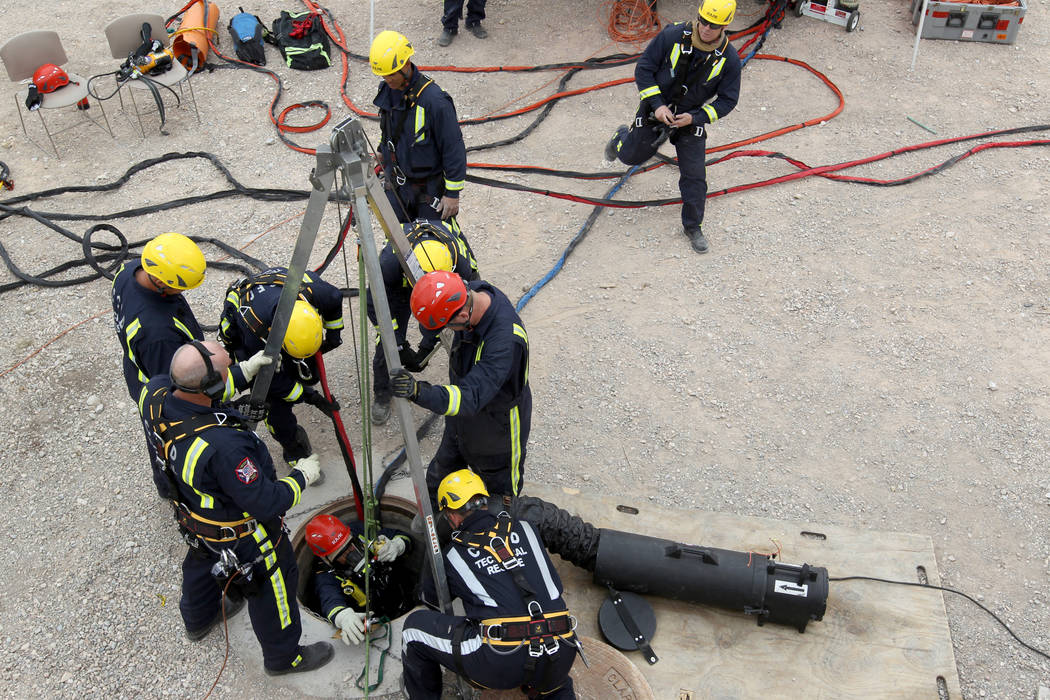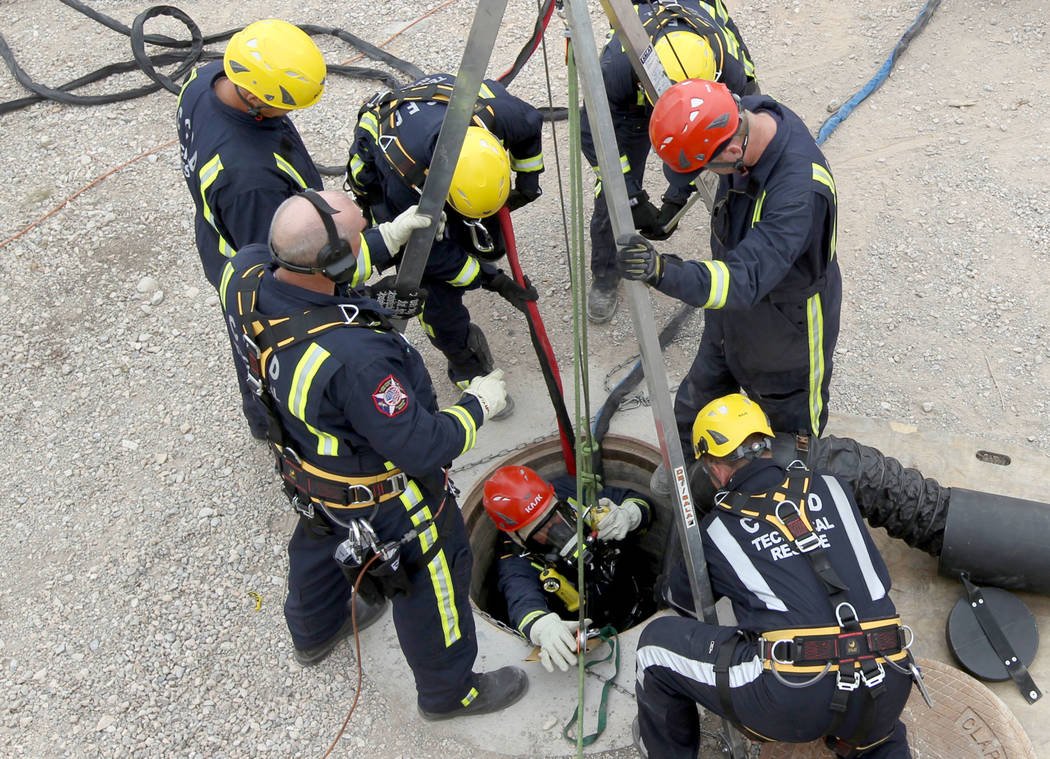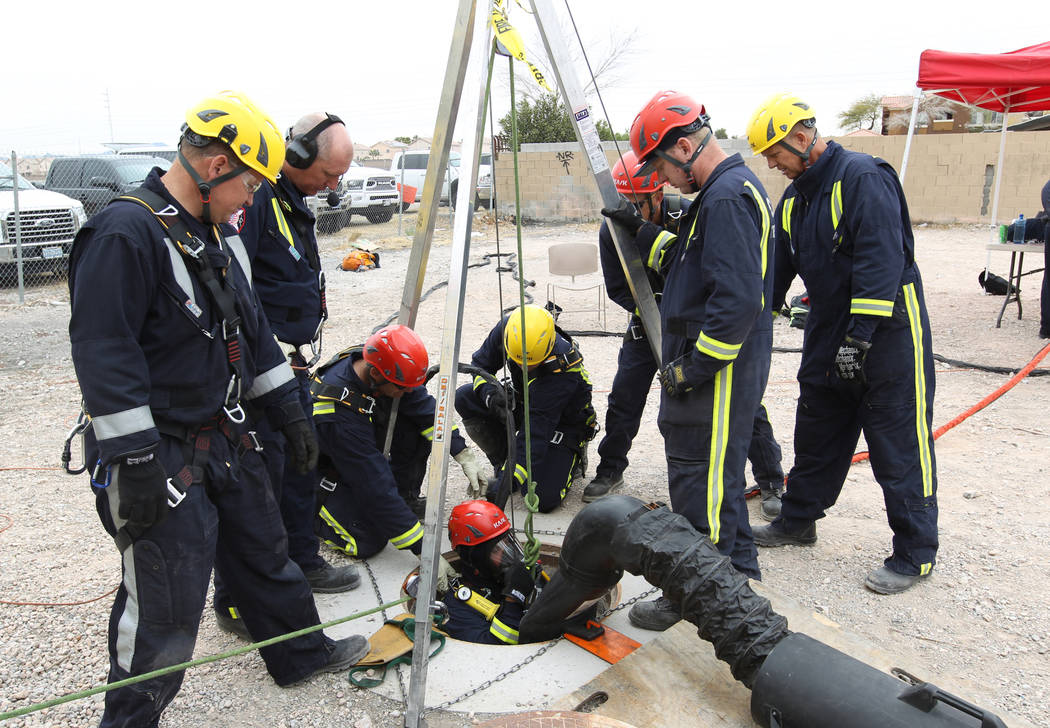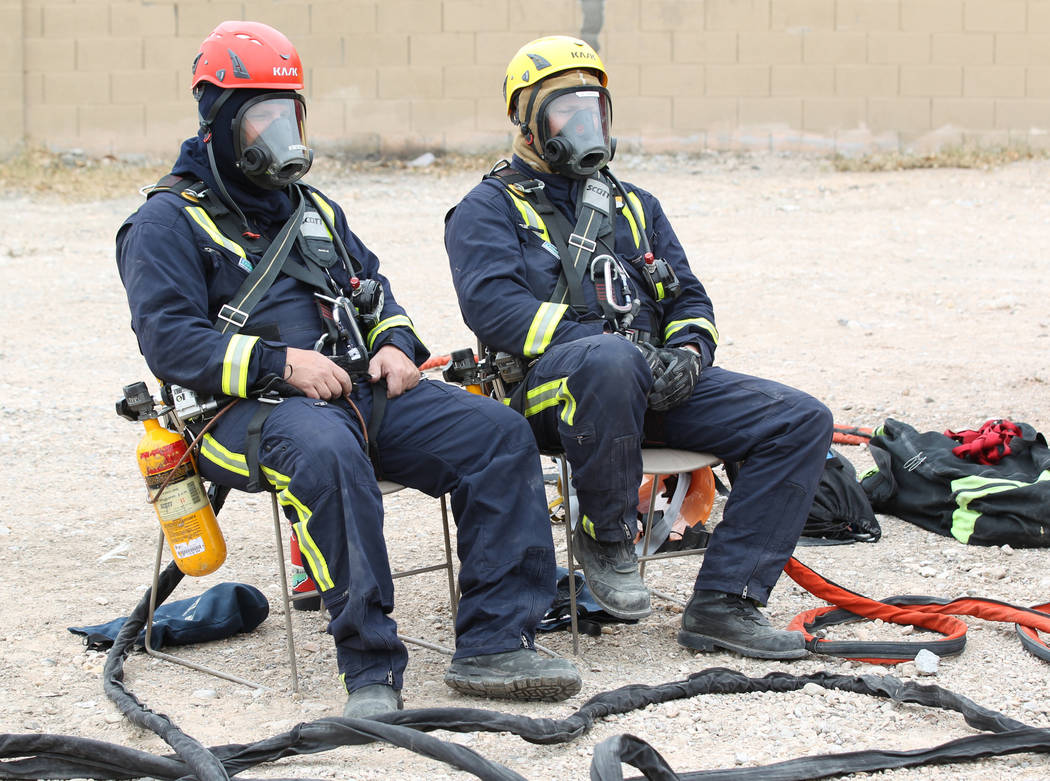 Preparing for an uptick in major Strip construction projects, the Clark County Fire Department is restoring a special unit with expertise in rescuing people at high altitudes, underneath structure collapses and in other high-risk situations.
The county's Heavy Rescue program has been defunct since June 2010 when its duties were outsourced to the city of Las Vegas. County fire officials say the program should be up and running again by July.
Fire Chief Greg Cassell said his staff is preparing for the inevitable.
"There's an awful lot of construction accidents we know are coming because of the impending high-rise construction, and this crew will handle those rescues," he said. "They'll be hanging off of cranes, they'll be going into tunnels and caissons to help people who are trapped."
In preparation to launch the new unit, Battalion Chief Leo Durkin led a training exercise Wednesday morning near Durango High School.
Firefighters positioned a giant metal tripod over an open manhole. Using a winch and rope they lowered one man at a time through the opening and 40 feet down to the bottom of an underground flood control tunnel.
A team on the surface sent down oxygen and communications through tubes and wires.
Once at the bottom, the firefighters traveled as far as oxygen tubes allowed them. Then, engulfed in darkness, they switched their oxygen source to a small orange bottle attached to each firefighter's hip and made their way back for extraction.
The exercise prepared firefighters to rescue people trapped or incapacitated inside confined spaces, Durkin said.
"With a community of our size, every year there's going to be multiple opportunities to use our technical rescue training," he said.
'These are county calls'
Officials said the county disbanded the Fire Department's 20-year-old Heavy Rescue program in 2010 to save money and prevent layoffs.
A deal between the city and county arranged for the Las Vegas Fire Department to perform those services in the county. The county saved $4.3 million and eliminated the need for layoffs, officials said.
But with an improving economy bringing more stability to the county's budget and more construction to the Las Vegas Valley, Cassell said it's time to bring back the team.
"We're going to have calls at (The Drew Las Vegas), Resort World, the Stadium," he said. "These are county calls, and we need to be self-reliant."
It will cost approximately $900,000 to pay for the program's equipment and training. Another $325,000 will be spent annually on premium pay for Fire Department employees on the unit.
The team will be cross-staffed with 48 employees already working at Clark County Fire Stations 21 and 11, which both lie south of the Strip and near Interstate 15.
"It's a good centralized location for those resources to roll out of," Cassell said.
Contact Michael Scott Davidson at sdavidson@reviewjournal.com or 702-477-3861. Follow @davidsonlvrj on Twitter.