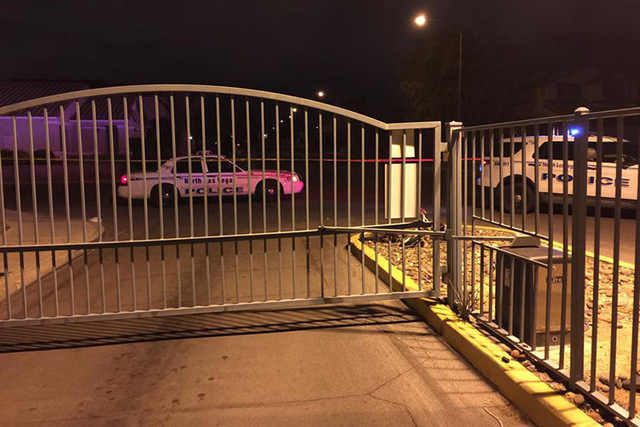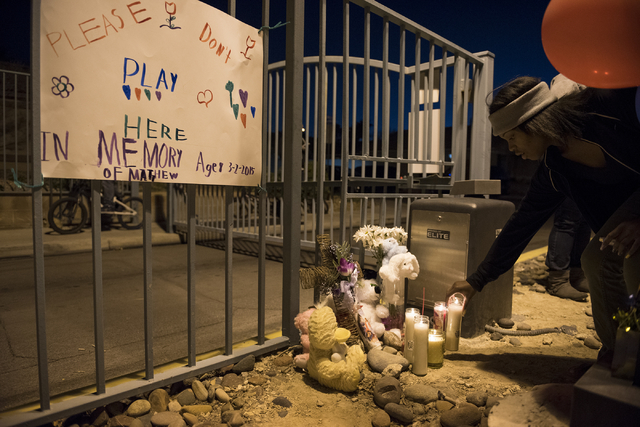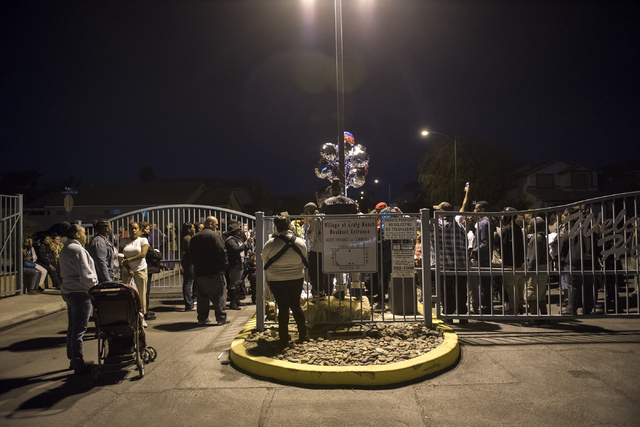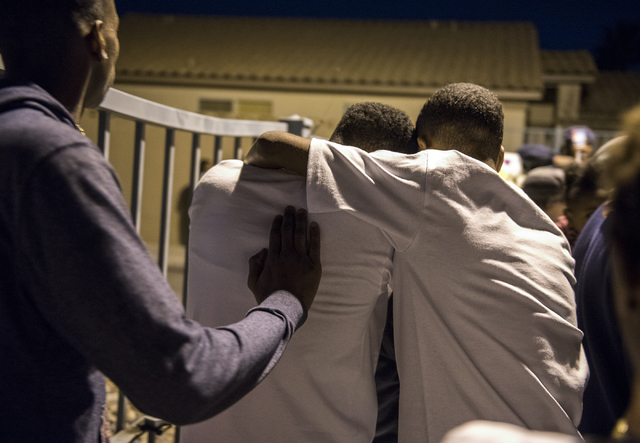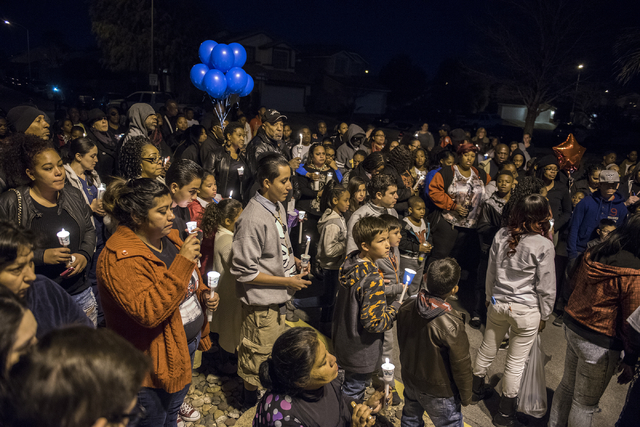 A North Las Vegas neighborhood met Wednesday night to mourn the loss of 8-year-old Matthew Cattlet.
Friends and family joined neighbors at the Village at Craig Ranch's exit gate, on Goldfield Street and Newburg Avenue. They used candles, flowers, stuffed animals and at least a dozen Spider-Man balloons to pay tribute to the boy who lost his life in a tragic accident Tuesday night.
A friend riding a bicycle rode over a magnetic sensor and activated the gate before Matthew could pass through a gap that allowed the gate arm to swing open and closed.
A sign was posted on the automatic gate where Matthew died. "Please don't play here," a child wrote. "In memory of Matthew."
As the crowd grew to several dozen people, Matthew's family emerged and distributed candles. They wore matching white T-shirts with pictures of Matthew printed on them. While some wept loudly, others stood, silent and solemn, as tears streamed down their faces.
The children talked about what a good kid Matthew was and how important it was for them to pay their respects. As many as eight children, ranging in age from 6 to 13, witnessed Matthew's death.
Neighbors described Matthew as a kind, respectful boy who loved to smile and eat candy. He was an active kid who loved to play outside. He was one of the smartest kids in his class at Willhelm Elementary School.
Matthew's grieving mother, Franshelle Criner, was quiet during the vigil. Her family and friends said Criner worked hard to care for Matthew.
"He was happy," Matthew's mother said.
Those at the vigil turned their broken hearts to their faith and prayed together. They asked God to comfort Matthew's family, to let them find solace in the knowledge that God has a plan.
"In times like this you need an anchor," family friend Dianne McTear sang out, her rich voice silencing the crowd. "In times like these you need a savior."
Earlier in the day, neighbors spoke to the Review-Journal about what happened.
Davin Boyd, 8, was a close friend of Matthew. He was one of several witnesses interviewed by North Las Vegas police on Tuesday night and Wednesday morning.
Davin said neighborhood children often played near the gate, but Matthew was the only one who could fit his head through the small, rectangular opening.
When friends saw Matthew being crushed by the gate, at least one called 911 while others cried, Davin said.
"My friend was just riding his bike, and the gate opened," Davin said. "I went home and told my grandma what happened."
Neighbors were able to pull Matthew out of the gate before the ambulance arrived, but he later died at University Medical Center. Matthew died from a compression injury, according to the Clark County coroner's office.
Edrick Morris, 17, was one of the neighbors who pulled the boy out of the gate. He said Matthew often was at his house playing with his younger brother.
"Good kid, always smiling," Morris said.
Levanis Davis, 33, another resident of the Village at Craig Ranch, described Matthew as "very respectful" and friendly.
"He's going to be missed around here," Davis said.
Kimberly De La Cruz and Christopher Kudialis contributed to this report.Contact Wesley Juhl at wjuhl@reviewjournal.com and 702-383-0391. Find him on Twitter: @WesJuhl.