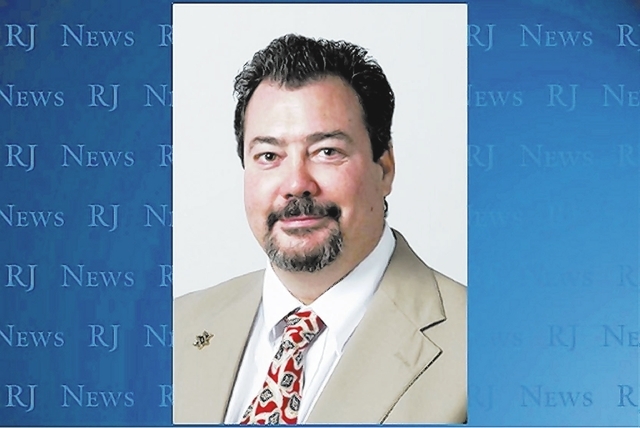 Embattled Las Vegas Township Constable John Bonaventura and the county comptroller are still in a dispute over $37,100 paid to two of the constable's deputized attorneys between November 2012 and February, county records show.
Correspondence exchanged between Bonaventura and Clark County Comptroller Jessica Colvin in February and March shows that the county and Bonaventura locked horns over whether the payments violated state law. The records also show the county continued questioning Bonaventura's payment claims after he had deputized two attorneys, Spencer Judd and Robert Pool, and put them on the payroll.
In November 2012, Bonaventura made the pair deputies after county officials balked at paying the legals costs tied to a lawsuit Bonaventura filed against Laughlin and Henderson constable offices in a jurisdictional dispute.
That case is pending before the Nevada Supreme Court.
Records show Pool was paid $16,500 and Judd was paid $20,600 between November 2012 and February. In her letter, Colvin gave Bonaventura two options: provide a detailed description of the work, or reimburse the county with $37,100.
"Without additional information as to what services these individuals provided to your office, it is unclear as to whether or not these expenditures are obligations of Clark County," Colvin wrote Bonaventura.
In her letter, Colvin said that that payment to attorneys or deputies for legal services violate state law because the constable's office doesn't provide legal services. That state law says constables may appoint deputies, who are authorized to conduct all official business to the same extent as their principals.
In a statement to the Review-Journal on Tuesday, Colvin said the issue has not been resolved, citing the same state law.
"At this time Constable Bonaventura has refused to provide the scope of work previously provided by Mr. Judd and currently provided by Mr. Pool," she said. "As a result, I have been unable to determine whether or not these services are true obligations of Clark County. Until the scope of work is provided, Constable Bonaventura is personally liable for amounts paid by his office to Mr. Pool and Mr. Judd."
Reached Tuesday for comment, Bonaventura appeared under the impression that the situation had been resolved.
Bonaventura called it an "old issue" that was resolved almost a year ago.
"The comptroller understands the (state law) now," Bonaventura wrote in an email to the Review-Journal. "It was clarified for her months ago. This is a dead issue now."
Bonaventura said Pool is a fully certified peace officer and Judd no longer works for the office.
In Bonaventura's March 20 response to Colvin, he defended his actions and disagreed with her interpretation of the law.
"Deputy constables DO NOT provide legal services to the public," he wrote. "They provide legal assistance to the office to the same extent as their principal which in my case, working under statutory guidelines, is all official business pertaining to the office and all the powers given to me by the voters of the Las Vegas Township, including defending lawsuits against the office, as well as the initiation thereof."
Both attorneys have kept busy representing the constable in lawsuits. Records show Judd ceased to be a sworn deputy in late May. Pool, who couldn't be reached, is still a deputy.
Pool now represents the constable in his lawsuit against the county, filed because commissioners voted in March to abolish his office when his term ends in January 2015. He's also representing Bonaventura in a lawsuit involving two former officers and an insurance provider.
In the case involving the jurisdictional dispute with neighboring constables, Pool took over as the attorney after Judd gave up his badge.
Reached Tuesday, Judd said he's no longer working for the constable's office and that he has claims for payment that were denied by the county.
"As far as I'm concerned, they denied it and that's that," he said.
Judd said he didn't pursue those claims, and declined to elaborate other than say Pool took over the cases.
"I was a deputy and that's all that needs to be said about that," Judd said.