Deadly blaze: Apartment complex has history of recent fires
Updated June 7, 2023 - 8:30 pm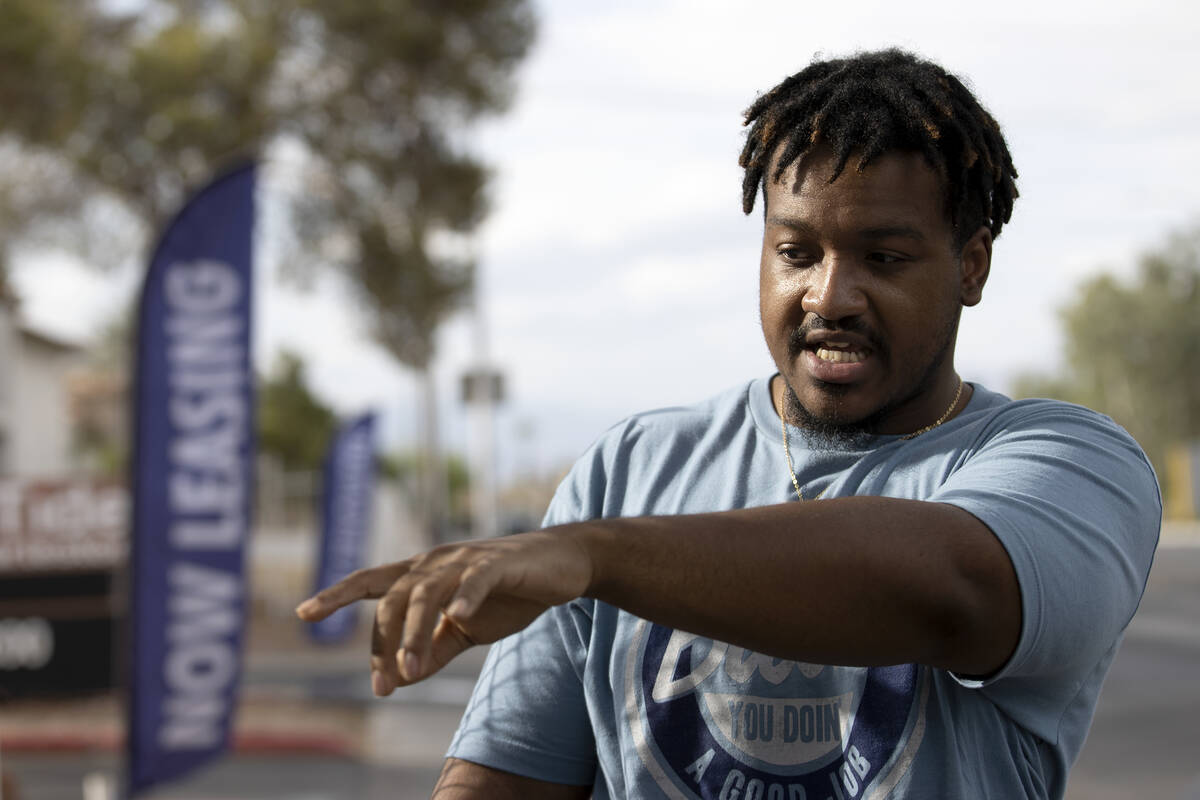 A fatal fire at an apartment complex in west Las Vegas is the latest of several major fires there since at least 2020, and residents on Wednesday were hoping the community's management and ownership will make changes to prevent more blazes.
"Hell on Earth," was how resident Nathan Stigen, 34, described the Tuesday morning blaze at the Tides on Charleston complex at 6501 W. Charleston Blvd., west of South Torrey Pines Drive.
Stigen, who lives with his fiance, Tanya Tufi, 25, and their baby in the complex, said he helped rescue about six or seven people. Several of them were injured and bloody after being forced to jump out of their second-story windows to escape the flames.
"They were terrified," Stigen said. "I thought I was going to watch people burn to death. There was so much smoke coming out. The flames were so big."
One person was found dead in the fire's wreckage on Tuesday and another remained missing.
The Clark County coroner's office on Wednesday had yet to release the identity of the person who died.
It also wasn't yet publicly known who the missing person is.
The Las Vegas Fire Department said Tuesday that seven people were injured in the fire, including a firefighter who suffered minor injuries and was cleared to return to duty.
Six other people were hospitalized and 18 people were displaced, fire officials said.
The department stated in an email Wednesday that it was still investigating the cause and other aspects of the blaze and did not release further information.
Duncan Gray, 27, was one of those people who were hospitalized. Gray, who was living in a ground-floor unit with his mother, Wendy Washington, 53, and his brother DeNiro Williams, 22, said he received about 30 stitches in the arm after he was forced to break his window to get everybody out, including his girlfriend Lexie Fajardo, 26.
"There was already smoke coming in from the bottom of my front door, so I had to bust it out with my forearm," Gray said.
The apartment was destroyed along with most of their belongings, he said.
"When I got out of my apartment, we had a whole bunch of residents behind us gathering and looking at the fire and the roof was already collapsing," Gray said.
He said the window that he used his forearm to break open had been locked by screws. It's something that he said he had asked maintenance to fix, so that he could open his window, but they never fixed it.
Gray said he terminated his lease after the fire because he feels the community is too unsafe, given the fact that Tuesday's blaze was the third major fire he's seen at the complex since 2020. He said he heard no smoke alarms or fire alarms going off during Tuesday's fire. He said he'll likely be taking legal action.
Tufi and Stigen saie that they had a sudden fire break out in a bathroom vent in their unit in 2022 for no apparent reason and that they were able to put out before it spread.
Residents at the complex on Wednesday criticized the maintenance situation.
Asked about management's responsiveness to maintenance requests, Tufi said her experience is that she and Stigen might put in a maintenance request via the residents' online portal, only to have nobody show up and the request marked completed. Or, if somebody does show up, it will be at an inconvenient time. Or they might take a while to respond. And when they do, concerns often aren't taken seriously.
"Everyone has the same story," Tufi said, recounting what she's heard other residents say. "That they don't take the maintenance requests seriously."
After Wednesday's fire, Tufi and Stigen started a Facebook group called "Tenants of Tides on Charleston/Torrey Pines/Lantana Apartments" for residents to come together and share their experiences but also to hold the complex's management accountable.
"I feel like Tides needs to hold accountability on themselves for a lot of things, not just fires, but a lot of things," Tufi said. "This is peoples' living spaces. They live with their families, I live with my baby, and it just doesn't feel safe here, and I think building a strong community within ourselves will help build a case against them and it will help us."
Previous fires
In February 2020, a fire broke out at the same complex, which was then called the Lantana Apartments, according to Las Vegas Review-Journal archives.
In that blaze, 19 people including five children were displaced after fire fully engulfed the second floor of a two-story wood-frame building with eight apartments at the complex. Damage was estimated at roughly $500,000.
In June 2022, about 75 firefighters responded to a fire at the Lantana Apartments that was also estimated to have caused $500,000 in damages. One person was hospitalized with smoke inhalation and more than 20 were displaced in that fire.
Authorities on Wednesday did not provide the cause of those fires.
A phone call to the office of the Tides on Charleston, run by PMG Property Management at the complex, was answered by a person who said, "We're not commenting."
Another call to the firm's main office in Scottsdale, Arizona, listed on its website, wasn't returned, and the company's voicemail was full Wednesday.
The sprawling series of low-rise buildings, with 516 units, constructed in 1980, is on two land parcels, one extending to West Charleston to the north and another along Torrey Pines to the east, Clark County assessor records show.
Los Angeles-based owner
The owner of the complex is the Los Angeles company Tides Equities, which owns 23 other Tides apartment complexes in Southern Nevada where its holdings include 6,500 units and an investment of $1.7 billion, according to the company's website.
Tides Equities, under the name "Tides at Charleston Owner, c/o R Andrade S Kia," bought the property from Houston-based Lantana Apartments, LLC for $110 million in October 2021, based on county assessor records.
The name makes an apparent reference to the co-founders of the company who are Ryan Andrade and Sean Kia, based on its website.
An April 13 report from businesswire.com described the company as "ranked as one of the nation's largest apartment owners," with more than "31,500 units located across four major markets including Phoenix, Dallas, Austin and Las Vegas."
The real estate news website therealdeal.com wrote on Feb. 3 that Tides Equities typically uses floating interest rate loans to buy complexes, "perform an assembly-line style renovation of its units" and then "hike rents" to set up "a lucrative resale" to new investors.
Contact Brett Clarkson at bclarkson@reviewjournal.com. Contact Jeff Burbank at jburbank@reviewjournal.com.