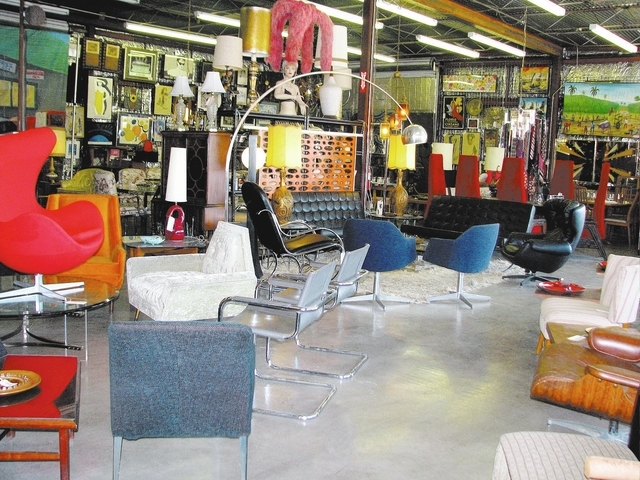 (This is the third article in a monthly series highlighting segments of the 18b Arts District and surrounding arts locations.)
For many years, Main Street south of Charleston Boulevard was populated with light industrial operations, furniture stores and repair shops. The street is now the lower corner of the 18b Arts District, and recent years have seen a shift toward antiques and arts-related businesses, including galleries, a tattoo parlor, a flower shop and a body-painting boutique.
"I think we were the first antiques store here on Main Street that opened after First Friday started," said Bill Johnson, who owns Retro Vegas, 1131 S. Main St., with his partner Marc Comstock. "I think we started something. There are a lot of them here on Main Street now."
Retro Vegas has been in business eight years and expanded to its current location a year and a half ago. The new store has 5,000 square feet on the ground level, with additional space in a loft. The space is full of antiques handpicked by the owners.
"We've got a very particular taste," said Johnson. "We like things like Danish modern furniture from the 1950s, '60s and '70s. We get in chrome dinette sets, and they sell almost as quickly as we get them in."
The store's former location, at 1211 S. Main St., is occupied by another stocked antique shop, Patina.
"Actually, Marc and Bill suggested we move in here when they left it," said Kate Aldrich, who owns the store with her husband, Tim Schaffer. "We have a completely different type of store. Tim has a very specific eye. He likes mid-century modern, Hollywood Regency, and he's very particular about the items he brings in."
Far from feeling the other antique stores are competitors, the owners said the more shops on the street, the better.
"People want to go from shop to shop to shop," Aldrich said. "We need a lot more shops down here."
Aldrich wants to get the word out that the 18b Arts District is a great place to shop for antiques. She cites that as one of the reasons the business opens on First Fridays.
"We need suburban people to feel comfortable down here," she said. "A lot of them have read about it but haven't been down here. During First Friday, people see the area and see that it is not scary."
Aldrich said that Preview Thursday, when many of the 18b shops open for a few hours in the evening without the hoopla of First Friday, is even more important for her store.
"It's more of our audience," Aldrich said. "We're not cheap. Our customers have a very discerning taste."
A few doors down, Koolsville Tattoos creates art on the human canvas. A sign on the window advertises $10 tattoos, and manager Jeremiah Haynes says the shop gets a lot of walk-ins, and many people take the business up on the deal.
"It's about the size of a quarter, and we have different standard designs," Haynes said. "The prices go up if you want to get it bigger or add a color."
Skin City Body Painting Studio & Boutique, 1209 S. Main St., also uses the human body as a canvas but on a much less permanent basis. The shop specializes in body painting for model shoots and special events.
"We do it all here," manager Jessica Westergom said. "Hair, body paint, makeup, special effects, costuming and hiring talent. If you think of it, you can get it through us."
The shop also does body-painted costumes.
"Halloween is our busiest time of year," Westergom said. "We do it all year-round for people who want to be painted to go to a party or something, but nothing like it is in October."
The front room of Skin City is a boutique, selling mostly costume accessories.
"We're going to be getting away from that," Westergom said. "We'll still sell a few things, like pasties, that complement our body-painting work, but we're turning the front room into a gallery."
On First Friday, the shop opens up its back room, where it normally does the body painting, and displays work by local artists.
Meanwhile, Casa Don Juan, 1204 S. Main St., is one of the oldest and most well-established restaurants in the area, predating the 18b designation.
The Velveteen Rabbit, a bar and music venue, opened this year at 1218 S. Main St.
Since the area is on a well-traveled road, it's one of the easiest places to see the 18b Arts District, and it features an eclectic mix of businesses.
Contact Paradise/Downtown View reporter F. Andrew Taylor at ataylor@viewnews.com or 702-380-4532.