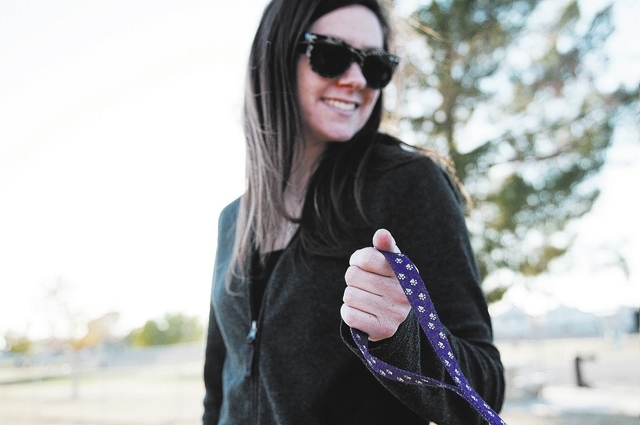 People can visit the various sights of the world, so why can't dogs?
If Summerlin resident Kara Easton's idea comes to fruition, one of the city's dog parks will see a major transformation. She is one of 14 finalists in the 2013 Beneful Dream Dog Park 
Contest, which promises to renovate a local dog park to the tune of $500,000.
Easton's dog park proposal includes a tunnel a la the London Underground (the Tube) and dog park-sized replicas of the Great Wall of China, Rome's Colosseum and Paris' Eiffel Tower.
"It's Las Vegas, so we have all that stuff on the Strip, but you can't take your dog, so I thought it'd be kind of cool to bring some of that to him," Easton said.
Her two-minute online video, "Around the World on 4 Legs," explains her concept. It's interspersed with photos from her own vacations. Her dog, Bart, is included.
To vote for it, visit beneful.com/dream-dog-park. Online voting ends Dec. 5.
Easton, 26, found Bart nine years ago at a dog shelter adoption event at Petco. She immediately claimed him and weaseled her parents into letting her keep him. Since then, they've been inseparable. She didn't know about the contest until a co-worker, Carlene Palm, whose two pugs play with Bart, told her about it.
"She was like, 'Kara, you should do it,' " Easton said. "I kind of brushed it off — I never enter these contests — until she reminded me again and said it would benefit Las Vegas."
Easton said her idea included a water feature.
"As you know, it's ridiculously hot, and you can't really take your dog out in that," she said of Las Vegas summers. "Some dogs love to play in the water. My dog is a weirdo and doesn't, but I had to accommodate all dogs because it's not just for Bart. … I wanted to make it a theme that would be fun for everyone involved. I mean, obviously dogs aren't going to know what the Eiffel Tower is, but I just wanted to make it fun, like we had an exotic place in our own backyard."
Backyard? Actually, the renovated dog park may not be at Woofter Family Park, 1630 N. Rock Springs Drive, the dog park closest to Easton's home. The actual park will be determined by Beneful, after looking into infrastructure, the permitting process and other considerations.
"I'll be really upset if they decide to build it in Henderson," Easton said.
The winner of the Dream Dog Park Contest is partially determined by online voting, with 70 percent of the decision resting with judges. Entries are based on: creativity and originality of ideas (40 percent); how well the ideas will make play more fun in the dog park (40 percent); and the feasibility of bringing the ideas to life (20 percent). Past parks have included a tennis ball-dispensing tree, a roller coaster bridge, splash pads, walking trails, shade structures and benches.
The Beneful Dream Team
 consists of interior designer Nate Berkus, who will help design 
the fourth $500,000 Dream Dog Park renovation; licensed contractor
 Jason Cameron, who hosts DIY Network's "Desperate Landscapes" and "Man
Caves" and manages the renovation; pet expert Arden Moore, who 
oversees the renovation from the dog's point of view; and a Beneful
 brand representative.
The contest began in 2010. Nancy Boyle, Beneful brand manager at Nestle Purina North America, said this was the first time a finalist has been from Las Vegas.
"Based on the success of the contest since its launch, we've clearly struck a chord with dog owners across the country who love nothing more than their daily adventure with their buddy at the dog park," Boyle said.
How did the casual dog walker view the idea of an around-the-world playland for their pooch?
Tom Ciecierski brings his dog, Rex, a 4-year-old pointer mix, every day to Barkin' Basin Dog Park, which is connected to W. Wayne Bunker Family Park, 7300 W. Alexander Road. He was not so much concerned about amenities for dogs as for humans and said the bathrooms were too far away. What would he like to see for the dogs?
"Some kind of water deal, some kind of waterfall or a water-wave type of thing that the dogs would like," he said.
Would he go out of his way to use Easton's concept?
Ciecierski hesitated and said, "It's not for me, I don't know. If it was something way beyond belief … then I would drive (Rex) to it."
One of the people who won't be voting for any of the 14 finalists is northwest resident Heather Mongie. She was walking Stella, her 7-month-old pitbull mix.
"I think it (a dog park) should just be a place for running and chasing balls," Mongie said. "I don't think dogs really know the difference, if it's decorated or not … I think they have simple pleasures."
If Easton's proposal wins, she will get $10,000, which she plans to use for her next two trips — her parents' anniversary celebration in the Caribbean and a friend's wedding in Germany. She also will get a year's worth of Beneful dog food for Bart. She said she'd give part of it to an animal shelter.
The grand prize winner is planned to be announced in December, with 
the Beneful Dream Dog Park slated to be unveiled in summer 2014.
Contact Summerlin/Summerlin South View reporter Jan Hogan at jhogan@viewnews.com or 702-387-2949.
How to Vote
To vote for Kara Easton in the Beneful Dream Dog Park Contest, visit www.beneful.com/dream-dog-park. Online voting ends Dec. 5.