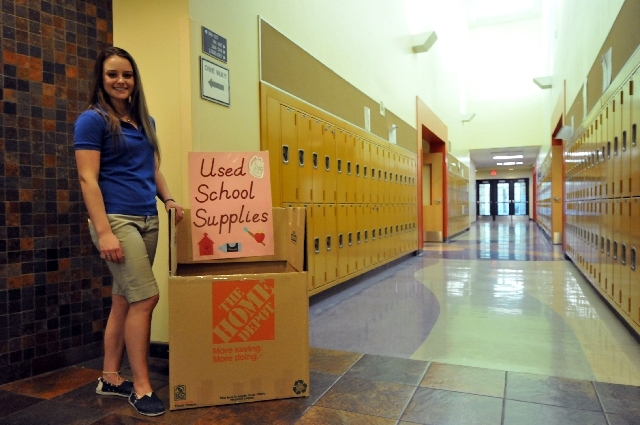 Erica Korbel saw it over and over again. At the end of every school year, her classmates threw out their old binders, unused paper and other supplies.
"There's so much waste after the school year, it's overflooding the trash cans," said Korbel, a 16-year-old sophomore at Bishop Gorman High School, 5959 S. Hualapai Way.
So four years ago, while she was a student at Las Vegas Day School, 3275 Red Rock St., she started an end-of-the-school-year supplies drive. She approached the principal with the idea and got the OK. Her mom, Lorena Korbel, bought three large bins from Target, and Erica placed them in the hallways near trash cans. She also made signs and explained to her classmates what she was doing.
She said the project was not wholly embraced by her peers.
"I got a few things," she said. "I kept noticing people still threw stuff away. They didn't put in the effort or didn't think it was usable."
On her last day of school, Korbel stayed late and rummaged through every trash can and collected any usable items and brought them home. She cleaned them up as best she could and removed any names from binders or colored over them if the name could not be washed off. She saved the loose leaf paper and removed used paper from spiral notebooks.
She donated all of the items to the Nevada Partnership for Homeless Youth, 4981 Shirley St., so those kids could pick out school supplies after summer break.
"I don't like looking at a trash can and seeing perfectly good items that can be used by people who don't have the money to get something for themselves," Korbel said. "… The kids who don't have the money to use on school items, they're just happy to have something, even if it's not perfect."
Korbel, a Summerlin resident, also said she did the project because she cares about the environment and wants to reduce waste going to landfills.
The next year Korbel did the same thing and got a better response from students at Las Vegas Day School. She noticed them putting more supplies in her bins and less in the trash. She brought the project with her to Bishop Gorman as a freshman last school year and said the response was even better. And each year she cleans, organizes and donates everything to Nevada Partnership for Homeless Youth.
Lorena Korbel said she is proud and "in awe a little bit" of her daughter.
"Her energy is limitless, and that amazes me," she said.
And even though she is at Bishop Gorman, Korbel still places bins at Las Vegas Day School. She said she wants to expand her organization, which she named Students United in Recycling School Supplies, to as many schools as possible. She said she has reached out to a few but has not received a response. Some of her friends used to help with the project, but this year Korbel is signing up volunteers in her classes.
"You don't need to donate money to help someone in need," she said. "If you donate time and work, you can make someone's life a whole lot better."
Contact View education reporter Jeff Mosier at jmosier@viewnews.com or 702-224-5524.