Bootlegger Italian Bistro strives to keep vintage Vegas thriving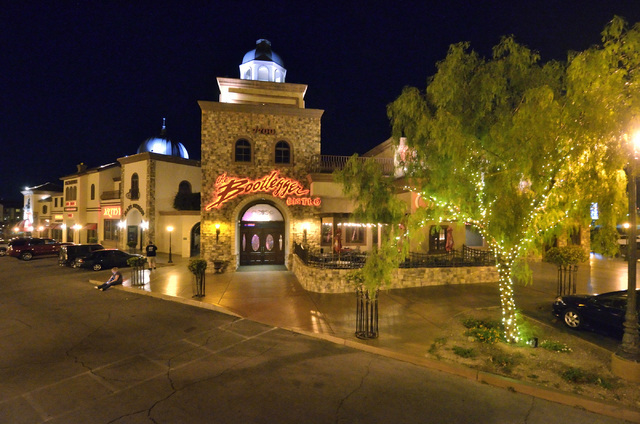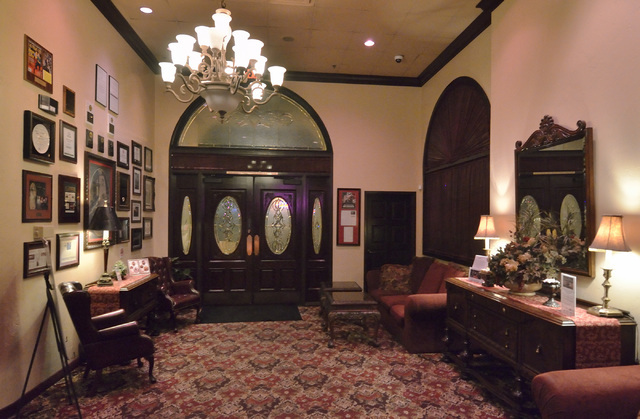 When many people speak of old-school Las Vegas, they're talking about things they've seen in movies or read in books. When former Lt. Gov. Lorraine Hunt talks about it, she speaks from experience. Her desire to keep that old-school spirit alive comes from a desire to keep alive what she feels was the pinnacle of entertainment.
"My cousin was the maitre d' at the Sahara Lounge when I was 14," Hunt said. "I remember sitting in the back having a cherry Coke and watching Louis Prima, Keely Smith, the Mary Kaye Trio, Don Rickles and more. Everybody came through there. Even Billie Holiday played there. I was a big fan."
Hunt and her family try to bring back the feeling of the days when the lounge was king in Las Vegas at her family's restaurant, the Bootlegger Italian Bistro, 7700 Las Vegas Blvd. South.
Hunt entered the entertainment industry as a teen, singing with a big band for New Year's Eve shows. She took up the career full time when she returned from music school and performed with her own group, The Lauri Perry Four. Among the highlights of her career was performing at the opening of several hotels, including Howard Hughes' Landmark Casino. She played almost exclusively in Nevada and was surprised when she toured how much better the scene was in Las Vegas, both for the performers and the audience.
"I grew up in that atmosphere, and I just thought that was the way entertainment was everywhere," Hunt said. "It was pandemonium. It never stopped. I loved it."
Hunt and her family were on the scene as the city developed its signature style. She noted that the blurring of the stage and the audience with booze as its catalyst didn't originate with the Rat Pack but with Frank Ross of the Mary Kaye Trio.
"Frank Ross was the funniest guy, and he did unbelievable improv," Hunt said. "He was the accordion player. Norman and Mary (Kaye) sang beautifully, but Frank made it a party."
Hunt's father was a bartender at the Casbah Lounge in the Sahara, and he told her that one night, Ross hopped behind the bar and started mixing drinks, making wild and unpalatable concoctions and offering them to the customers. Someone was almost always willing to give it a shot, much to the crowd's amusement. Before long, he was bringing a cart of booze on the stage and mixing them there and handing them out to the same effect. Dean Martin and Frank Sinatra saw this one night, liked what they saw and incorporated it into their shows.
"So much of the creativeness began in the lounges," Hunt said. "The showrooms were very strict about what went on but not the lounges. It was like a rehearsal studio with improvisation and brainstorming. It was all loose, and they broke all the rules."
Hunt's family has been in Las Vegas since 1943 and became involved in the restaurant business the following year. The Bootlegger is arguably the latest location for the restaurant they started in 1949.
"We've got four generations here," Hunt said. "My grandson, my son, me and my mother are here. My mother just celebrated her 99th birthday, and she's in terrific shape."
The family had restaurants on Fremont Street, Sahara Avenue and the corner of Tropicana and Eastern avenues before building the current location in 2001. There had been a musical element with live music at several of the locations, but the latest spot was designed so that the performance space could be seen from nearly any seat in the house.
"When we opened, we had the benefit of having Sonny King," Hunt said. "Sonny was the sidekick of Jimmy Durante. He introduced Martin to Lewis. He was an old cabaret entertainer. He was retired, but he saw what we had here and started working weekends here and bringing in people."
The show featured live musicians at a time when much of the music on the Strip was canned. By that point, the Bootlegger was well-established as a music venue celebrating old-school Las Vegas, and it went to the seven-nights-a-week entertainment schedule it still has today.
Hunt's husband Dennis Bono still performs at 2 p.m. Thursdays at the South Point, 9777 Las Vegas Blvd. South. He doesn't care for the term "old school," which he feels has a different connotation. He likes to say "vintage Vegas." He wants people to remember the heyday of the lounge scene in Las Vegas.
"There's something about not neglecting what made this town the entertainment capital of the world," Bono said. "That's what it was. That music is what brought people in."
Hunt noted that the Bootlegger has become both a place for old performers to show off their chops and a stepping stone for new performers working in the classic style. She added that several groups and performers, such as the Las Vegas Tenors, have gone on to become staples on the Strip after starting there.
"It's a place where performers can get up and try a new piece, whether it's comedy or music or whatever," Hunt said. "At the end of the night, everybody is up there singing. They're all jumping in and singing 'The Birth of the Blues' or whatever. That's what I grew up with. We just said, 'We don't want to let it go; it was too perfect.' The looseness, the improvisation … It was a party, and we all decided to keep it going."
Visit bootleggerlasvegas.com or call 702-736-4939.
Editor's note: Old-School Vegas is a periodic series in the East Valley View that looks at entertainers and venues embodying the vintage feel of Las Vegas entertainment.
To reach East Valley View reporter F. Andrew Taylor, email ataylor@viewnews.com or call 702-380-4532.
Bootlegger Italian Bistro
Address: 7700 Las Vegas Blvd. South
Hours: 24/7
Information: Visit bootleggerlasvegas.com or call 702-736-4939.