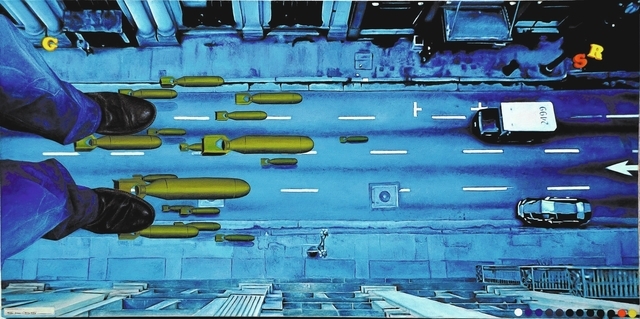 The First Friday arts festival is scheduled from 5 to 11 p.m. Jan. 3 at venues throughout the 18b Arts District in downtown Las Vegas. Admission is free, and free parking with shuttle service is available at the Clark County Government Center, 500 S. Grand Central Parkway.
Art Row on Casino Center Boulevard between Colorado Avenue and Charleston Boulevard is set to include artists and craft booths in The Bazaar. Green Street, featuring booths concerning sustainable energy, is also planned. All-ages classes by Social Paintbrush are scheduled at 7:30 and 9:30 p.m.
KidZone activities are scheduled from 5 to 9 p.m. Kids can receive free dance lessons from Kravenko Dance Academy and play with animals looking for a good home with representatives of The Animal Foundation.
January's First Friday is dedicated to sparks of inspiration and striving to inspire festival patrons to make positive changes for the new year.
The Welcome Tent, on the south side of Casino Center and Charleston boulevards, is set to conduct a community art project to help ignite sparks for attendees. Robots and Dead Girls are to guide the project with spark-related art.
For information on shuttle services, artists, music and more, visit firstfridaylasvegas.com. Many downtown art galleries also open from 6 to 8 p.m. for Preview Thursday.
Galleries planning to participate in January's First Friday include:
Trifecta Gallery in The Arts Factory, 107 E. Charleston Blvd., is set to show Cirque du Soleil's annual employee exhibition. Visit trifectagallery.com or call 702-366-7001.
Downtown Contemporary Art in Art Square, 1025 S. First St., is set to show "Portraits Through Books" by Walter Jacques Taieb. This is to be the final show before the gallery closes at the end of January. Visit downtown-contemporary.com.
303 North Studio in The Arts Factory, 107 E. Charleston Blvd., is set to show etchings by James Henninger. Henninger is set to print to order on First Friday and artist's proofs are slated to be on display in the gallery. Purchase of the artist's proof includes the plate once it is retired at the end of the show. Visit 303northstudio.tumblr.com or call 702-742-6241.
Jana's Red Room in The Arts Factory, 107 E. Charleston Blvd., is set to show small works by local artists including Kim Johnson and Nancy Good. Visit janasredroom.com or call 702-454-3709.
R Space in The Arts Factory, 107 E. Charleston Blvd., is set to show work by eight artists. The gallery also has a selection of works available for $40 or less. Visit facebook.com/rspacestudio.
The Contemporary Arts Center, 1217 S. Main St., is set to show "Cannibals, Survivalists and the Plus Ultra Habitat," photographic and sculptural works by Nathan Cote dealing with notions of personified flora and simulated habitats. Visit lasvegascac.org or call 702-496-0569.
The Brett Wesley Gallery, 1112 S. Casino Center Blvd., is set to show "The Male Mind," a group exhibition. Visit www.brettwesleygallery.com.
Blackbird Studios, 1551 S. Commerce St., is set to continue "Dr. Seuss, A Tribute," a juried show featuring works by more than 30 artists. Visit blackbirdstudioslv.com or call 702-782-0319.
City of the World, 1229 S. Casino Center Blvd., is set to show paintings by Mandel Maull and Vernon Rowlette. Visit cityoftheworld.org or call 702-409-7549.