Classic cars to thrill crowds at Henderson's SuperRun
September 24, 2013 - 2:18 pm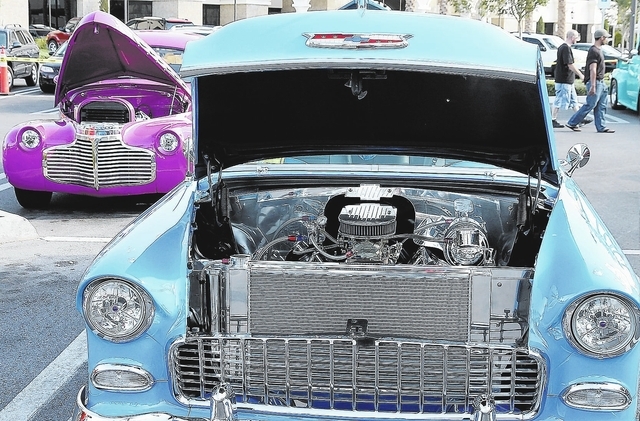 The SuperRun Classic Car Show is slated to return to Henderson. Alongside an array of hot rods, muscle, classic and vintage cars, also planned is the unveiling of a piece by local metal artist Chris O'Rourke.
"I have my roots as a car guy," O'Rourke said. "This is only fitting that I would be able to do this piece."
SuperRun is scheduled for noon to 8 p.m. Sept. 26 at the Fiesta Henderson, 777 W. Lake Mead Parkway, and noon to 9 p.m. Sept. 27, 10 a.m. to 9 p.m. Sept. 28 and 10 a.m. to 3 p.m. Sept. 29 at the Henderson Events Plaza, 200 S. Water St.
Nicole Johnson, a spokeswoman with the city of Henderson, said more than 100,000 people typically attend SuperRun.
"People are excited for it," she said. "They wait all year for it."
In addition to more than 1,000 cars scheduled to be displayed along Water Street, the event is slated to feature food vendors and entertainment.
"We have our oldies tribute Friday night," Johnson said. "There is a tribute to Buddy Holly, Roy Orbison and Elvis."
"American Idol" season 7 finalist Kristy Lee Cook is scheduled to perform at 8 p.m. Sept. 28 as part of the country music selection.
Also slated are a fashion show, a hubcap art display and O'Rourke's work.
Johnson said the city of Henderson discovered O'Rourke's talents when he attended the Art Festival of Henderson on Mother's Day weekend.
He said it's only fitting to make an art piece for SuperRun since he got his start working on and building custom vehicles.
"I was building Harleys," he said. "I was always into fabricating parts and pieces for custom vehicles."
He moved to Las Vegas in 2000 to pursue a relationship. Unable to find work, he took a job at the Las Vegas Motor Speedway.
After things fell through in his relationship, he decided to stay in Las Vegas, determined to make a name for himself.
He began landing steady contracts working on high-end homes, which allowed him to be creative with artistic furniture and designs.
"I got to work on homes of local celebrities," he said.
Using his garage as a studio, he started to work on smaller pieces.
"But after nasty messages from my HOA, I started looking for land to have a shop on," he said.
He found a plot of land in Centennial in 2004, mainly to have a large enough space to work on his creations. Since then, he has custom-built a home for himself.
After discovering his neighbor was a bronze sculptor, O'Rourke was inspired to try his hand at creating metal pieces.
"He told me if I wanted to make a name for myself, I would have to start doing art shows," he said.
He displayed work at 12 art shows in 2010.
"I unveiled a new piece at each show," he said.
Some pieces were inspired by his family.
"I couldn't tell you what inspired other pieces," he said. "A lot of my stuff, it's not so much about defining why I made it. It's more about the relationship between the form and curves of the metal."
He brings a sketch pad everywhere he goes in case he gets an idea.
As O'Rourke did his art shows, he started seeking out ways to sell his pieces.
After winning a bid for a project in 2011, O'Rourke finished one of his largest commissioned pieces this year for an LA Fitness club in Arizona.
"It's called 'Go Figure,' " he said.
He was one of three final candidates out of 250 applicants. The judges picked his design out of the three after speaking with him via phone and getting a better grasp of his vision.
He finished it in March and transported it to Arizona during the summer.
With the help of his assistant, Tyler Burleson, O'Rourke is finishing up his current piece for SuperRun.
He said the piece is going to pay homage to what is great about cars and memories of summer road trips.
For more information on SuperRun, visit hendersonlive.com. For more information on O'Rourke, visit chrisocreations.com.
Contact Henderson/Anthem View reporter Michael Lyle at mlyle@viewnews.com or 702-387-5201.