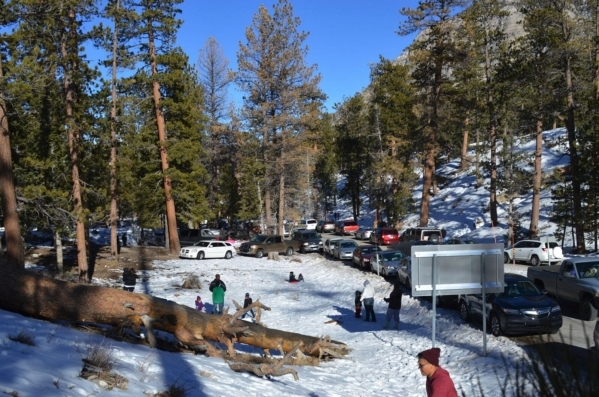 Winter safety on the mountain: Snow is predicted for the Mount Charleston area that includes Lee Canyon. The Mount Charleston Winter Alliance is urging visitors to prepare for severe winter conditions before visiting the Spring Mountains National Recreation Area. Some tips include: When traveling to the mountain, start with a full tank of gas. There are no gas stations onsite. Always carry with you: tire chains/tow strap, cellphone, flashlight, ice scraper, jumper cable, snow shovel, blanket/sleeping bag, first-aid kit, compass, maps, bag of sand/kitty litter for traction, spare batteries, nonperishable foods and water. To receive the most up-to-date winter road and driving conditions, chain requirements and road closures, visit mtcharlestowinter.com. For real-time road information, dial 511 within Nevada and 1-877-687-6237 outside of Nevada.
Auto burglary suspects sought: The city of Las Vegas Deputy City Marshal Unit is investigating an auto burglary, which occurred in November at Bruce Trent Park, 7353 Eugene Ave. The victim's vehicle was burglarized at the park, and her purse, which contained her identification and several credit cards, was taken. The two female suspects were captured on surveillance video attempting to use the victim's stolen credit cards at a local Walmart. Photos of the two burglary suspects can be found at: cityoflasvegas.smugmug.com/DE-Auto-Burglary. If the public has any information about this crime or can identify those involved, they are urged to contact Deputy City Marshal Investigators at 702-229-3223 or email d&ecriminalinvestigations@lasvegasnevada.gov.
Speed traffic enforcement effort: The Henderson Police Department, in conjunction with officers throughout the Las Vegas Valley, will be conducting special traffic enforcement targeting speeders for two weeks starting Jan. 5. The officers will be able to target several different streets at a time using saturation patrols throughout Henderson to stop speeding vehicles. Officers will target areas that are known for high speeds and the areas that have received the most resident complaints.
NDOT lighting installation: In January the Nevada Department of Transportation is set to make $1.2 million in lighting improvements along a 35-mile stretch of Interstate 15 from Jean to the I-15/U.S. Highway 95 "Spaghetti Bowl" interchange in Las Vegas. Acme Electric is the general contractor. Work calls for replacing 550 high-pressure sodium fixtures with light-emitting diode lamps. Work will occur during nighttime hours when traffic is minimal. Anticipated completion is by spring 2016. Visit nvroads.com.
Boulder Highway improvements: The Nevada Department of Transportation is planning on making several pedestrian safety improvements to Boulder Highway (state Route 582) in 2016 and 2017, including an overhead rapid flashing beacon and Danish-offset median island at Boulder Highway and Sun Valley Drive, near the Eastside Cannery. NDOT will also be lowering the speed limit from 55 mph to 45 mph along a two-mile stretch of Boulder Highway from Galleria Drive north in early 2016.
Community safety forum: The Mob Museum, 300 Stewart Ave., announced its 2016 Community Safety Forum calendar. Forums are to be held from 2 to 3 p.m. the third Sunday of the month. They are sponsored by NV Energy and are free and open to the public. Attendance at a forum presentation includes free general admission to the museum following the presentation as well as live streaming of the event. Upcoming Community Safety Forum dates and topics include: Jan. 17, Distracted Driving and Accident Prevention; Feb. 21, The Active Shooter; and March 20, The Ins and Outs of the Clark County District Attorney's Office. Visit themobmuseum.org.
Senior Safety — Don't Be a Victim: The workshop is scheduled at 9 a.m. Jan. 20 at the Centennial Hills Active Adult Center, 6601 N. Buffalo Drive. Roland Rogers is set to teach how to apply the color codes of awareness to daily life and how to avoid confrontation. Admission is free with a $2 annual membership to Las Vegas senior programs. Call 702-229-1702.
Crime preparedness night: A Crime Prevention and Preparedness Night is planned from 6 to 8 p.m. Jan. 27 at the Centennial Hills YMCA, 6601 N. Buffalo Drive. The event is to include presentations from the Metropolitan Police Department, City Marshals office, CERT training, fire education and Nevada Childseekers. Speakers are set to include Las Vegas Mayor Pro Tem Steve Ross and Clark County Sheriff Joe Lombardo.
Oakey Meadows storm drain update: The city of Las Vegas recently announced that additional lanes on Decatur Boulevard are open between Charleston Boulevard and Sahara Avenue as the Oakey Meadows Storm Drain Phase 3 and Oakey Sewer Rehabilitation Project progresses. One southbound lane restriction between El Parque Avenue and Sahara is still closed and is set to be restricted for approximately six more weeks. Storm drain installation proceeding west on Sahara from Decatur continues to impact vehicular traffic and may continue for the next several months. Final resurfacing is planned in spring when warmer weather returns. No road closures are planned. Call 702-564-8136.
State Route 160 changes: The Nevada Department of Transportation awarded a $16.5 million contract to Aggregate Industries SWR Inc. for a 5-mile widening of state Route 160 (Blue Diamond Road) in southwest Clark County. The project will widen the highway from two lanes to four travel lanes between Mile Marker 10.89 (just past state Route 159 or the Red Rock Canyon Road junction) and Mile Marker 16.63. The improvements will flatten side slope shoulders for safer vehicle turnouts while installing new drainage pipe and tortoise fencing. Other work consists of placing barrier and guardrails as well as hydro-seeding 38 acres. Construction will entail moving enough dirt to fill 1,800 average sized swimming pools, and enough placing asphalt to pave 8,000 driveways. The project is scheduled for completion in early 2017. Although the speed limit will be lowered to 55 mph during construction, one lane will remain open at all times. Visit nvroads.com.
Yellow Dot program: The 2015 Nevada Legislature passed AB 176, bringing the Yellow Dot program to Nevada. The voluntary program has participants provide important medical information about themselves and their passengers in the glovebox of their vehicles. First responders are alerted that this information is in the vehicle by a yellow dot decal placed in the lower left corner of the rear window. Residents can pick up a free Yellow Dot kit at one of more than 40 participating locations across the valley. For a list, visit rtcsnv.com/yellowdot, or to request the kit, call 702-676-1754 or email YD@rtcsnv.com.
Radon tests available: Free radon test kits are available through Feb. 29 at University of Nevada Cooperative Extension offices and partner locations statewide. Radon, a naturally occurring radioactive gas, comes from the ground and can enter homes and accumulate to elevated concentrations. At elevated concentrations, the odorless, colorless gas can raise the risk of lung cancer for unsuspecting homeowners. For more information or a list of free kit locations, visit radonnv.com, or call the Radon Hotline at 888-723-6610.
Report illegal discharge activity: The Nevada Department of Transportation urges residents to protect water quality through prevention by reporting illicit drainage and discharge onto state roads and transportation facilities. Illicit discharge is anything entering a roadway drainage system that is not natural stormwater. Pesticides, construction dirt or materials, as well as materials from neighboring properties and roadway runoff containing fertilizers, vehicle oil and chemicals are examples. New legislation grants NDOT rights to issue permits for certain water discharges onto state roadways, as well as assess fines if needed. Illicit discharge onto state transportation facilities can be reported by contacting 775-888-7013 with the location and type of drainage or discharge. For more information, visit nevadadot.com/stormwater. In addition, a pollutant spill impacting a Nevada waterway must be reported to the Nevada Division of Environmental Protection's spill reporting hotline at 888-331-6337.
NDOT soil testing: The Nevada Department of Transportation is planning to start geotechnical exploration drilling along the east and west sides of Interstate 15 between Sahara Avenue and U.S. Highway 95 at Martin Luther King Boulevard through Jan. 15. The daytime work is related to soil testing for Project Neon. Kiewit Infrastructure West Co. is the design-build general contractor. There will be some temporary noise and vibration disruptions as well as moving lane restrictions. Call the Project Neon hotline at 702-486-0486; the Spanish hotline at 702-384-1694; or visit the project website at NDOTProjectNeon.com.
NDOT road repairs: The Nevada Department of Transportation is set make $250,000 in concrete bridge deck and paving repairs along southbound Interstate 15 between Lake Mead Boulevard and the U.S. Highway 95 interchange as well as north and southbound U.S. Highway 95 from Eastern Avenue to Martin Luther King Boulevard in Las Vegas. Galt Development is the general contractor. Work was set to occur during weekday nights from 9 p.m. to 5 a.m. through Jan. 15. One to two travel lanes will be restricted while work occurs. Visit nvroads.com.
Tropicana Avenue upgrade: The Nevada Department of Transportation plans to upgrade East Tropicana Avenue between Eastern Avenue and Boulder Highway from January through fall 2016. The $7.67 million upgrade is slated to include new asphalt pavement, raised median islands and widened sidewalks. The project is aimed at preventing additional roadway cracking and deterioration and providing pedestrian enhancements, the department said. Work is expected to take place primarily during overnight hours. Visit nvroads.com.
State Route 160 upgrades: The Nevada Department of Transportation plans the $794,000, 21-mile project through early January in Clark County to improve cable median barriers. The project is set to create 14 new paved median crossovers between mileposts 22 and 43.16 to allow emergency personnel to safely cross the highway as needed. Visit nvroads.com.