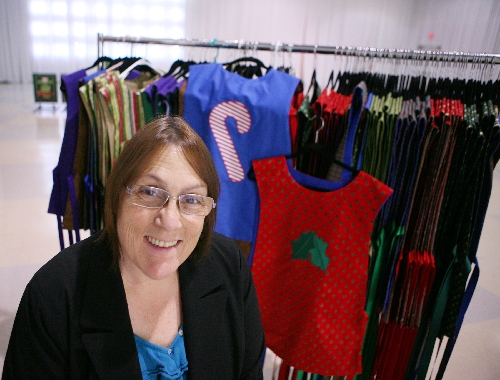 Visitors to the Magical Forest at Opportunity Village, 6300 W. Oakey Blvd., are in for a new visual treat this year thanks to award-winning costume designer Judy Ryerson.
Ryerson, an associate professor and head of costume design at the University of Nevada, Las Vegas, moved to Las Vegas in 2005. The Whitney resident had been looking for a way to become more involved with the community when she received a request in June to help create new costumes for the volunteers at the Magical Forest.
"All of my students were gone (for the summer), and then I thought, 'Why don't you do it yourself because this would be fun?' " said Ryerson.
She took on the herculean task of creating 99 tabards – sleeveless tunics – open on both sides and held together with ribbons. Her challenge was to come up with an insignia for each assigned area of the Magical Forest and make the tabards bright, elf-like and easily recognizable by guests.
The Magical Forest opened Nov. 21 and is scheduled to run through Jan. 6. In addition to the new polished look of the volunteers, visitors can enjoy hundreds of decorated trees, millions of holiday lights, nightly entertainment, photos with Santa, the popular forest express passenger train, an antique carousel, miniature golf and " 'Twas the Night Before Christmas" in 3-D. All proceeds benefit Opportunity Village, a nonprofit organization that serves Southern Nevadans with intellectual disabilities.
"I knew we had a lot of fabric in the basement of the theater that had been donated by a sportswear company," Ryerson said. "I knew that there were some really bright primary colors down there that we would never use."
Ryerson enlisted the support of Brackley Frayer, head of the lighting design department and artistic director of the Nevada Conservatory Theatre, the professional theater training program at UNLV, and Katrina Herfelder, costume shop supervisor.
"I asked if the NCT could donate fabric to the cause," Ryerson said. "They both said, 'Yes, absolutely.' "
With donated fabric from the NCT, she used coupons, her teacher's discounts and sales at fabric stores to find the rest of the 170 yards of fabric, 200 yards of ribbon, eight spools of thread and 95 decorative buttons needed to create the 99 tabards. She not only came up with the concepts and designs but also spent countless hours driving around town looking for the best deals, which she called the "juggling act of consumerism." She then single-handedly spent 275 hours sewing the costumes.
"People in our day and age take clothing for granted," Ryerson said. "I wish I had a nickel for every time someone has asked me, 'Where did you buy the costumes?'
"People suddenly see fabric – something that we use and wear every day – being used to tell a story," she said. "That's the real creativity and joy of what costuming is all about."
When she brought the finished costumes to the offices of Opportunity Village, it was the joy and "wow factor" on the faces of the staff that was the payoff for Ryerson.
"Judy is one of the angels that walk amongst us," said Linda Smith, Opportunity Village founder and chief development officer of foundation. "You would have thought that we were paying her a lot of money – she made sure that every one of the costumes was perfect."
For Ryerson, donating her time and talents to such a worthwhile event was a privilege. "Volunteering is a necessity," she said. "We have got to give back to the community. It's our job. You pay your taxes, you serve your community, and you vote."
For more information about the Magical Forest or Opportunity Village, call 702-259-3741 or visit opportunityvillage.org/magicalforest.
For more information on the Nevada Conservatory Theatre, call 702-895-3663 or visit unlv.edu/nct.
Magical Forest
The forest includes a holiday display of lights and decorations, pictures with Santa, a carousel, train rides, a gingerbread house and mini-golf. Tickets are $9 for children, $11 for adults and free for children 3 or younger. The entry fee does not include rides. Passports, which include entry and rides, are $15.50 for children 3 to 12 and $17.50 for those 13 or older. Parking is free. Call 702-259-3741 or visit magicalforest.org.