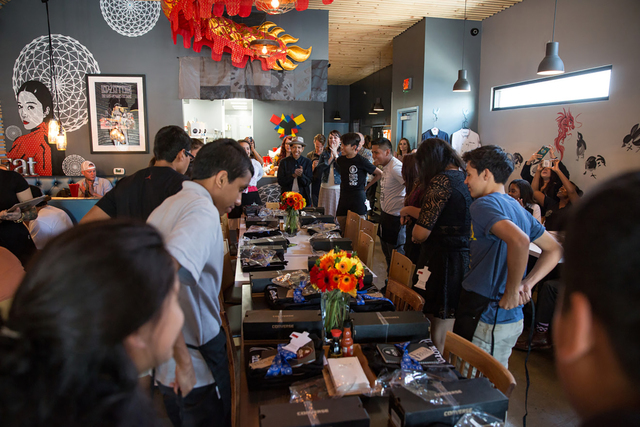 PT's tavern celebrates 50th opening: PT's Entertainment Group announced the opening of its 50th tavern in May at 6450 S. Durango Drive. Visit goldenent.com.
A Summer Picnic at Honey Salt: The restaurant plans to celebrate summer with a four-course communal Farm Table dinner, set for 6:30 p.m. June 7 at 1031 S. Rampart Blvd. Tickets are $49 per person and must be purchased in advance. Visit HoneySalt.com.
Social services fundraiser: ​Lutheran Social Services of Nevada is planning its 20th anniversary Tasting/Silent Auction fundraiser from 5 to 7 p.m. June 9 at Cili Restaurant at Bali Hai, 5160 Las Vegas Blvd. South. Attendees can sample a range of wines and signature appetizers and bid on a variety of "Very Vegas" items during a live and silent auction. Proceeds from the event will support a variety of programs that serve low­-income individuals, families and seniors. RSVP is required. Tickets are $65. Visit lssnv.org. Corporate sponsorships are also available for $1,500. Contact LSSN development director Ellen Fiore at ellen@lssnv.org or 702­-467-4442.
Restaurant Week:
Las Vegas Restaurant Week is planned for June 6-17. During the event, participating restaurants develop prix fixe menus offering breakfast, lunch and/or dinner at price points ranging from $20 to $80, with a fixed portion of the meal's cost donated to Three Square. Visit helpoutdineoutlv.org for a list of participating restaurants, prix fixe menus and directions on how to make reservations. All proceeds benefit Three Square.
— Station Casinos plans to commemorate the 10th anniversary of Las Vegas Restaurant Week with special prix fixe menus in eight of its steakhouses June 6-17. Station Casinos will donate $4 to Three Square food bank for every meal purchased on select menus. For a full list, visit helpoutdineoutlv.org.
— Ferraro's Italian Restaurant & Wine Bar plans a special menu June 6-17 at $50 per person, a portion of which will be donated to Three Square. To RSVP, call 702-364-5300.
— Triple George Grill, 201 N. Third St., is planning to participate with a three-course lunch menu from 11 a.m. to 4 p.m. for $20 and a dinner menu from 4 to 10 p.m. for $40. Call 702-384-2761.
Summer Wine Walk: The event is planned from 6 to 9 p.m. June 11 at Container Park in downtown Las Vegas, 707 Fremont St. Bubbly and wine stations will be available throughout the park. Tickets range from $20 to $25. Visit ticketfly.com/event/1190733.
Summer grilling: The class is planned from 6 to 8:30 p.m. June 14 at Ferguson Enterprises, 4175 S. Grand Canyon Drive. The session walks attendees through techniques for grilling meat, vegetables and bread and is $55. Register at continuingeducation.unlv.edu or by calling 702-895-3394.
French cuisine and tea pairing: A tea pairing dinner hosted by Barbara Fairchild, former editor-in-chief of Bon Appetit, is planned to start with a VIP cocktail reception at 6 p.m. June 16 at Alize at the Palms, 4321 W. Flamingo Road. Tickets are $225 per person. In addition, Fairchild will be awarding people in the tea industry who have contributed work for establishing standards for tea quality over the past year. Visit eventbrite.com/e/tea-pairing-in-the-sky-tickets-23479435624.
Support Camp Sunshine: On June 17, Tropical Smoothie Cafe locations will be offering free 24-ounce Jetty Punch smoothies to guests wearing flip flops from 2 to 7 p.m. to encourage donations for Camp Sunshine. Visit TropicalSmoothieFranchise.com.
Tequila dinner: The quarterly event is planned to start with cocktails at 7 p.m. June 18 at Cantina Laredo inside Tivoli Village, 430 S. Rampart Blvd., Suite 110. The event includes a four-course meal of Mexican fare and tequila cocktails.Tickets are $49.99 a person. Space is limited. RSVP by calling 702-202-4511.
Coffee Bean & Tea Leaf troup support effort: Las Vegas locations have announced the return of their annual Support at Home campaign through July 10 in which $1 of every 12-ounce Support at Home Ground Coffee ($9.99) or 20-count Support at Home Tea Tin ($8.99) sold will be donated to Operation Homefront. Patrons may also purchase Support at Home retail coffee and tea products for donation to military families. Customers are encouraged to write a message of thanks on the blank label of each coffee bag and tea tin. Visit coffeebeanlv.com.
Summer pastas: The class is planned from 6 to 8:30 p.m. July 12 at Ferguson Enterprises, 4175 S. Grand Canyon Drive. The session teaches how to incorporate pastas as entrees or side dishes and is $45. Register at continuingeducation.unlv.edu or by calling 702-895-3394.
Vegetarian summer favorites: The class is set from 6 to 8:30 p.m. July 19 at Ferguson Enterprises, 4175 S. Grand Canyon Drive. It teaches attendees how to prepare meatless entrees, salads and more. It costs $55. Register at continuingeducation.unlv.edu or by calling 702-895-3394.
Late-night events: Ferraro's Italian Restaurant and Wine Bar, 4480 Paradise Road, is planning a series of late-night events every Thursday thereafter, Ferraro's will host Jazz Workshop, a traditional jazz band, in its lounge from 11 p.m. to 2 a.m. In May, Ferraro's launched Mezzanotte Grill from 11 p.m. to 2 a.m., which is planned on the restaurant's patio and is to feature unlimited beer and pizza and house-made Italian sausages and Hofmann hotdogs. The cost is $25 per person. Subsequent Mezzanotte Grill events are planned. Call 702-364-5300.
Wine Pairing Dinners: The events honoring chef Bernard Tordjman are planned from 4 to 9 p.m. every first Wednesday at CB's Legacy, 2021 W. Sunset Road. They are $55 per person and include food and wine specials. RSVP by calling 702-702-558-3366.
Shake Shack partnership: Shake Shack at New York-New York resort announced its charitable partnership with the Children's Heart Foundation in Southern Nevada. Both Las Vegas Shake Shack locations also have a new local bakery partner, teaming up with The Cupcakery for two specialty concretes. Five percent of sales from the New York-New York's location-specific frozen custard concrete All Shook Up are to benefit the Children's Heart Foundation. At the Downtown Summerlin Shake Shack, guests can purchase the Red Velvet Rocks with 5 percent of sales benefiting Communities In Schools of Nevada. Visit chfn.org and CISNevada.org.
Vino With a View: Ascaya development is planning the event with wine tastings and refreshments from 3 to 6 p.m. Wednesdays at 1 Ascaya Blvd. Call 702-978-5800.
The Made Experience: Triple George Grill and the Mob Museum invite guests to travel back to a time when neighborhood speakeasys were a regular occurrence and classic mobsters ruled the town. The Made Experience is priced at $89 per person (two-guest minimum) and consists of a three-course prix fixe menu at Triple George Grill and a ticket to the Mob Museum. Visit tinyurl.com/madeexperience.