Drive-in movie night, San Gennaro Feast among highlights set at Craig Ranch park
February 26, 2016 - 10:49 am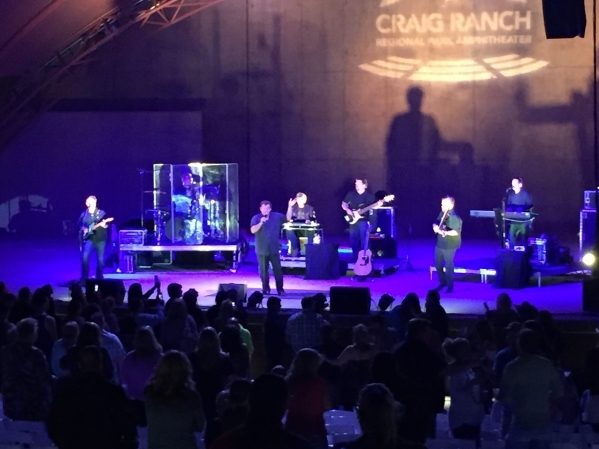 Craig Ranch Regional Park, 628 W. Craig Road, is looking at becoming more of an entertainment hub, as North Las Vegas city officials promised during its opening. From a techno festival to a drive-in movie event, city officials plan to have everyone's entertainment needs covered.
"We're bringing quality entertainment at a reasonable price for our citizens who work hard all week and want to go out and listen to music close to their homes," said Cass Palmer, North Las Vegas director of Neighborhood and Leisure Services. "We are ready to showcase our park and let people know about Craig Ranch, even though it's been here for a couple of years."
To start off the park's list of 2016 events, the U.S. Army Field Band, an elite 65-member instrumental ensemble, is set to play at 7 p.m. March 7.
"When these guys play, your chest just vibrates," Palmer said. "They have amazing military precision. It'll be a fun event."
For more on the band, visit armyfieldband.com.
The Christian Hope Project is set to sponsor an Easter celebration from 10 a.m. to 3 p.m. March 26 at the park. The free community event is set to include jumpers, carnival rides, Easter egg hunts, free photos with the Easter bunny, raffles, music and face painting.
"This is the largest Easter egg hunt in Las Vegas," said Tracey Farage, recreation supervisor at Craig Ranch Regional Park.
For more on the event, visit easterfestival2016.com.
North Las Vegas is also bringing back Tastes and Tunes to celebrate the city's birthday with a concert being planned for sometime in April.
"This year, we plan to break the event into seven smaller events," Palmer said. "Many of the events will be planned on the grass area of the North Las Vegas City Hall. We want to make city hall a community gathering point."
He plans to stretch the festivities out through October with movies, musical concerts and a community fair.
The city is set to host its Movie Madness nights, which are set to take place at various locations including, along with Craig Ranch, Aliante Nature Discovery Park, 2600 Nature Park Drive, and North Las Vegas City Hall, 2250 Las Vegas Blvd. North.
"We usually have about 400 to 600 people at the movie events," Palmer said. "We play PG-rated movies, though sometimes we'll have one or two PG-13 movies. They're very family-friendly events. We typically have activities for the kids to do before the movie starts. This year, we've invited guest artists to get involved and teach painting and crafts to families."
In addition, the city plans to host a drive-in movie night at Craig Ranch for the community, though the date is yet to be determined. A 5K run is planned at the park in April, while May is scheduled to bring the San Gennaro Feast and Hawaiian Fest.
Palmer said the second annual American Patriot Fest, planned for May 16 at the park, would be the big kick-off event for the season.
The festival, sponsored by the Las Vegas Convention and Visitors Authority, is a free regional entertainment event set to feature nonstop music, vendors, a variety of food and beverage, military displays, a kid's zone and special festivities for the armed forces, veterans and their families. Visit americanpatriotfest.com.
The San Gennaro Feast, a biannual Italian food and music festival, is set for May 4-8 at the park, featuring ethnic food vendors, arts and crafts, home exhibits, pony rides and a petting zoo, face painters, live international entertainment acts hourly on the main concert stage and amusement rides and games. Visit sangennarofeast.com.
"The organizers of the San Gennaro Feast just fell in love with our park," Palmer said. "The festival usually brings about 40,000 to 60,000 people. We're very excited to host it."
The Craig Ranch Regional Park Amphitheater also plans to continue its concert series starting in May through November. Noche de Musica nights, with Hispanic music and entertainment, are planned, while North Country nights are set to celebrate country music, and Rhythm Nights are to include a Soul Fest and R&B Funk Fest.
Tickets are set to range from $25 to $40 for a night consisting of two or three artists. Visit cityofnorthlasvegas.com.
The Las Vegas Hemp Fest is planned for June 4. Seminars and a music festival are planned, with differently themed areas featuring three stages of live bands and disc jockeys, vendors, marijuana dispensaries, on-site medical evaluations and medicating villages. Also planned are carnival rides and games, live art, a museum of hemp, car shows including classic, exotic and lowriders, a Miss ill'legal beauty contest, and food, beer and alcohol.
In addition, marijuana educational business seminars and question-and-answer panels are scheduled.
"Their main focus is to give information about the hemp-related industry," Palmer said. "There will be music, and it'll be fun, but its main focus is to create an educational event about the benefits of medical marijuana. It'll still be illegal to smoke in the park and pass out food with marijuana in it."
Visit lasvegashempfest.com.
In July, the city plans to host the Electric Lights Festival, an EDC-like event with techno music and other entertainment.
The Pigs for the Kids BBQ is slated again for September at the park. Pigs for the Kids is a nonprofit that hosts annual fundraising events to benefit children's charities in Las Vegas and its surrounding areas. Visit pigsforthekids.org.
"I am absolutely thrilled to be involved with programming this upcoming slate of incredible entertainment options that our residents will have the opportunity to experience this year," Farage said. "This year's schedule is unprecedented in its diversity, as we will present something for everyone across a wide range of genres."
— To reach North View reporter Sandy Lopez, email slopez@viewnews.com or call 702-383-4686. Find her on Twitter: @JournalismSandy