Education Notebook: School news and events for April 28-May 4, 2016
April 27, 2016 - 10:55 am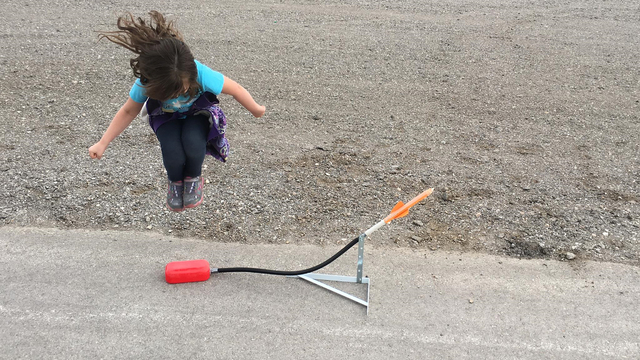 New liberal arts dean: Chris Heavey, UNLV's vice provost for undergraduate education, has been named dean of the College of Liberal Arts, effective July 1.
New nonprofit school: The 9th Bridge School, 310 S. Ninth St., an early childhood and elementary school, has been designated a 501(c)(3) nonprofit organization. Secured in late February, the designation allows the school to receive grants and charitable contributions. Call 702-724-1436 or visit 9thbridgeschool.com.
Programs receive partnership support: The nonprofit Rebuilding Together Southern Nevada is partnering with commercial real estate agency CBRE Las Vegas to provide more than $10,000 worth of revitalization services for the animal lab and gardening programs at Hoggard Math & Science Magnet Elementary School, 950 N. Tonopah Drive.
NSC Hispanic-Serving Institution goal: Nevada State College has completed the first step toward being designated as a Hispanic-Serving Institution now that its Latino student population has reached 25 percent of total enrollment. The college will be able to apply for federal designation as a Hispanic-Serving Institution in fall 2016, based upon fall 2014 enrollment. Colleges designated as Hispanic-Serving Institutions by the U.S. Department of Education are eligible for grants intended to expand educational opportunities and the overall academic success of Latino and low-income students.
The Heart of Education Awards: The invitation-only event is planned at 7 p.m. May 7 in Reynolds Hall at The Smith Center, 361 Symphony Park Ave. The evening is set to honor more than 800 educators in the Clark County School District. Visit thesmithcenter.com/theheartofeducation.
Scholarships applications: The Youth Council for Project 150, a local nonprofit that helps homeless, displaced and disadvantaged high students, is offering several scholarships to attend a Nevada college, university or accredited vocational training institute. Scholarship applications will be accepted through May 9, and award levels range from $500 to $2,000 per student. High school and college students are eligible to apply if they meet the academic and community service requirements. Scholarship interviews are scheduled May 20. Scholarship award notifications will be sent by June 1 via email. Visit Project150.org or call 702-721-7150.
Connections Academy open house: The Nevada Connections Academy plans to host open house and information session for the 2016-17 school year at 6:30 p.m. April 28 at Holiday Inn Express, 6220 S. Rainbow Blvd.; at 10 a.m. May 14 at Starbucks, 7541 W. Lake Mead Blvd.; and at 7 p.m. May 26 at McDonald's, 8120 S. Eastern Ave.
Las Vegas Science & Technology Festival: The fifth annual festival is set to run from 9 a.m. April 29 through 5 p.m. May 7. Various events are planned and include the College of Southern Nevada Science and Technology Expo, the Clark County Wetlands Park Bio Blitz, Science is Everywhere Day, Science in the Community, and the Giant Science & Technology Expo. Visit SciFest.Vegas.
Science and Technology Expo: Sponsored by the CSN Foundation, the expo is planned from 9 a.m. to 1 p.m. April 29 at the College of Southern Nevada, 3200 E. Cheyenne Ave., and is to include web design demos, apprenticeship exhibits, a chemistry magic show, planetarium shows, and insects and animals. It is part of the Las Vegas Science & Technology Festival, planned April 29-May 7. Call 702-651-4959.
Enrollment information sessions and tours: Explore Knowledge Academy, 5871 Mountain Vista St., plans enrollment information sessions and tours for the current and 2016-17 school years on May 10 and 24. Sessions for sixth through 10th grade are at 8:30 a.m., and sessions for kindergarten through fifth grade are at 9:15 a.m. The tuition-free charter school is for kindergarten through 12th grade. Visit ekacademy.org.
Paintings donation: On May 17, Coral Academy of Science Las Vegas is set to donate 150 paintings to The Children's Miracle Network, which will then donate the artwork to St. Rose Hospital Siena in Henderson. The paintings will be used to decorate the pediatrics floor, raise funds for silent auctions and serve as gifts to patients. Created by CASLV sixth- through 12th-grade students, the paintings are 11-inch-by-17-inch acrylic works with the theme of Things Children Like. Visit CASLV.org.
Mariachi program funding: The mariachi program at Rancho High School, helmed by instructor Robert Lopez, is seeking funding for a trip to perform in Washington, D.C. The group has more than 200 students, who mostly come from low-income families and communities. A GoFundMe account has been created at gofundme.com/mariachioro.
Education survey: The city of Henderson is reaching out to residents to gather thoughts and opinions on a plan to reorganize the Clark County School District into local precincts through an online survey. The 2015 Nevada Legislature passed Assembly Bill 394, which would lead to the creation of new local school precincts in Clark County. Feedback from residents will be presented to a technical advisory committee formed to assist in developing a Clark County School District reorganization plan. Visit cityofhenderson.com/education.
Power Hour program: Boys & Girls Clubs of Southern Nevada and Ross Stores are partnering to support the Club's Power Hour program, an interactive after-school homework assistance program for members, ages 6 to 18. The program offers the opportunity for club staff to support youth in developing a positive attitude about learning while emphasizing the importance of high school graduation. The partnership with Ross Stores will assist in making the program a more effective tool to keep members on top of their academic studies as well as provide the club with staff training and resources.
Congressional Art Competition: The nationwide high school arts competition is open to all high school students in Nevada. Winning artwork from each Congressional District will be displayed in the U.S. Capitol for one year. Each participating student from Nevada's Fourth District will be recognized at a reception set for May 2 at The Smith Center for the Performing Arts, 361 Symphony Park Ave. Visit hardy.house.gov/services/art-competition or call Congressman Hardy's North Las Vegas office at 702-912-1634.
Students with a Cause contest: The seventh annual contest is set to run through May 6. The theme is Just in Case, and currently enrolled Clark County high school students are encouraged to create a submission that illustrates how to avoid dangerous or bad situations or how to be prepared if the unexpected happens. This year's contest offers additional entry options for students, in the following categories: a 30-second video; a work of art (painting, sculpture, cartoon, etc.); a short story or poem (maximum 2,000 words); or a website. There will be four $1,000 scholarships available, one to be awarded to the student with the best entry in each category. Additionally, $500 will be awarded to the school of each winning student. Submissions may be made in person at the Richard Harris Law Firm by 5 p.m. May 6 or online by 11:59 p.m. May 8. Visit studentswithacause.org.
Cybersecurity and Information Assurance degree: WGU Nevada is now accepting applications for its newest online master's degree program, Science in Cybersecurity and Information Assurance. The new program offers coursework that aligns with the latest standards from national security organizations, including the Department of Homeland Security, the Department of Defense and the National Security Agency. The program is designed for experienced information systems professionals or individuals with real-world IT experience who are seeking a master's degree and planning to become certified in ethical hacking or computer forensic investigation. WGU Nevada's terms are six months long, and students may enroll on the first of any month, completing as many courses as they are able for a flat-rate tuition of about $3,000 per term. Visit nevada.wgu.edu/cybersecurity.
Leadership Academy enrollment: Leadership Academy of Nevada is enrolling students for the 2016-17 school year. LANV focuses on developing leaders through delivery of a liberal-arts education via cutting-edge technology in grades six through 12 throughout Nevada. Regularly scheduled Enrollment Information Meetings are held online and in Las Vegas so that parents and students can learn more. A list of Enrollment Information Meeting dates, times, and places can be found at lanv.org.
Teaching scholarships: WGU Nevada is partnering with the Nevada Department of Education to offer up to 20 full-ride scholarships to residents who wish to pursue a career in teaching. In 2015, the Nevada Department of Education provided $240,000 to WGU Nevada as part of the Nevada Legislature's Teach Nevada Scholarship Initiative. Individuals interested in applying are required to complete WGU Nevada's Alternate Route to Licensure program for elementary and secondary teaching. The ARL program is an accelerated pathway for individuals who already hold a bachelor's degree but do not have a teaching license. After successful completion of the accelerated program, students will have completed a series of rigorous courses, in-person observations, and clinical experiences in a public school classroom that prepares them to be highly effective teachers. Winning scholarship recipients will be awarded $3,000 per term, not to exceed a total of $12,000 per student. Scholarships are available to new students who possess a bachelor's or master's degree in a non-education related field from an accredited university. To learn more about the scholarship, email scholarships@wgu.edu. Visit nevada.wgu.edu.
Latin Chamber scholarship: In collaboration with the Las Vegas Latin Chamber of Commerce, WGU Nevada is encouraging professionals to embark on continuing education by offering more than $30,000 in scholarships to members of the chamber through its Las Vegas Otto Merida Scholarship program. The scholarships, valued at up to $3,200 per student, will be applied at the rate of $800 per six-month term, renewable for up to four terms. Scholarships are available to new students looking to earn a bachelor's or master's degree in any of WGU Nevada's more than 50 degree programs in information technology, business, teacher education, or health care. Potential awardees must be a member of the chamber, or belong to a member company, which comprises more than 800 members. The WGU Nevada Otto Merida Scholarship was created in honor of the founder and chief executive officer of the Latin Chamber of Commerce. Visit nevada.wgu.edu/LVLCC.
Host families sought for exchange students: International Experience USA, a nonprofit high school student exchange organization approved by the U.S. Department of State, is seeking host families in the Las Vegas Valley to provide room and board, help with transportation and provide emotional support to exchange students. The students provide their own insurance and personal spending money. Visit ie-usa.org or contact Carol Myint at 507-301-3615 or c.myint@international-experience.net.