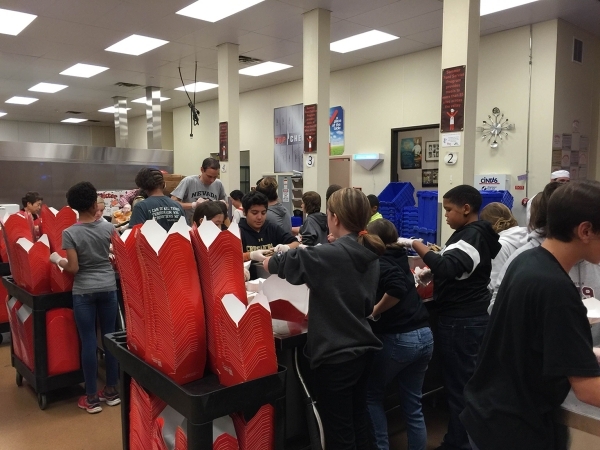 USA Sevens Adopt-A-Country program: For the sixth year, USA Sevens Rugby and the Clark County School District are partnering for the annual USA Sevens Adopt-A-Country program in an effort to build a curriculum of international education, tolerance and ambassadorship promoted through rugby. Sixteen Clark County School District elementary and middle schools adopt one of the teams participating in the 2016 USA Sevens International Rugby Tournament, set for March 4-6 at Sam Boyd Stadium, to incorporate hands-on lessons and values designed around the school's adopted country. Throughout the 2015-16 school year, each of the schools incorporates key aspects from the adopted country into the classroom curriculum. In addition to the classroom and physical activities, each student is encouraged to learn more about the adopted country through a series of creative contests, including a T-shirt design contest and critical thinking essay competition. USA Sevens will select the top three submissions and create T-shirts for each student in the three schools from the winning design. The essay contest challenges students to connect on a personal level by comparing and contrasting their typical day with the typical day of someone their age in the adopted country. One winner from each school will be selected to represent the adopted nation and class in the 2016 USA Sevens Parade of Nations Ceremony at the Fremont Street Experience, planned from 6:30 to 8 p.m. March 3.
School open house: Northwest Career & Technical Academy plans to host a Community Night/Open House from 6 to 8 p.m. Jan. 19 at the school, 8200 W. Tropical Parkway. Parents can check out the magnet high school. Call 702-799-4640 or visit nwctahawks.net.
New institute director: Robert Levrant has been named the director of the Osher Lifelong Learning Institute at UNLV. The institute's goal is to provide a range of learning and social opportunities for semi-retired and retired individuals. Visit olli.gmu.edu.
Project 150 holiday meals: Project 150 members planned to work Dec. 17 to assemble holiday meals for homeless high school students and their families, ultimately providing 12,000 holiday meals. To contribute and join the effort to Feed it Forward, call 702-721-7150 or visit project150.org.
Contest for free tuition: The Nevada State Treasurer's Office has announced a Nevada Prepaid Tuition Account Giveaway, set to run through Jan. 31. Anyone who purchases a Nevada Prepaid Tuition Plan before 5 p.m. Jan. 31 will be entered to win a one-year University Plan Account. Two winners will be selected in a random drawing from all eligible applicants. The drawing will be held in early February, and winners will be notified by Feb. 12. For the official rules of the Nevada Prepaid Tuition Program Giveaway and more information on the college savings programs offered through the Nevada State Treasurer's Office, visit NV529.org.
Continuing education: The UNLV Continuing Education's spring/summer 2016 catalog is available at ced.unlv.edu/cat2016.
New veterans' scholarship: WGU Nevada has launched a new scholarship program to help veterans and their spouses go back to school and earn their bachelor's and master's degrees. The WGU Nevada Salute To Veterans Scholarship, valued at up to $2,500 per student, will be applied at the rate of $625 per six-month term, renewable for up to four terms, toward WGU Nevada's tuition of about $3,000 per term for most programs. WGU Nevada will award at least five scholarships to new students throughout the state. Applications will be accepted through Jan. 31 at nevada.wgu.edu/veterans. Additional military scholarships are available for active-duty personnel and their families at nevada.wgu.edu/militaryappreciation.
Scholarship deadline approaching: The application deadline for The Meadows School Founders' Scholarship, a four-year, need-based scholarship that covers a portion of a student's tuition to TMS Upper School, is 4 p.m. Jan. 4. The scholarship is intended for students who have impressive academic qualifications and have engaged in extracurricular activities. Applicants must be an eighth-grade student not currently enrolled at TMS and must have completed Algebra 1 by the time they start ninth grade. To be considered, students must complete the school's online application and family statement, as well as submit the necessary recommendation and transcript forms. Also needed are a copy of the student's most recent report card, a recommendation from an extracurricular teacher or coach and a 300-word personal essay. TMS will contact the 20 finalists who will continue the admission process, which involves testing and interviews, prior to the testing date on Jan. 9. The five scholarship recipients will be announced Feb. 1. Interested families should contact Susan Harrison, Upper School registrar, at 702-797-5849. Visit themeadowsschool.org/pdf/FoundersScholarship.pdf.
Heart of Education Awards: The Smith Center for the Performing Arts and The Rogers Foundation are planning the inaugural Heart of Education Awards to highlight deserving teachers in the Clark County School District. The awards focus on educators with at least three years of experience in the district who go above and beyond the classroom. Nominations will be accepted through Jan. 29. Nominations must have a name, contact information, a 500-word statement of commitment and a 200-word letter of recommendation. A celebratory evening with a red carpet, swag bags and entertainment is planned May 7 at The Smith Center. To nominate, visit theheartofeducation.org.
Coral Academy accepting applications: Coral Academy of Science Las Vegas is accepting applications for the 2016-17 school year. The academy selects its students by a random lottery system. Parents are notified via mail of the results within five business days. Applications are due by noon Feb. 28. Those received after that date will be subject to an additional lottery, if applicable. The lottery will be held Feb. 29. Students whose parents have completed an application form electronically via the school website will be eligible to be entered in the lottery. The academy does not base admission on intellectual ability, measures of achievement or aptitude, athletic ability, or discriminate on the basis of ethnicity, race, religion or disability. Visit coralacademylv.org/admission/admissionprocess.aspx.
Rogers Foundation scholarship: The Rogers Foundation announced it is offering $100,000 in scholarships on an annual basis to graduating seniors of the Clark County School District. The Rogers Foundation Achiever Scholarship is for students wishing to pursue higher education both within the state of Nevada and nationwide. The scholarships will support students attending any institution of higher education, including vocational or technical schools, community colleges or state universities. Scholarships include at least one $25,000 scholarship, multiple $10,000 scholarships and multiple $5,000 scholarships. For application criteria, application materials and other instructions, visit therogers.foundation/applicants/students.html.
Host families sought for exchange students: International Experience USA, a nonprofit high school student exchange organization approved by the U.S. Department of State, is seeking host families in the Las Vegas Valley to provide room and board, help with transportation and provide emotional support to exchange students. The students provide their own insurance and personal spending money. Visit ie-usa.org or contact Carol Myint at 507-301-3615 or c.myint@international-experience.net.