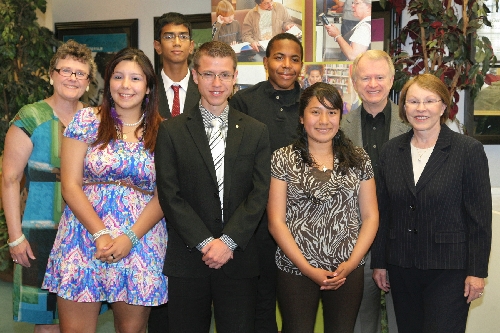 Angelina Paez, Manuja Sahan Gunaratne, Juan Gonzalez, Avree Walker and Rocio Hernandez each received a $1,000 academic scholarship from the Tom and Bonnie Lawyer West Las Vegas Library Academic Foundation.
"These students have maintained high scholastic standards while dealing with immense struggles at home …" said Danielle Patrick Milliam, director of development for the Las Vegas-Clark County Library District Foundation.
Alan Aquino of Las Vegas has achieved Eagle scout status in the Boy Scouts of America.
A member of Troop 363, Aquino helped rehabilitate a two-mile trail at Spring Mountain Ranch State Park for his Eagle project. The work included clearing the trailway, lining the sides with a rock border, replacing and repainting the trail marker signs, and moving large piles of firewood from along the trail to a ranch house.
Aquino enjoys backpacking, climbing, rappelling, computers and writing.
He is the son of Alesandra Laperal and Alejandro Aquino.
The following students won an essay contest given by the Regional Transportation Commission of Southern Nevada, Coca-Cola and the Clark County School District School-Community Partnership Program:
n Genevieve Pichler, Jenner Tatz and Charles Nguyen, Advanced Technologies Academy.
n Mikaela Stevens, Boulder City High School.
n Martin Bernardino, Destenee Hogans, Meteka Holmes, Laquinte Johnson, Ashley Kloos and Vaughn Pyne, Cimarron-Memorial High School.
n Gursharan Narwal Singh, Clark High School.
n Azusena Gaspar Hernandez and Andrea Lopez, College of Southern Nevada High School East.
n Agaron Balayan, Sara Story and Dulce Uriarte Sanchez, College of Southern Nevada High School West.
n Stephen Nolan and Adrienne Jackson, Desert Pines High School.
n Mariana Sarmiento, East Career and Technical Academy.
n Shane Marshall, Foothill High School.
n Rebecca Rasch, William Levins, Milan Montero, Matthew Solky, Sandeep Srinivasan and Jason Singh, Green Valley High School.
n Steven Lang, Northwest Career and Technical Academy.
n Paola Basquez, Rancho High School.
n Francis Mezy, Shadow Ridge High School.
n Andy Kieatiwong and Christina Gonzalez, Silverado High School.
n Ocean Champenois, Stephanie Lang, Edwin Lopez and Raina Benford, Southeast Career and Technical Academy.
n Zandra Fernandez, Daniel Belay and George Johnson, Valley High School.
n Antanasia Jones and Alejandra Minjarez, West Prep Academy.
The contest was open to all Clark County high school seniors. Students wrote essays about their commitment to sustainable transportation.
William Oettinger of Las Vegas received an award for excellence in the field of study in criminal justice and social science-homeland security from Tiffin University in Tiffin, Ohio.
To be considered for this award, students must have a 4.0 grade-point average and must have made notable contributions to their field of study.
David Michaels of Las Vegas graduated May 20 from Whitman College in Walla Walla, Wash., with a Bachelor of Arts in psychology.
Nyasia Hightower of Las Vegas was named to the dean's list at the University of New Haven in New Haven, Conn., for the spring 2012 semester.