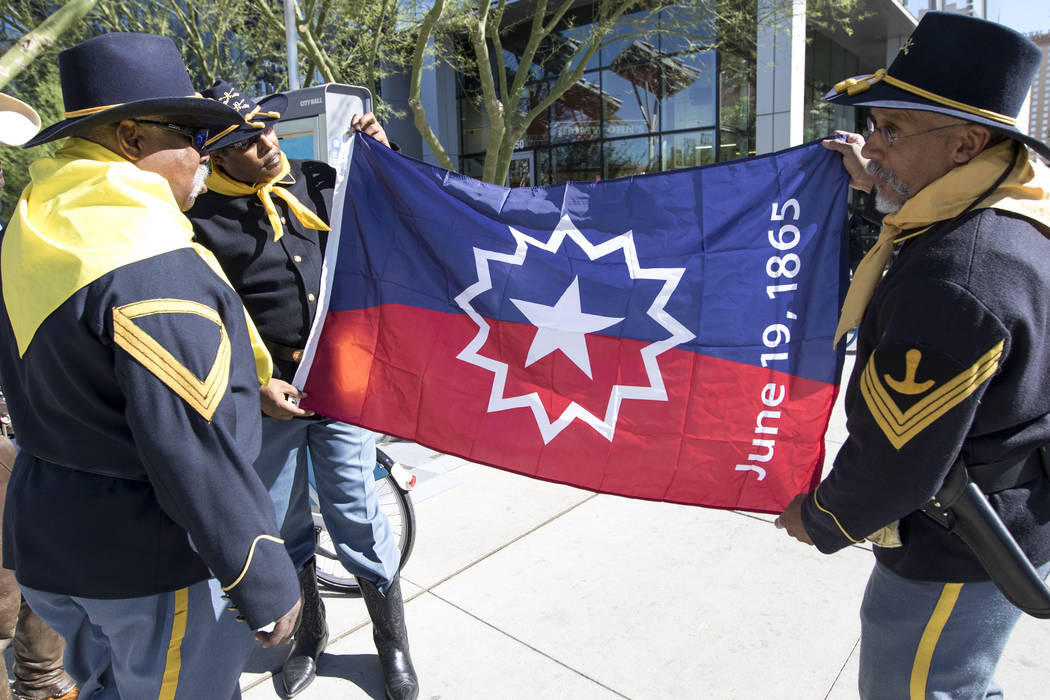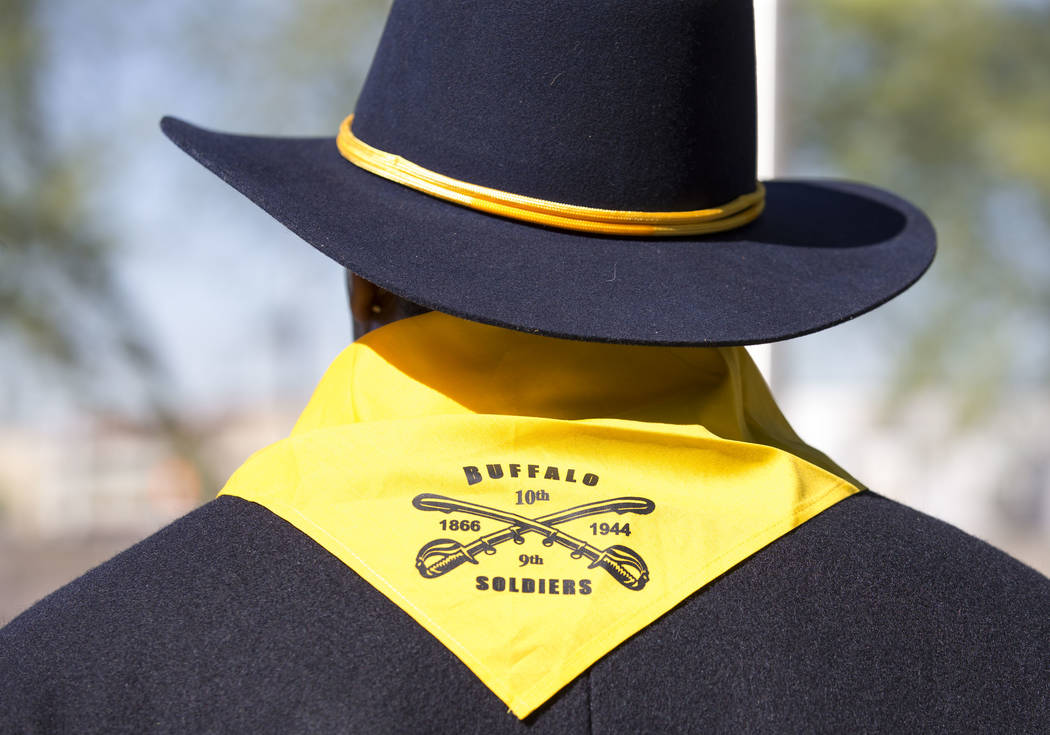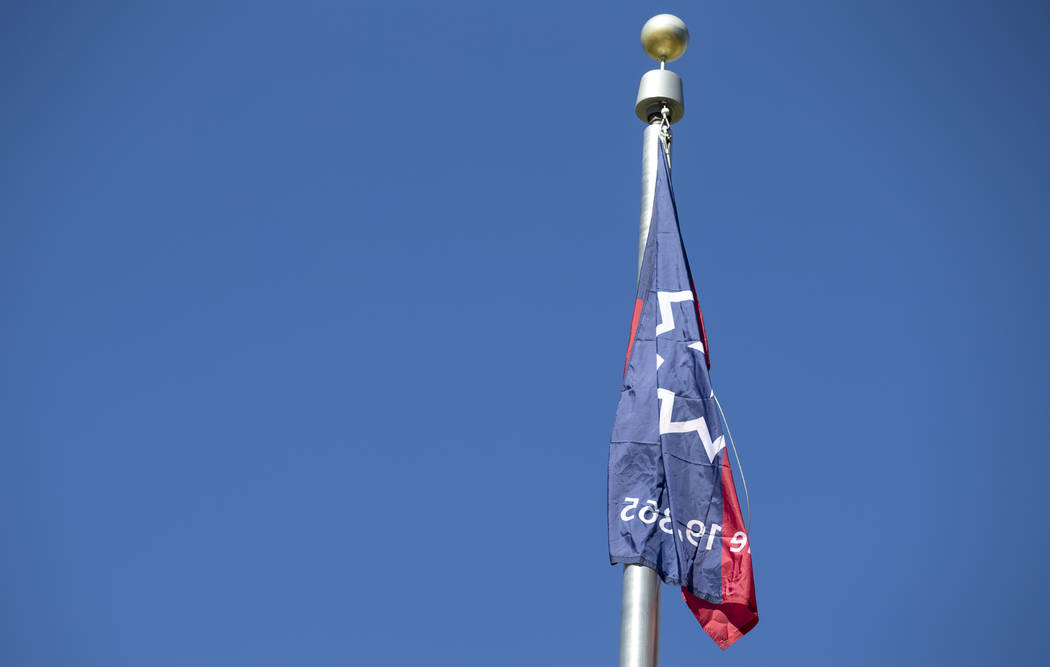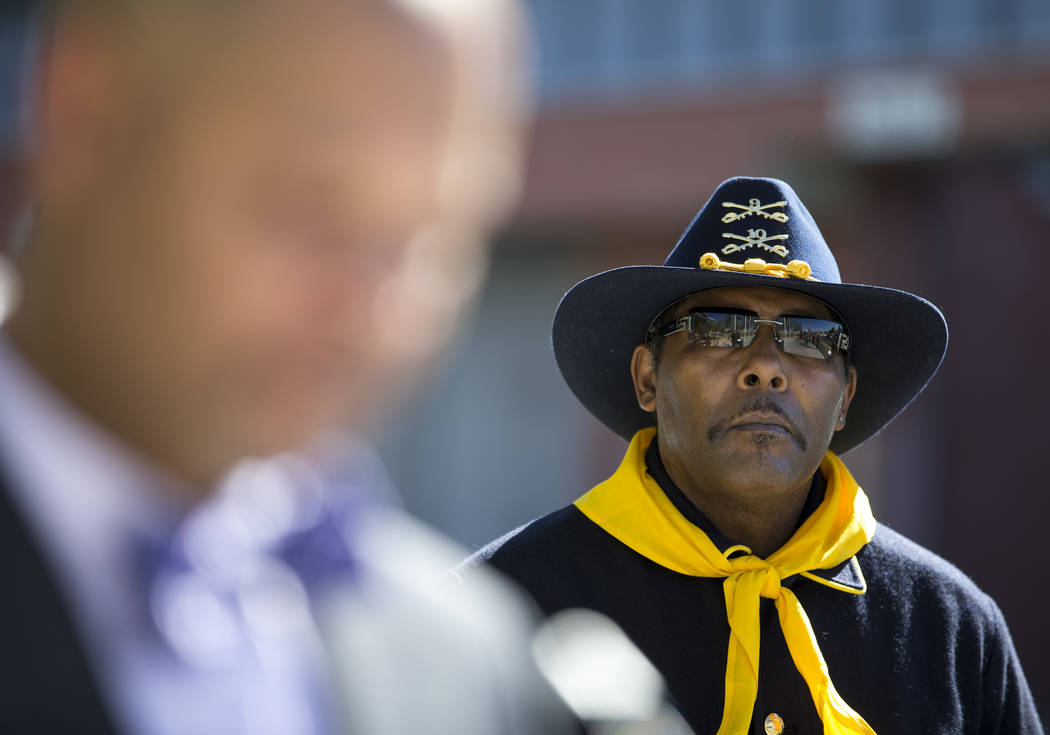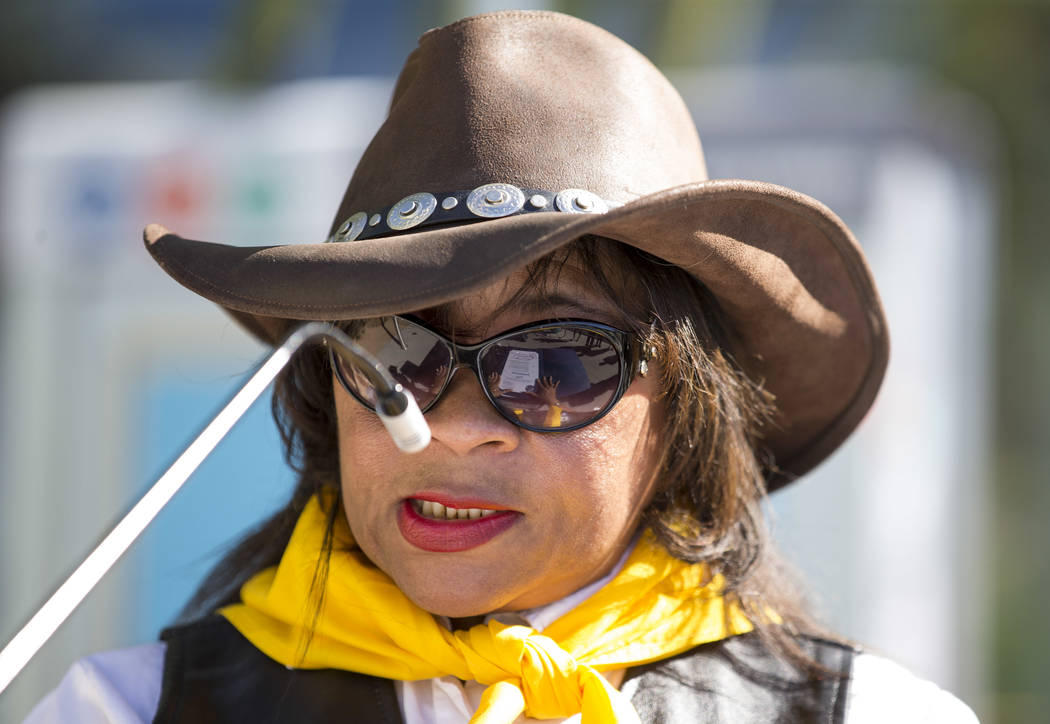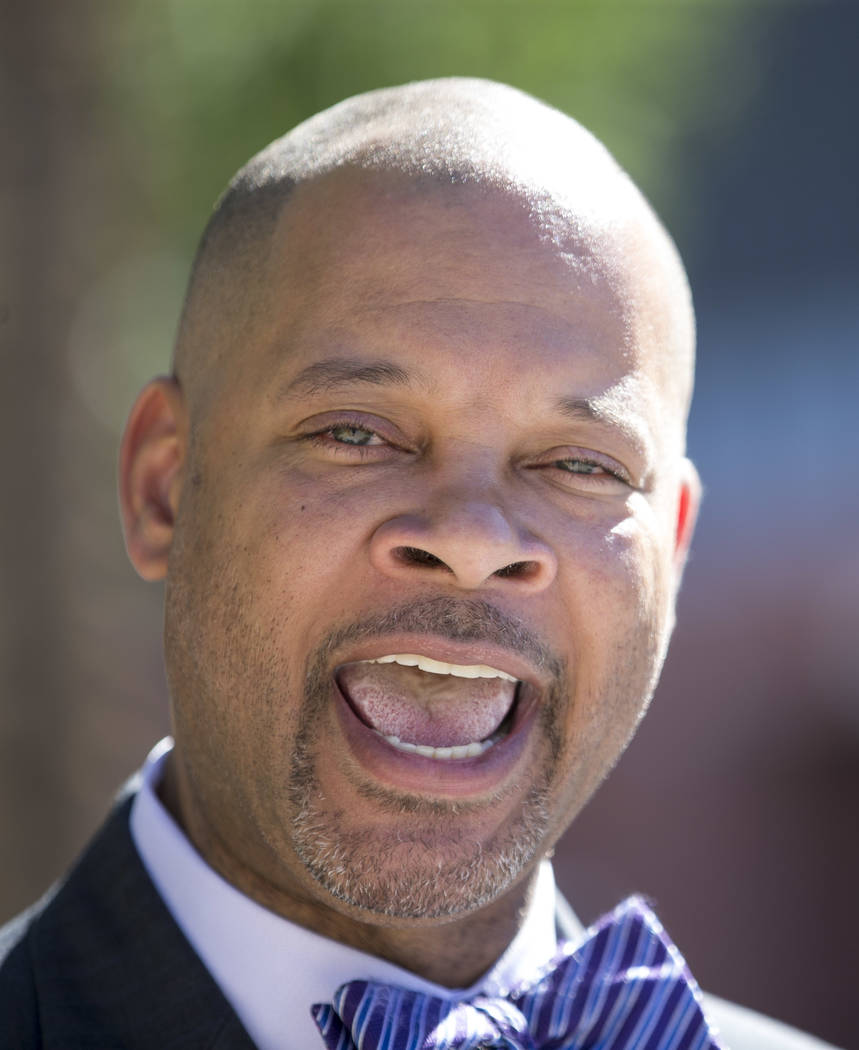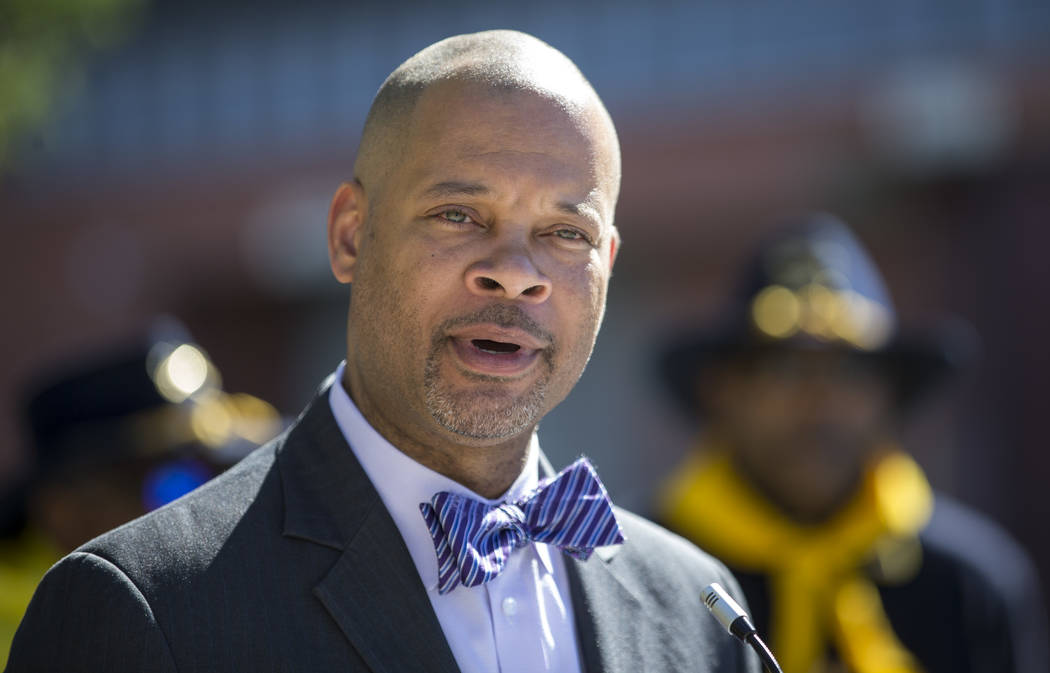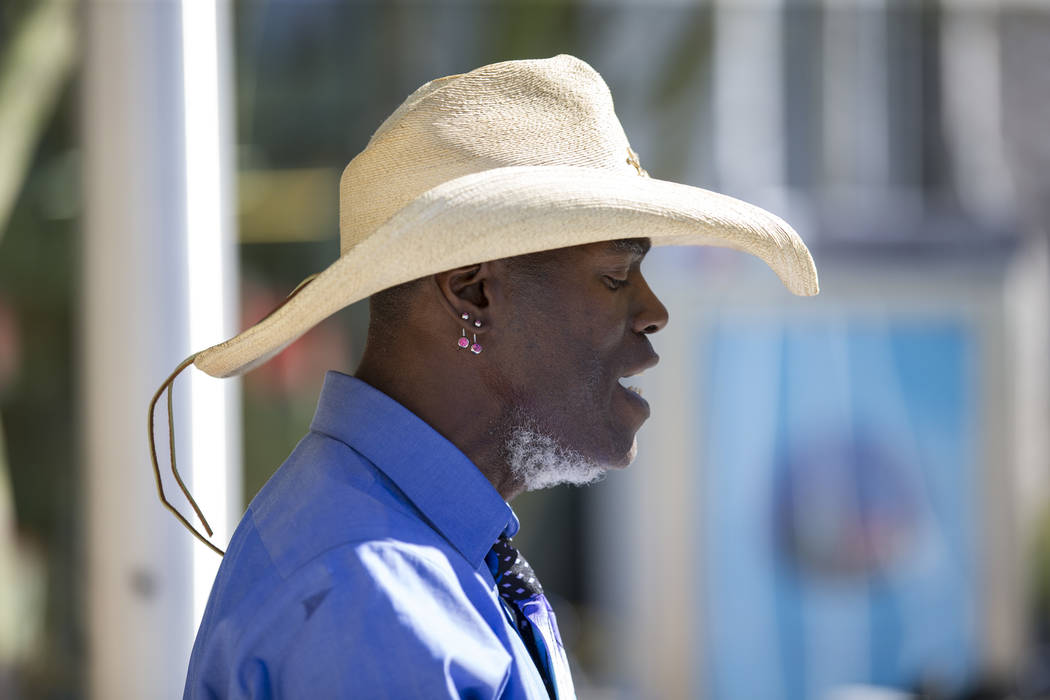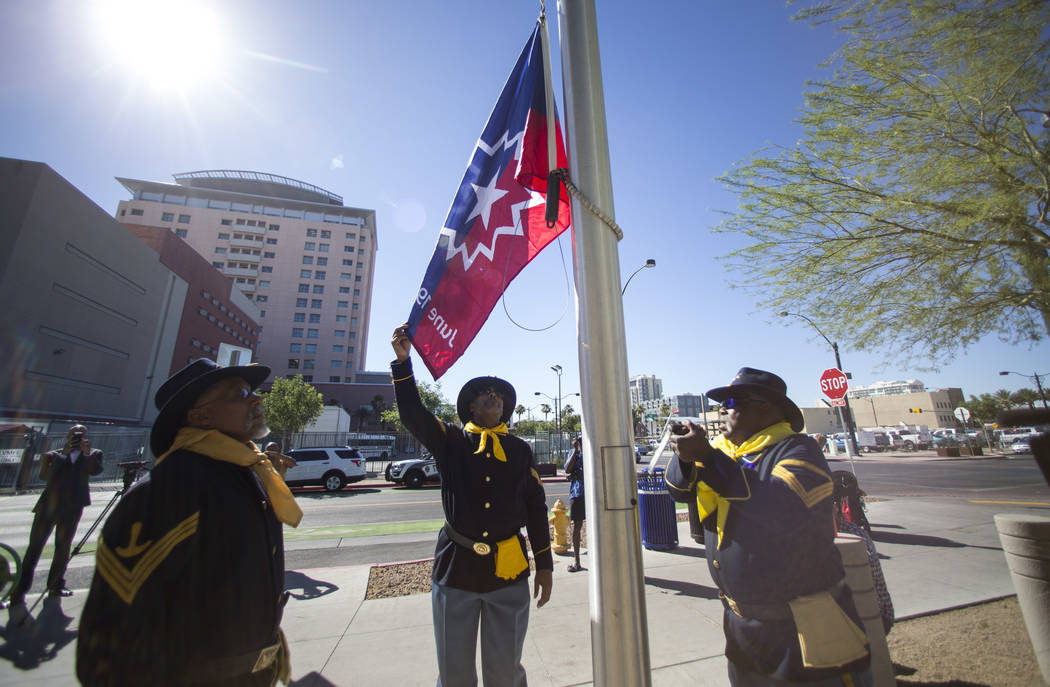 A trio of Buffalo Soldier re-enactors raised a flag Thursday outside Las Vegas City Hall to mark the start of events celebrating Juneteenth, which commemorates the end of slavery in the United States
About a dozen people gathered at 8:30 a.m. to recognize Juneteenth, which falls on Monday. Juneteenth commemorates June 19, 1865, when Maj. Gen. Gordon Granger issued an order to slaves in Galveston, Texas, informing them they were free — about 2 ½ years after President Abraham Lincoln issued the Emancipation Proclamation.
The event was hosted by the National Juneteenth Observance Foundation, which worked with retired Assemblyman Harvey Munford in 2011 to make Nevada the 39th state to recognize the day.
"We call it the second Independence Day," said Deborah Evans, spokeswoman for the foundation.
The Buffalo Soldier re-enactors — dressed as members of the all-black cavalry regiments that formed after the Civil War — raised the red and blue flag Thursday as another person sang "Lift Every Voice and Sing," known as the black national anthem. The ceremony was designed to honor the 20,000 black sailors who fought in the Civil War, Evans said.
State Senate Majority Leader Aaron Ford, D-Las Vegas, delivered a 10-minute speech at a lectern on the sidewalk about the history of the day and Nevada's history of desegregation.
The flag raising was the first of five events hosted by the foundation over the next several days.
Evans said the group has made progress in bringing awareness to the day. This year's events have received more attention than in past years, she said Wednesday.
"And one day we may have fireworks coming out of the casinos," she said. "Maybe."
Contact Blake Apgar at bapgar@reviewjournal.com or 702-387-5298. Follow @blakeapgar on Twitter.
Four more events planned by the National Juneteenth Observance Foundation
— A lecture at 1 p.m. Saturday at the West Las Vegas Library, 951 W Lake Mead Blvd.
— Jazz and spoken word event beginning at noon Sunday at the West Las Vegas Library theater. Influential community members also will be recognized.
— Another flag raising at 8:30 a.m. Monday at the Martin Luther King Jr. statue near Martin Luther King Boulevard and Carey Avenue
— Clark County Commissioner Lawrence Weekly will speak at an 11 a.m. event at the Welcome to Fabulous Las Vegas sign
Juneteenth
The District of Columbia and 45 states recognize the holiday. Hawaii, Montana, New Hampshire, North Dakota and South Dakota have yet to sign legislation recognizing Juneteenth. Organizers with the National Juneteenth Observance Foundation say they want the day to be recognized as a national holiday, similar to flag day.