Former Palo Verde tennis standout offers lessons through academy
November 16, 2013 - 2:19 pm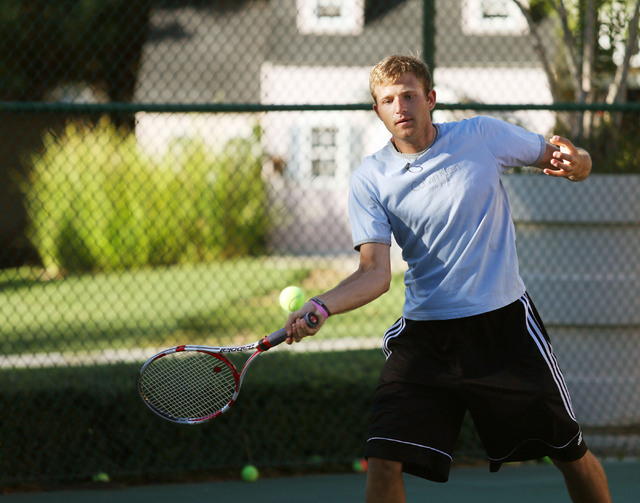 Joshua Levinson has had a tennis racket in his hand since he was a toddler. While his whole family played, he was the one who took it to the next level. By 13, he knew he wanted to make tennis a way of life.
Now 22, he's established the Josh Levinson Tennis Academy. Its catch phrase is: "Sometimes all you need is 20 seconds of insane courage, and I promise something great will happen."
The academy idea had been brewing in his mind for a long time.
"I'd thought about it off and on for a lot of years. Then, in high school, it kind of became more (attainable)," Levinson said. "I knew I wanted to be a professional, like, you know, an Andre Agassi kind of professional. I always said even if I were to never win a Grand Slam, I always knew I wanted to be in tennis my whole life."
Levinson was a standout player at Palo Verde High School, with a record of 113 wins and 11 losses.
"He was a really good player," said Zach Brandt, tennis coach at Palo Verde, 333 S. Pavilion Center Drive, since 2001. "He was like a bulldog on the tennis court. He wanted to practice, get out there early and would stay late to play. Pretty much, that was his life."
Levinson helped take Palo Verde to two state championships. That led to a scholarship to Hofstra University in New York, where he played No. 1 singles and No. 1 doubles, beginning when he was a freshman.
After transferring to Northern Arizona University in Flagstaff to complete his public relations degree, Levinson helped take that university's tennis team to the Big Sky Conference final.
After college, life interfered, and when not involved in tennis, Levinson took a sales job.
"I was telemarketing, in the middle of the night, all night, that kind of thing," he said. "People were screaming at me on the phone, and I decided I never wanted to work a 'real' job again. That's when I knew that if I don't succeed in tennis, that I wanted to do this (open an academy)."
He lasted three or four weeks on the phones before returning to tennis. He began the business officially in June with a handful of clients. Levinson teaches at local park facilities and goes to residences for private lessons on the homeowner's court.
His youngest client is 4. The bulk are teenagers.
"My biggest supporter is Marty Hennessy," he said. "He's like my mentor, my father figure. He's been my coach since I was about 10 years old and gave me my first job at the Sterling Club when I was 16, teaching the kids' camp there. I worked to pay off my tennis lessons."
Every dream faces obstacles. Levinson said one of his was when he got out of college and had to help support his family, which was the reason he took the short-lived telemarketing job. He said his age was another obstacle.
"A lot of people in tennis have been doing this for 50, 60 years, so it was like jumping over to the big leagues," he said. "If you were going to pay $125 for an hour's lesson, would you take it from someone who's been teaching for 50 years or someone who's only been doing it (a few) months?"
Hennessy, co-founder of the Marty Hennessy Junior Tennis Foundation, said Levinson's age should not be a factor.
"A lot of times, it's passion and having a concern about the student (that matters), and he definitely has that," Hennessy said. "He had passion for tennis and a passion for teaching."
Levinson said the best advice Hennessy gave him for the academy was "Dare to be different. People don't want the same old thing."
One of the things that sets his business apart, Levinson said, is that he offers a team teaching approach. His associate, Mitch Hollingsworth, will accompany him as a second pair of eyes to pick out bad form before it becomes habit. Sometimes advice needs to come from a different perspective, and Hollingsworth's explanation of how to do a move might be the one that clicks with the student.
There's another aspect to having a second person along: time management. That person can help pick up wayward tennis balls, allowing more time for the actual lesson.
He's also begun a tournament among his clients called the Josh Levinson Cup. The first was in September, and the winner got $150 and a trophy with his name engraved on the plaque at its base. He can take it home for a month before it's given to the next winner the following month. In a tongue-in-cheek move, Levinson had a giant check made up with the sum written as "$150." followed by a multitude of zeros.
It was to look "as if I'm giving out $150 million," he said. "Like it's real. Well, the dot is real."
He does hand out the $150 prize, he said.
These days, he's up with the sun, hitting the courts either at a local park or a residential private court to pass on his tennis know-how.
"My vision for this is to be the biggest academy in the world, and I want to run it differently than anyone else," he said.
For more information, visit joshlevinsontennis.com.
Contact Summerlin/Summerlin South View reporter Jan Hogan at jhogan@viewnews.com or 702-387-2949.