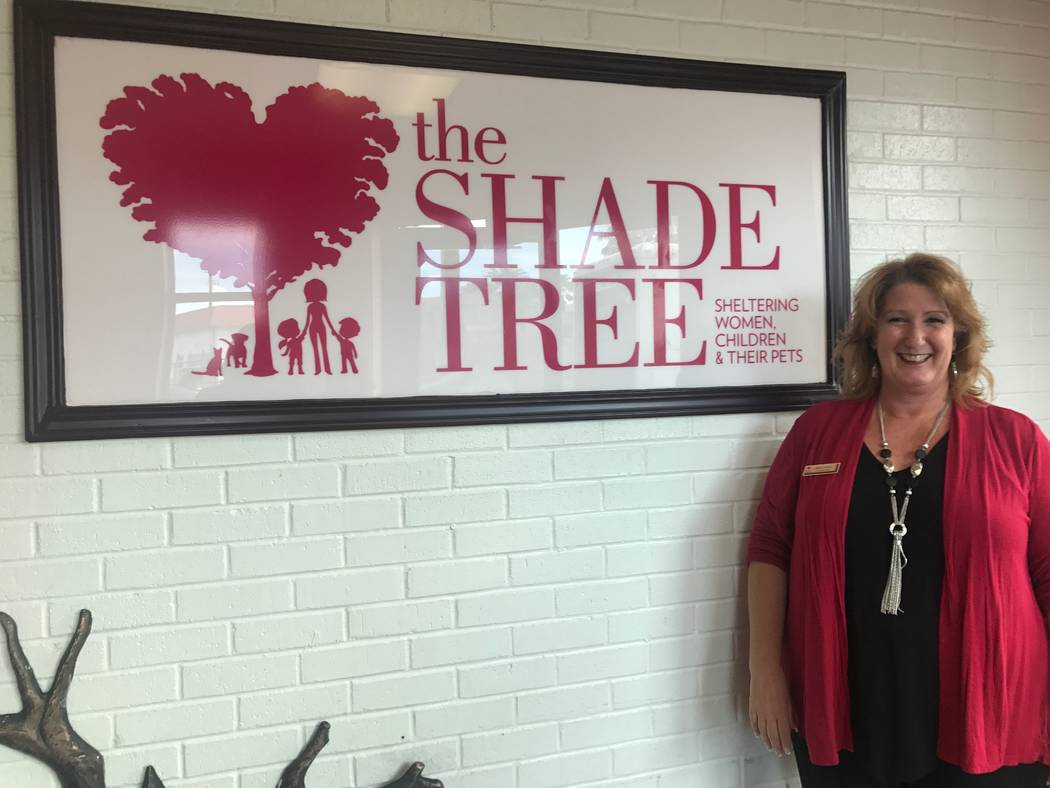 A severe funding squeeze is forcing The Shade Tree to shutter its transitional women's shelter by months' end.
Roughly a dozen women remain in the program, and Shade Tree staff has been working all month to transition them out of the facility and into permanent housing, executive director Stacey Lockhart said.
The housing program will end Aug. 31, and the organization's third floor will go dark.
"No one will be put out of The Shade Tree without housing identified," Lockhart said.
The Shade Tree's emergency shelter, which has 204 of its total 364 permanent shelter beds, will keep operating. Women can stay at the emergency shelter for up to 90 days.
The transitional program provides services for up to 160 people, allowing homeless women and those leaving abusive relationships to stay for up to a year, find a job and save money before moving into a permanent home of their own.
The Shade Tree provides a refuge for women fleeing abusive partners. It's the largest shelter of its kind in Nevada, which consistently ranks at the top of the worst states for domestic violence, Lockhart said.
More than 200 women and children are staying at The Shade Tree right now, and the 27-year-old nonprofit organization saw 5,142 women and children come through its doors last year. The shelter also houses pets.
The Shade Tree sits on Owens Avenue, right on the Las Vegas-North Las Vegas border. The area is home to several other homeless shelters and service providers, which earned it the title "Corridor of Hope."
Lockhart hopes the transitional program's closing isn't permanent, and The Shade Tree will kick off next week a fundraising campaign dubbed #investinus. The goal is to raise $2.3 million to reopen the transitional program.
"The shelter started from private donations, the community saw a need," Lockhart said. "We need the community to invest in us."
That figure assumes it costs a conservative $40 per day to serve each woman in the transitional program, providing clean sheets and towels, three meals and case management.
The Shade Tree was struggling financially in 2013, when federal cuts dealt a hit to the nonprofit's budget at a time when the number of domestic violence and sexual assault victims seeking services was rising.
Contact Jamie Munks at jmunks@reviewjournal.com or 702-383-0340. Follow @JamieMunksRJ on Twitter.
Shade Tree shelter programs
— Transitional housing program: will close Aug. 31. Residents are assigned case managers, and the program is designed to help residents find employment, secure housing and save money. Residents are required to save at least 30 percent of their income monthly.
— Emergency shelter: a 24-hour accessible program for homeless children, both with and without children. The emergency shelter offers up to 90-day stays with meals, shower, hygiene supplies, beds and referrals.
— Day shelter: operates daily from 8 a.m. to 4 p.m. Open to all women and children staying at The Shade Tree and any other homeless women.
1 W Owens Ave, North Las Vegas, NV 89030