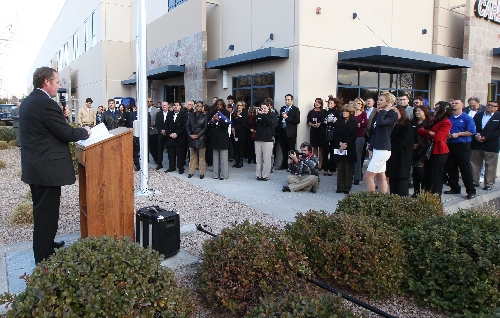 With a grant from the Nevada Women's Philanthropy, Goodwill recently launched a new veteran integration program to help veterans and their spouses find work.
Nearly one out of every seven veterans in Nevada is unemployed, one of the highest veteran unemployment rates in the nation, according to Goodwill. About 35,000 unemployed veterans live in Clark County.
Goodwill held a program dedication Jan. 10 at one of its stores in North Las Vegas and included notables such as Las Vegas Mayor Carolyn Goodman. Goodman said assisting veterans to find work will "give them the dignity back that they deserve and never should have lost."
The $350,000 grant from Nevada Women's Philanthropy pays for the start-up costs, including the hiring of three full-time career specialists with military backgrounds. Goodwill expects about 400 local veterans will be served in the program during the initial two-year launch.
Jana Limary, 33, served in the U.S. Air Force for 10 years. She was out of the military for two years with a civilian post at Nellis Air Force Base when she lost her job and was unemployed for 18 months.
"I was not able to balance getting out of the military and being in Las Vegas," she said. "Coming here and having all the freedom all at once was kind of overwhelming."
She described her time being unemployed as "humbling."
When she was offered a job, she could not pay for her work card or transportation. A week before the ceremony, Limary was offered a job at Kerry's Sports Pub, and she connected with Goodwill to get the assistance she needed for vouchers and transportation. She called that day her "Independence Day." She said she enjoys the work because she is a people person.
"Everything is kind of falling into place," she said. "It's very, very nice."
According to Goodwill, about one out of every six post-Sept. 11 female veterans are unemployed.
Shawn Schwiesow is one of the three employment specialists hired to help people such as Limary. She served in the U.S. Air Force and said that helps her connect with her clients. She said she often helps veterans with their résumés to translate the military jargon and "translate it into civilian life," she said.
Maria Mito is also worried about supporting her family. She has two children, 17 and 19 years old, and her husband retired from the military and is disabled and unemployable, she said.
Mito said she lost her job last year and has had trouble finding work. She came to Goodwill for more technical training on computers.
Otherwise, she said she would not be able to afford the training.
Contact Centennial and North Las Vegas View reporter Laura Phelps at lphelps@viewnews.com or 702-477-3839.