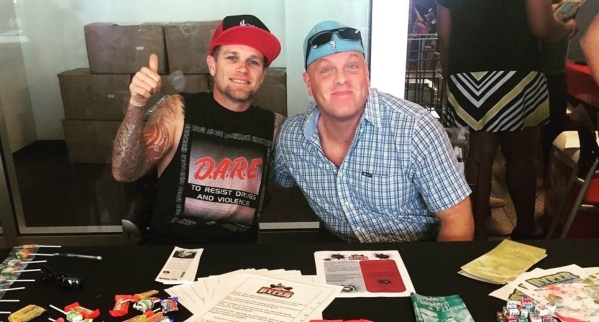 Nicholas Ohlson's addiction to methamphetamine began when he was only 14.
Over the next 10 years, he was in and out of rehab, served jail time, and wound up homeless. Christmas day 2009 became his turning point.
"I ended up completely alone," said Ohlson, who was living at the Catholic Charities of Southern Nevada's homeless shelter. "That is what it took. I made recovery the center of my life."
Now Ohlson is paying it forward.
As president of the UNLV chapter of the student-run organization HYPER, Helping Young People Experience Recovery, Ohlson is dedicated to helping others work toward recovery.
"I'd like to see other students have the same experience I did," Ohlson said about why he is involved with HYPER. "Having groups like this definitely helps shift the focus on more important things: helping one another; taking time for another person. When I've done that, my life is not so impossible."
HYPER began in 2012 as the brainchild of Mike Fildes. The support-based program exists for 18- to 30-year-olds who are in long-term recovery from addiction. The group follows an open format based loosely on a 12-step program.
At the time of founding the organization, Fildes was a student at UNLV and a part-time employee at the Foundation for Recovery, 4800 Alpine Place, Suite 12, a Las Vegas nonprofit whose goals include "promoting the positive impact of addiction recovery in the community." The foundation sent Fildes to a national conference on youth recovery in Cleveland with the goal of bringing ideas back to Nevada.
"He came back fired up about what was going on with youth in recovery throughout the country," said Bob Stewart, the foundation's outreach manager. "He began to develop an idea, which was the initiative that ended up being called HYPER."
After developing HYPER's framework, Fildes spearheaded the first group on the UNLV campus, 4505 S. Maryland Parkway. It was formed in association with a nationwide collegiate recovery movement.
"It was really nice to find out that there was a recovery group on campus at UNLV," said Kendall Lyons, HYPER treasurer/secretary. "I am reminded that I never have to be alone again."
In concurrence with the UNLV group, the foundation developed a community HYPER group that welcomes youths who have entered recovery and are not currently attending higher education.
"When you enter into recovery, you change so many things about yourself," said Alexandra McCurdy, foundation program coordinator. McCurdy oversees the HYPER program. "It can be really hard to meet people who are on the straight and narrow path that you're trying to go on, so HYPER is a safe haven to meet people."
Currently, the foundation's HYPER group meets once a month for a sober night out to the movies.
"We would love to have it expand," McCurdy said. "My vision is the more people that know about it can make it something of their own — start meetings, have events and social gatherings."
The foundation is also working on developing groups on all three campuses of the College of Southern Nevada. McCurdy anticipates groups starting in the spring.
At UNLV, an average of six students gather weekly at the university's Student Recreation and Wellness Center. Besides the weekly meeting, Ohlson, who hopes to organize more events, said the group participates in campus events, such as suicide prevention walks or sober nights out.
"A lot of times, it's difficult to put your attention on recovery while going to school," Ohlson said. "HYPER helps students maintain recovery efforts, so they don't have to choose between the two."
At the end of October, UNLV's HYPER group received its first outside funding support via a check for $38,000 from the nonprofit organization Transforming Youth Recovery, whose mission is to establish youth recovery programs across the country.
"We are working on an operation budget for the first time," said Ohlson, who's looking at hiring a full-time assistant for HYPER. "My faculty adviser and I are researching how to use these funds wisely."
Ohlson hopes to use some of the funding to begin converting HYPER from a student-run organization into an ongoing full-time college program on the UNLV campus.
"One of the obstacles a majority of universities face is the turnover," Ohlson said about the reason for conversion. "Making it a program would make it more concrete. It wouldn't be changing hands every year."
Converting HYPER into a program gives the organization the ability to reach more students through options such as developing a dedicated safe haven with 24-hour access and offering rooms for recovery meetings throughout the week.
"Right now, we just have a recovery meeting," Ohlson said. "Transforming it from a student body organization into a program is a bridge we are just starting to cross. There are a lot of questions that we're starting to ask."
Visit forrecovery.org/hyper.html or call 702-257-8199.
More information
Helping Young People Experience Recovery (HYPER)
For ages 18 to 30 who are in recovery
College of Southern Nevada campuses
Foundation for Recovery
4800 Alpine Place
forrecovery.org
702-257-8199
UNLV HYPER
UNLV Involvement Center
702-895-5624
Collegiate Recovery Programs
collegiaterecovery.org